From innovative approaches to traditional Italian techniques or vegan ice cream options, find your next frozen treat with our guide to London's best ice cream shops
Greedy Goat, Borough Market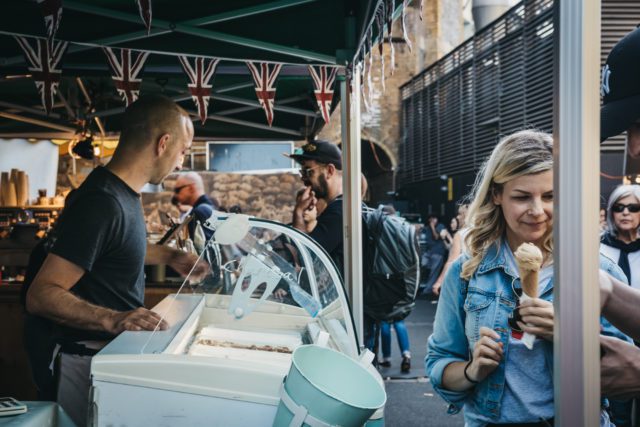 Pick up a pot of guilt-free ice cream at Greedy Goat in Borough Market. This popular stall has been serving smooth, British GM-free goats' milk ice cream at the Market for years. Its delicious flavours will have you licking the jar clean every time! Take your pick from deliciously inventive flavours including rhubarb and custard, cherry bakewell and more. greedygoat.co.uk
Chin Chin Labs, Camden & Soho
View this post on Instagram
For something a little different, head to Chin Chin Labs, the go-to parlour for liquid nitrogen ice cream in London. Watch as your dessert is frozen to order using a dash of liquid nitrogen, and select from an exciting array of flavours at this cool cafe in Camden or Soho. Pictured above is the salty hazelnut tiramisu. Hazelnut praline ice cream is sat on whipped mascarpone and coffee-soaked chocolate brownie bits. 49-50 Camden Lock Place, NW1 8AF | 54 Greek Street, Soho, W1D 3DS. www.chinchinicecream.com
Gelupo
Stop off for a scoop of artisan gelato in Soho. This London café takes its gelato creations seriously and uses specialist churning equipment to ensure a more luxurious outcome. Gelupo serves unusual flavours such as lemon, custard and almond, and a range of vegan options too. Mon-Thu noon-10.30pm; Fri and Sat noon-midnight; Sunday noon-9pm. 7 Archer St, W1D 7AU. T: 020-7287 5555. www.gelupo.com.
Milk Train
View this post on Instagram
This quirky Covent Garden café is taking soft-serve ice cream to a new level. The showstopper is the dreamy candyfloss cone, which combines two of your favourite childhood treats: ice cream surrounded by a cloud of candyfloss. Milk Train also offers ice cream tubs in seasonal flavours inspired by travel destinations. 12 Tavistock Street, WC2E 7PH. Tue-Sat 1pm-9pm; Sun 1pm-8pm. www.milktraincafe.com.
La Gelatiera
View this post on Instagram
Creative flavours, such as tongue-tingling chilli and basil, have won La Gelatiera an impressive list of foodie awards. Its name refers to the gelato churn used in Italy and reflects the spot's dedication to handmade treats. Drop by the gelato lab to learn all about the traditional techniques used at this ice cream shop in London. 27 New Row, Covent Garden, WC2N 4LA (and branches). T: 020-7836 9559. www.lagelatiera.co.uk.
Gelateria 3BIS London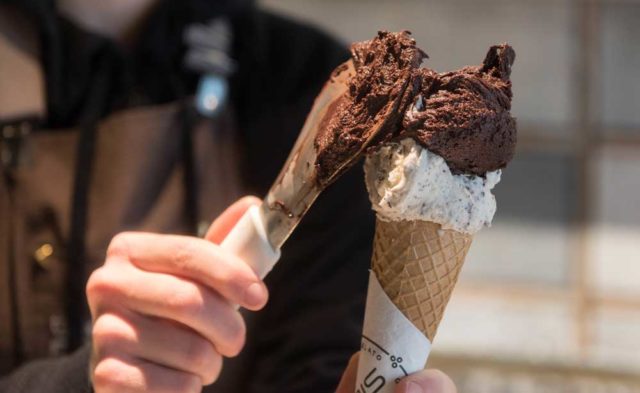 From the foodie haven that is Borough Market to the pretty streets of Notting Hill, whichever branch you visit, you won't be disappointed. Gelateria 3BIS London focuses on the history and craftsmanship behind Italian gelato. The picture-perfect parlours' sorbet and gelato creations are made using the highest quality ingredients sourced from Italy. You'll also find beautiful pastries and incredible coffee. Notting Hill: 178 Portobello Rd, W11 2EB. T: 020-7221 4500 | Borough Market: 4 Park St, SE1 9AB. T: 020-7378 1977. www.gelateria3bis.co.uk.
Bubblewrap
View this post on Instagram
The website asks 'if you're not munching on a Bubblewrap, then what the waffle are you doing?' and, well, it's a fair question. Bubble gelato-filled waffles are topped with goodies that change each week, be it Oreos or salted caramel and fruit. First trials of the dessert were a success and, in early 2017, Bubblewrap opened its permanent store in Chinatown. They soon went viral (you've probably seen similar desserts online, as after going) and claim to be behind the global boom in bubble waffle desserts that quickly ensued. Chinatown: 24 Wardour Street, W1D 6QJ | Covent Garden: 20B Lower Ground Floor, The Market, The Piazza, WC2E 8RB | Old Spitalfields Market: 3-16 Horner Square, E1 6EW. www.bubblewraplondon.com.
Mamasons Dirty Ice Cream
View this post on Instagram
Try something totally unique at London's first Filipino ice cream parlour. Don't be fooled by its name – the hygiene is top-notch! 'dirty ice cream' is the nickname used to describe the desserts sold on the streets of Manila. It's known for being affordable, delicious and produced using ice, salt, a steel pot and a sturdy pair of hands. The Bilog® is the award-winning toasted ice cream sandwich, or keep it simple with some scoops in a cone. Flavours include calamansi (Filipino lime), ube (purple yam) and black buko (black coconut). Chinatown: 32 Newport Court, WC2H 7PQ. Noon-10pm. T: 020-7287 7955 | Westfield London: Kiosk 1018B Ariel Way, W12 7GF. Mon-Sat 10am-9pm; Sun noon-6pm. www.dirtyicecream.co.uk.
Ruby Violet
View this post on Instagram
Enjoy scoops of traditional British ice cream made using organic milk, free-range eggs and fresh fruit, or a vegan sorbet. Scrumptious small-batch frozen treats await in the Canal Quarter of King's Cross. Some of the delectable flavours include raspberry ripple, banana caramel, pink grapefruit and pineapple, and blackcurrant sorbet (pictured). Flavours may vary in store.  Midland Goods Shed, 3 Wharf Road, N1C 4BZ. www.rubyviolet.co.uk.
The Parlour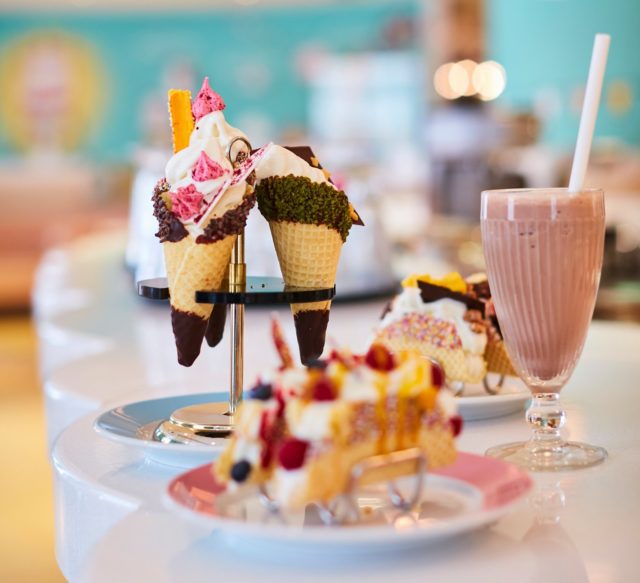 Treat yourself to high-end ice cream at Fortnum & Mason. It's the award-winning home of decadent ice cream creations, including an afternoon tea-inspired sundae, lychee sorbet and a create-your-own sundae menu. It's no wonder it's a favourite among sweet-toothed customers of all ages. Did you know that Fortnum & Mason was the first to introduce the UK to the Knickerbocker Glory? As well as a vast selection of ice creams, the luxurious London eatery also offers artisanal coffee, hot chocolate and savoury snacks. 1st Floor, Fortnum & Mason, 181 Piccadilly, W1A 1ER (Please use W1J 9LE for maps). www.fortnumandmason.com.
Snowflake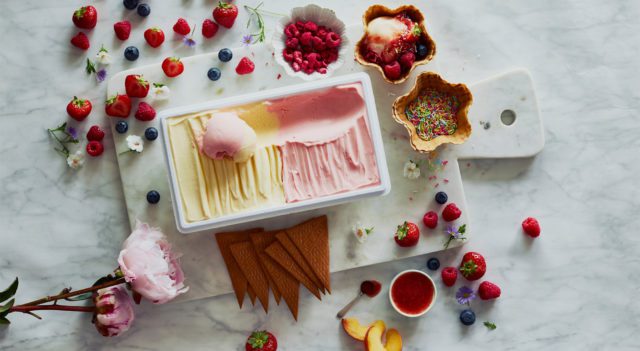 Fall in love with luxurious desserts at one of Snowflake's many branches. Founder Asad and gelato chef Paolo had a dream: to create superb, fresh, delicious gelato handmade from the world's finest ingredients. Choose from ice cream sundaes, waffles, crepes, milkshakes, gelato cakes and vegan desserts. Soho: 102 Wardour Street, W1F 0TP. T: 020-7287 1045. Branches are also available in Westfield London, Westfield Stratford, South Kensington, Marble Arch and The O2. www.snowflakegelato.co.uk
Please like, share and comment below and see if we have anything else to inspire your next visit to London.