Amy Hughes explores Notting Hill and finds that the charm extends much further than its annual carnival and that Richard Curtis movie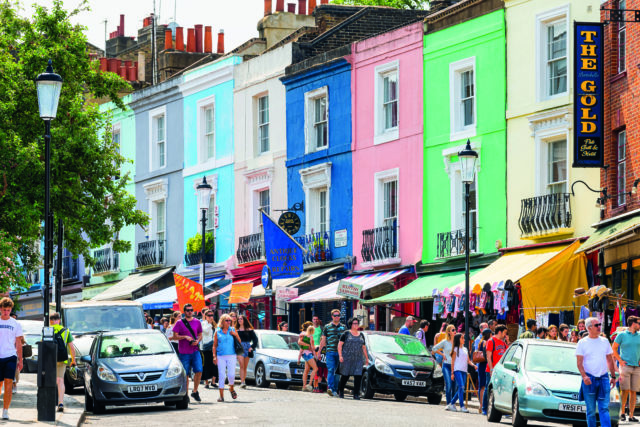 Portobello Road in Notting Hill © Shutterstock
For more than 55 years, the streets of Notting Hill have welcomed millions of revellers who travel from far and wide to join one of the world's largest street festivals during the August bank holiday weekend. Notting Hill Carnival returns on 27 and 28 August, but don't feel confined to that weekend as there is much more to explore in this vibrant corner of the capital.
Take the Tube to Notting Hill Gate, or head to Ladbroke Grove station or Westbourne Park station, and you can walk the full length of Portobello Road. This famous street stretches almost the entire length of Notting Hill and is famed for hosting one of London's most notable street markets which is regarded for its offering of second-hand clothes, food stalls and antiques.
Portobello Road Market is open Monday to Friday, but Saturday is the main event. Spend the day exploring antique arcades between Chepstow Villas and Westbourne Grove (only open on Saturdays) for unusual furniture and decorative items. Portobello Green is where you can find fashion – go on Friday, though, for vintage garments – and on Ladbroke Grove there is a farmers' market from 9am until 2pm. Stretching a mile and welcoming hundreds of traders, old and new, there's no telling what treasures you might find.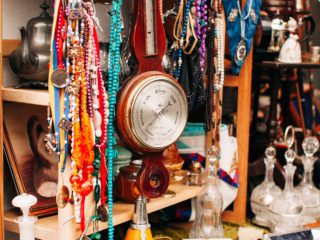 You never know what treasured you might find at Portobello Market © Shutterstock
Naturally, no guide to the area would be complete without mention of Richard Curtis's 1999 hit movie Notting Hill, whose protagonist owned an independent travel bookshop in the neighbourhood. There are many bookshops here including The Notting Hill Bookshop on Blenheim Crescent, which inspired the movie; it has a fantastic travel section. A few doors down, Books for Cooks is crammed with tasty titles and, in the café at the back of the shop, cookbooks are put to the test. There is also a demonstration kitchen upstairs where you can join cookery classes – no wonder this shop has been going strong for four decades!
There are heaps of independent galleries dotted around Notting Hill, many of which can be found along Portobello Road and its surrounding streets. From the small but perfectly formed space of Alveston Fine Arts, which supports an eclectic mix of established and emerging artistic talent, to the internationally recognised Maddox Gallery, the art scene on this side of town is jam-packed with every style imaginable. With galleries in Switzerland, Los Angeles and another London venue in Mayfair, the Westbourne Grove branch of Maddox Gallery doubles as an event space – look out for lectures, workshops, live art demonstrations and curated dinners with leading experts from the international art scene.
At the northern end of the borough, near Ladbroke Grove station, the Museum of Brands presents a fascinating insight into how we have lived since Victorian times. Take a walk down memory lane through the Time Tunnel; embarking on a nostalgic journey through 200 years of social change, culture and lifestyle, you'll see how consumerism has changed over the years. From 5 August, artist Steven Smith will present a series of still-life oil paintings focused on confectionery wrappers and heritage brands, in Brushstrokes to Brands. On Wednesday 9 August, meet the artist and take part in a draw-along event based on the display.
Music lovers should pay a visit to Rough Trade West, the original and smallest of the record store chain. It opened in 1976 and has championed the most exciting new music ever since. Look out for in-store events such as live performances and signings. Film lovers, meanwhile, should check out what's on at Electric Portobello cinema, a historic venue that is one of Britain's oldest working film theatres. It became Britain's first Black-owned cinema in 1993 and remained Black-owned until it was sold in 2000. Watch some of the latest Hollywood releases here
Straying away from the bustle of Portobello Road and heading to some of the side streets, you'll find huddles of people taking photographs in front of houses that seem to have been plucked from the Venetian island, Burano. These pretty, rainbow-coloured homes are just some of the sought-after properties in the area – there are also towering Georgian mansions and quaint mews streets that make this one of the most highly desirable neighbourhoods in London.
Of course, the beauty of Notting Hill isn't restricted to the streets alone. Wander south towards Kensington and meander through Holland Park. It covers 22.5 hectares of gardens, including the beautiful Kyoto Garden. This Japanese-inspired space was donated by the Chamber of Commerce of Kyoto in 1991 and is
a peaceful oasis that ought not to be missed.
West London tends to be the more expensive side of the city, however, there are some delectable budget-friendly bites to be found. Begin the day with coffee and a pastry: Fabrique specialises in artisanal Swedish rye and sourdough baked in a stone oven, while Kuro Bakery sells an amazing selection of freshly baked pastries that pair perfectly with a cuppa from nearby Kuro Coffee, its sister branch. Bluebelles of Portobello and Blank Street Coffee are also neighbourhood favourites, and don't miss the original Ottolenghi on Ledbury Road.
Come lunchtime, head to Acklam Village Market, a street food market serving everything from African to Venezuelan dishes. At Miznon, freshly made pittas are packed with unexpected fillings including a fish and chips-inspired option, while the (not so) Secret Sandwich Shop delivers glorious stacks of meat, cheese, eggsand fresh vegetables, tucked between pillowy Japanese shokupan bread.
Hanging around until dinner? Try the new venture from Gunpowder's Harneet Baweja, Empire Empire. There's a strong focus on music and art, and the signature dish of lobster dum Biriyani is sure to be a crowd-pleaser. For a Mediterranean treat, book a table at Suzi Tros. This bistro and cocktail bar has a Thessaloniki-inspired menu that's designed to be shared. From tzatziki to braised octopus with Kalamata olives, and lamb shoulder gyro taco, you'll feel as though you've been whisked away to a Greek island.
With a thriving art scene, quirky shopping treasures and a food scene that's as varied as the neighbourhood's international influences, it's easy to see why Notting Hill is one of London's most desirable areas – and there is far more to explore beyond the famous carnival and Hugh Grant's blue door.
Please like, share and comment below and see if we have anything else to inspire your next visit to London.