Borough Market is a must-see for any visitors to London, especially foodies. Find al fresco dining, extended Sunday trading and market master crafts this May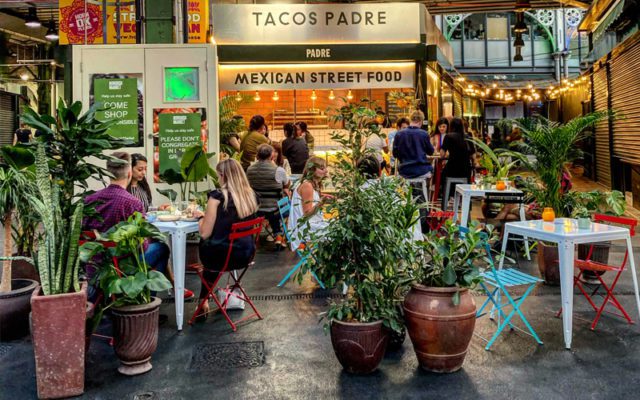 Borough Market is one of London's most famous markets with more than 100 stalls selling gourmet food, such as cheeses and beautiful patisseries. Visiting this May? There's plenty to see and do.
Al fresco dining
The outdoor dining areas have reopened, offering a relaxed and unique dining experience under the atmospheric archways of the Market. Here you'll find a selection of its favourite restaurants and Borough Market Kitchen traders. Tables will be set up in designated dining spaces in Borough Market Kitchen and Three Crown Square every Wednesday-Saturday after the Market closes. The perfect place to enjoy the long summer evenings to come. Those taking part include Brindisa, Padella, 26 Grains, Bao, Elliot's, Wright Bros, Mei Mei, Padre, Shuk and Humble Crumble. Please check individual opening times.
Arts and crafts
On 12 May, attend Market Master Crafts as part of London Craft Week. Expect a day of demonstrations and tours led by cookery writer Jenny Chandler, showing off the best artisan craftmanship at the Market. There will be workshops at the Borough Market Store. Try letterpress printing with Pete Gibbons, for example. Tours will include demonstrations including butchery with Ginger Pig, cheese selection and maturation with Borough Cheese Company, the craft of the 'cortadora de jamón' with Brindisa, and oyster shucking at Furness Fish.
Extended opening
Following the success of the Sunday market, many traders will stay open for seven days per week. Expect empanadas and steak sandwiches from Portena, oysters from Richard Hayward Oysters and many more delights.
"May is an exciting month for us at Borough Market. We are looking forward to welcoming diners back to our al fresco setting in the heart of Borough Market. Dining under our historic arches is a truly unique way to enjoy our excellent produce and showcase the eclectic flavours cooked and served by the Market's restaurants. We're also excited to showcase some of our traders' artisan skills as part of London Craft Week." – Jane Swift, Chief Executive Officer at Borough Market
Please like, share and comment below and see if we have anything else to inspire your next visit to London.