I love to eat anything and everything and there's nowhere better to do it than London. I recently made a radical decision, however. After learning that the animal products industry is one of the largest contributors to global carbon emissions, I became a vegan.
Luckily, an army of talented Londoners is conjuring up vegan magic. I interviewed as many as possible to bring you plenty of dining tips – regardless of whether you eat meat or not.
Neil Rankin, founder of Simplicity Burger
He made his name as a master of meat at Temper, but this London chef went in the opposite direction with his new Shoreditch burger joint.
'They're hand-made, plant-based vegan patties, using methods that are zero-waste and ingredients you could mostly grow yourself,' Neil says. 'We haven't talked about the ethical side to veganism – it's just about making a delicious burger out of really good ingredients.'
Why the switch from steak restaurants? 'I was seeing vegan options in London that were either over-processed, deep-fried and excessively bad for you, or high-end choices, such as Rovi in Fitzrovia,' Neil explains. 'But, for me, there was nothing super-casual that tasted nice.
'I grew up eating Big Macs – I love a Big Mac. What we're trying to do is take something that is really bad for you and the environment and show that you can eat something that tastes just as great, is good for you and the environment and doesn't cost much more.'
www.simplicityburger.london | 202 Brick Lane, E1 6SA
Toni Vernelli, spokesperson for Veganuary
Veganuary is traditionally for one month only but, just like the vegan movement itself, this annual festival is expanding – and Toni has tips for vegans in London.
Toni explains that the organisation is currently battling the extra charge applied to plant milks in most London cafés: 'Very few coffee places charge for soya milk now, but businesses argue that oat, almond and coconut milks still cost more to buy. Cow's milk might be cheaper, but the impact that it has on the planet is far greater than plant milk and we all pay the price for that. Customers shouldn't be penalised for wanting an environmentally friendly choice.
'London's AMT coffee stands at train stations no longer charge extra for plant milk; they were one of the first chains to do so. Le Pain Quotidien also encourage people to try plant milk and they have a great vegan range.'
www.uk.veganuary.com | www.amtcoffee.co.uk | www.lepainquotidien.com
Luke McLaughlin, co-founder of The Spread Eagle
Claiming the title of London's first vegan pub, The Spread Eagle in Homerton only serves food and drink derived from non-animal sources.
'Many people don't realise that beer and wine are frequently made using animal products,' Luke says. 'All of our drinks – the beers, wines and spirits – are vegan, along with all of the pub's fixtures, fittings, cleaning products and candles. When the opportunity came up, my business partner Sherri-Lee Estabrook and I jumped at the chance to do something different with this pub.'
www.thespreadeaglelondon.co.uk | Homerton High St, E9 6AS
Juliet Sampson, founder of Copperhouse Chocolate
Drawing in chocoholics from north London and beyond, this Islington café was founded after Juliet spotted an opportunity: 'there was a gap in the market for a chocolate café in general, never mind a vegan one,' says the entrepreneur.
'The chocolate aspect came before the vegan side of things. Mostly, I just wanted to open a chocolate shop and I've been vegan for about 20 years, so I wanted everything to be vegan. I don't want to make a profit from dairy. It was initially about animal rights, then the environment and everything else came.
'Visitors should expect a lot of chocolate! You can have cakes, as well as chocolate in your food, like waffles or a chocolate weekend brunch; we do a black-bean chilli with chocolate in it, based on a traditional Mexican sauce. We also have cocoa nibs on our avocado toast.'
www.copperhousechocolate.co.uk | 1 Chapel Market, N1 9EZ
Louisa Davidson, social media editor for Vegan Nights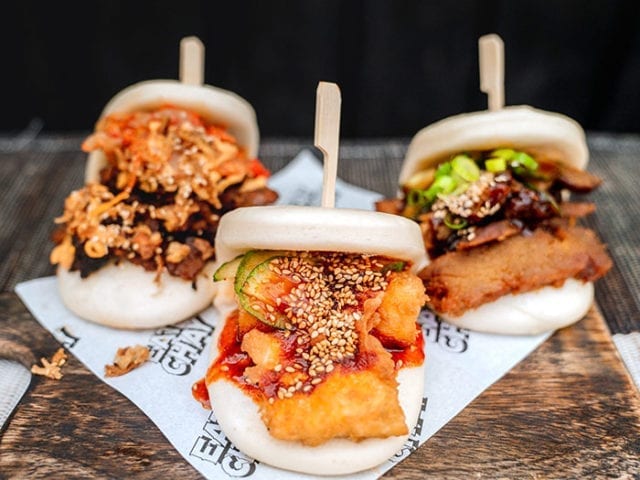 Vegan Nights is one of the biggest events held at The Old Truman Brewery in Shoreditch (next event 7 May 2020).
'It's a food and drink festival that 4,000 people attend,' says Louisa. 'From seitan-filled Philly steak-style sandwiches, to ice cream made with cashews, you can feast on anything and it's all vegan.
'Some of our traders have since moved on to opening restaurants: Eat Chay ("chay" means vegetables in Mandarin) has gone from a tiny stall to having a unit in Shoreditch's Boxpark. I think their kimchi bao buns are the best.'
www.vegannights.uk | 91 Brick Lane, E1 6QL | next event 7 May 2020
www.eatchay.com | Boxpark, E1 6GY
Ruby Amarteifio, founder of Ruby's Bakery
This vegan bakery is one of many reasons to visit Greenwich Market at the weekend, but don't just take my word for it – take it from Ruby. 'There are loads of great vegan food stalls at Greenwich Market, including a vegan pizzeria,' she says.
'When I was younger, I couldn't eat dairy due to allergies. But now I feel that if I couldn't kill it myself, I probably shouldn't eat it. Ten years ago, you could just make a below-par product and say "well, it's vegan" – now it has to be a great product.'
www.rubysoflondon.com | Greenwich Market, SE10 9HZ | Sat-Sun 10am-5.30pm
Sian Lawson, spokesperson for Vegan Life Live
This annual festival takes place at north London's Alexandra Palace and is an opportunity for vegans in London to explore products beyond food and drink.
'We've got vegan beauty and skincare products, clothing, protein supplements, health and fitness ideas and two food courts,' Sian says. 'There's a bit of everything.'
I'm a vegetarian because of The Game Changers. It's a documentary about fitness and it shows you what happens to your blood when you eat meat – it's got more fat in it. You'll watch it and look at things from a different perspective.'
london.veganlifelive.com
Vegans in London will love our interview with the cookbook author Rachel Ama, who reveals her favourite vegan restaurants in London.
Alternatively, read our review of Biff's Jack Shack at Brewdog in Dalston, Lost Boys in Camden or Wild Food Café in Islington for even more vegan dining inspiration.