Cabaret is the most-awarded musical revival in the history of the Olivier Awards and, the West End production at the Kit Kat Club (Playhouse Theatre) recently welcomed a new cast, including Sex Education's Aimee Lou Wood and Everybody's Talking About Jamie's John McCrea. Here's what we found at the Gala Night in March 2023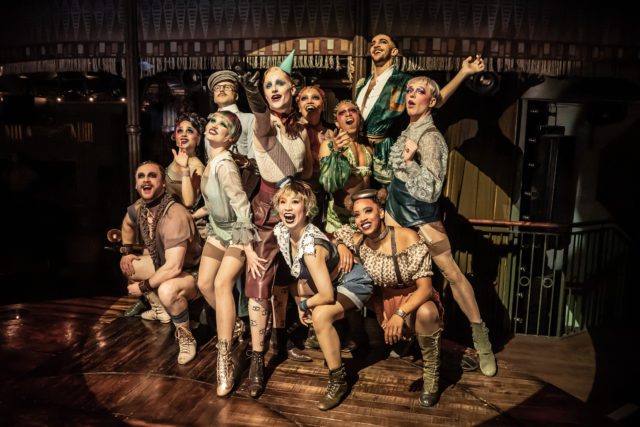 John McCrea 'Emcee' and the Company. Photo by Marc Brenner
Between 1929 and 1933, Anglo-American novelist, playwright and screenwriter Christopher Isherwood lived intermittently in Berlin. It was a time he has described as 'a period of ecstasy, sentimentality, worry, hope and clock-watching'. Enjoying the city's Jazz Age cabarets and swinging in and out of liaisons with underage male prostitutes, Isherwood's escapades took place as fascism gained strength in Germany.
His experiences inspired six interwoven stories published in 1939 at Goodby to Berlin. Instead of focusing on his homoerotic cavorting, however, he focuses on Sally Bowles, a character drawn from his friend and flatmate Jean Ross, an upper-middle-glass English 20-year-old eking out a rackety existence in Berlin, singing (rather badly) in one of the many Jewish-run cabarets.
Goodbye to Berlin was received so well in Britain and America that, in 1951, the Sally Bowles strand was adapted for Broadway by John Van Druten and titled I Am a Camera (due to Isherwood's presentation of his role as an asexual observer to the events). It transferred to London three years later and then became an awkward film that tackled the topics of sex and abortion gingerly. Come the 1960s, Broadway producer-director Harold Prince acquired the rights for a musical adaptation and assembled the crack team of Jow Masteroff (book), John Kander (music) and Fred Ebb (lyrics). By 1966 they had collectively evolved a concept that broke with Broadway conventions.
Reviews were initially mixed, but the public was electrified. The first Broadway production went on to run for more than a thousand performances with English starlet Jill Haworth and a teenage Liza Minnelli both starring as Sally; when it moved to London in 1968, Judi Dench took the role. Fast-forward to today and it is the most-awarded musical revival in the history of the Olivier Awards, scooping up seven of its 11 nominations at the 2022 ceremony. This spring, it welcomes some stellar additions to the cast: Everybody's Talking About Jamie's John McCrea as the Emcee, Nathan Ives-Moiba (As You Like It, Tull) as Cliff Bradshaw and Sex Education's Aimee Lou Wood as Sally Bowles.
Welcome to the Kit Kat Club
The Playhouse Theatre, located moments away from Embankment Tube station, has been transformed and masterfully shrunk into an intimate, seductive and secretive Berlin-style club. The Kit Kat Club. From the roadside views of the River Thames and London Eye, you step into a dark, red-lit labyrinth of corridors and are transported to the Weimar Republic era of Cabaret.
Ticketholders are encouraged to arrive early to allow time to explore every nook and cranny of the club. The Prologue performers – nine professional musicians and dancers – roam the building and bars whilst the audience arrives. In The Gold Bar, artist Dominic Myatt has provided murals that give a cheeky nod to the classical paintings that adorn the walls and ceilings of London's theatres – looks out for the craggy gold centrepiece. Flanking the auditorium walls are monocled, moustachioed masks by artist Anya Allin.
The proscenium has been broken through as the show is performed in-the-round. Performers and spectators exist alongside each other across the building throughout the evening. As for the costumes, they are an exploration of gender stereotypes and expectations. There are semi-sheer garments of sage green chiffon, crocheted two-pieces and leather harnesses abound. Make-up is as bold as the performance itself, creating a world that is gender-fluid, defiant and free in self-expression.
View this post on Instagram
The soaring highs and salacious lows
Once The Prologue performers slip away, the stage is commanded by the Emcee (John McCrea) who introduces the show and its performers with a rendition of Wilkommen!. Then begins the famous story. Cliff Bradshaw, an American novelist, arrives in Berlin and is quickly holed up at Fraulein Schneider's boarding house. Sally Bowles, meanwhile, performs her last show at the Kit Kat Club before landing at Cliff's door, asking to live there now that she's homeless. Many twists, turns and hypnotic performances later, Sally finds herself pregnant; Cliff plans to return to America; Fraulein Schneider reconsiders a marriage proposal, and the Nazi Party is growing ever stronger.
Act One is a high-energy and humorous 90-minute display of raunchy dances and comedic songs – Fraulein Schneider's So What is particularly successful at stirring giggles in the crowd, as is Herr Schultz's pineapple gift. However, by the time Sally and Cliff sing Maybe This Time, emotions have become somewhat heavier. Three more emotionally-charged songs follow before Tomorrow leaves an uncomfortable awkwardness in the air – just in time for the interval.
After the hard-hitting scenes at the end of Act One, the interval offers some light relief as the audience heads to the bars and the Prologue performers reappear, interacting with patrons. Then it's time to settle in for Act Two and, warning, emotions continue to run high.
As the Nazi Party continues to strengthen and Berlin's partygoers become increasingly aware of the political happenings, the characters have to make some tough decisions. I was watching with a furrowed brow for the entirety of this half, I think. Aimee (Sally) and Nathan (Cliff) put on some of the most powerful stage performances I've ever seen, tears streaming down their faces. And knowing what's yet to come for Berlin, Europe and the wider world, Herr Schultz and Fraulein Schneider's dilemma is equally as saddening. The humour and hijinks of Act One's cabaret are long gone but the power and magnetism of the performance remain.
As you enter the club, you're asked to put a sticker over your camera as pictures are prohibited. I believe this is one of the best things a theatre could do nowadays as this minor disconnection allows total emersion. Of course, it also helps that the theatre has been completely restyled like a Weimar Republic-era club and performers roam the building pre-show. From entering at 6.30pm until leaving at around 10.30pm, we were completely absorbed in the world of Cabaret – in fact, hopping on the Tube afterwards was a little jarring!
Although the show is pretty heavy on the senses and tackles some difficult topics, we didn't want it to end. The curiosity begins the moment you enter the club (theatre) and between the dim lighting, mesmerising performances and seductive set and costume designs, you're never without something to look at. It's escapism at its finest – a gorilla leaping across the stage almost seems to make sense somehow. The new cast members make their presence known and fit their roles so perfectly, it will be a shame to see them go after 27 May. We left dumbfounded by what we had just seen and highly recommend a visit to the Kit Kat Club while you're in town.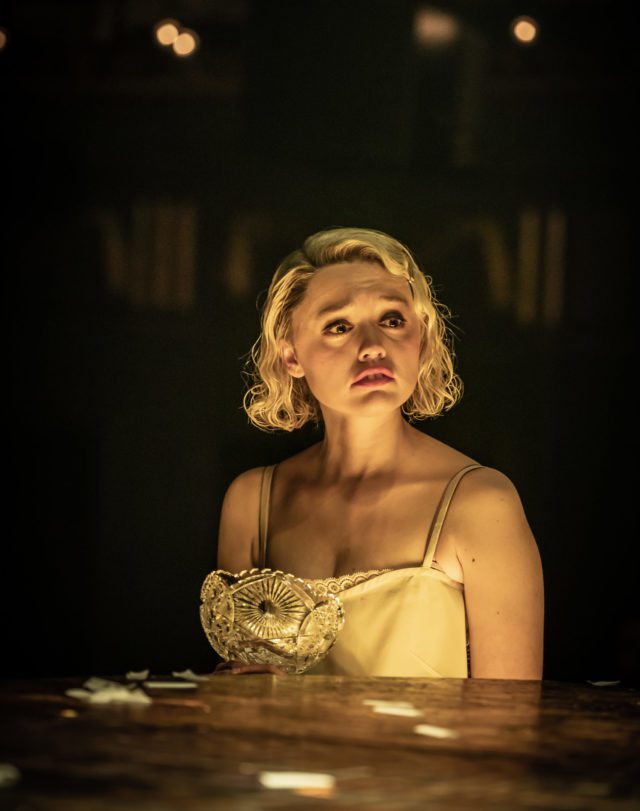 Address: Kit Kat Club at the Playhouse Theatre, Northumberland Ave, WC2N 5DE
Nearest station: Charing Cross or Embankment
Tickets are available to book here.

Currently booking to Saturday 16 Dec 2023. Aimee Lou Wood, John McCrea and Nathan Ives-Moiba are due to play until 27 May 2023. At certain performances, the role of Sally Bowles will be played by Emily Benjamin.
Please like, share and comment below and see if we have anything else to inspire your next visit to London.