The London art world takes a break over summer – as do most of us – but come autumn, it's full steam ahead with exhibitions. Major art fairs, blockbuster exhibitions, independent gems: here are the exhibitions that we'll be visiting this autumn. 
Damien Hirst with The Currency artworks, 2021. Photographed by Prudence Cuming Associates Ltd. © Damien Hirst and Science Ltd. All rights reserved, DACS 2022
The Currency, Newport St Gallery (23 Sep-30 Oct)
An exhibition of paintings from Damien Hirst's first NFT collection, The Currency, will open on Friday 23 September. This isn't an exhibition as you know it though – during its run, original artworks by the artist will be burned at the Newport Street Gallery. A collection of 10,000 NFTs which correspond to original artworks were released earlier this summer, and collectors were given the choice to either keep the NFT or the physical artwork. 4,851 collectors opted to keep the NFT meaning the corresponding works will be burned. On Tuesday 11 October during Frieze Week, there will be a major event in the gallery during which Damien Hirst will burn his own artworks. Following this event, the exhibition will remain open and artworks will continue to be burned until it closes on 30 October 2022. www.newportstreetgallery.com.
Lucien Freud: New Perspectives, National Gallery (1 Oct-22 Jan 23)
The first major exhibition of Lucien Freud's work for 10 years, Lucien Freud: New Perspectives at The National Gallery (from 1 October to 22 January 2023) focuses on the well-known figurative painter well beyond his celebrity status. It spans a lifetime of his work, over 70 years – from early pieces to those unmistakable large-scale naked portraits. Witness his stylistic development through more than 60 paintings, ranging from that of public figures to private studies of family and friends. www.nationalgallery.org.uk.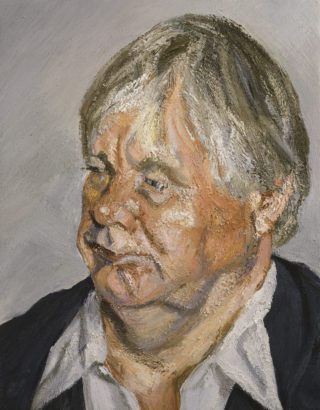 Profile Donegal Man, Lucian Freud, 2008 © The Lucian Freud Archive. All Rights Reserved 2022/ Bridgeman Images
Prosthetic Hand Powered by Carbon Dioxide 2 © Science Museum Group
Science Fiction: Voyage to the Edge of Imagination, Science Museum (6 Oct - 4 May 23)
Hop aboard a spaceship and journey to an unknown planet in this thrilling exhibition at the Science Museum from 6th October – 4th May. During this voyage, you will discover how science fiction creators have built new worlds to better understand our own by looking at hidden gems and artefacts from movies, TV and books as well as paintings, photography and artworks. www.sciencemuseum.org.uk.
Carolee Schneemann: 'Body Politics', Barbican (8 Sep-8 Jan 23)
From 8th September to 8th January 2023, Carolee Schneemann: Body Politics will be shown at the Barbican. It's the first major survey of Schneemann's work in the UK and spans six decades, looking at the feminist icon's themes of sexual expression and the objectification of women, human suffering and the violence of war, through over 200 objects and archive material.  The display includes early paintings, sculptural assemblages, lyrical films, multi-media installations and kinetic works in which she used her own body within her pioneering performance pieces. www.barbican.org.uk.
Carolee Schneemann Eye Body: 36 Transformative Actions for Camera, 1963. Courtesy of the Carolee Schneemann Foundation and Galerie Lelong & Co., Hales Gallery, and P.P.O.W, New York and © Carolee Schneemann Foundation / ARS, New York and DACS, London 2022. Photograph Erró © ADAGP, Paris and DACS, London 2022
Frieze Art Fair in Regents Park, London; photo by Linda Nylind for Frieze 2021
Frieze London, Frieze Masters and Frieze Sculpture, Regents Park (12-16 Oct/14 Sep-13 Nov)
Taking place in Regent's Park, Frieze London and Frieze Masters (from 12-16 October) will showcase the work of galleries from 42 countries. Frieze London will feature more than 160 contemporary galleries from around the world; whereas Frieze Masters exhibits 120 galleries, showing pieces that range from the ancient to the modern. Frieze Sculpture, meanwhile, will also be lighting up Regent's Park this autumn, from 14th September to 13th November. Expect to see 19 large-scale works by artists including John Giorno, Ro Robertson and Ugo Rondinone. www.frieze.com.
Strange Clay: Ceramics in Contemporary Art, Hayward Gallery (26 Oct-8 Jan 23)
This is the first large-scale exhibition of its kind in the UK and it explores how 23 contemporary and international artists have used clay in unexpected ways. Varying in scale, finish and technique, the pieces range from weird and wonderful creatures to everyday representations that explore the idea of thinking through making. Themes of social justice, architecture, the body, the domestic and the organic are explored. Featured artists include Aaron Angell, Salvatore Arancio, Leilah Babirye, Jonathan Baldock, Lubna Chowdhary, Edmund de Waal and Emma Hart, among others. www.southbankcentre.co.uk.
Installation view of Klara Kristalova: Camouflage, Perrotin, Paris, September 7–October 7, 2017. Courtesy Perrotin. Photo: Claire Dorn
Cezanne The Basket of Apples, c. 1893 © The Art Institute Chicago
The EY Exhibition: Cezanne, Tate Modern (5 Oct-12 Mar 23)
The French 19th-century painter, Cezanne, once said, 'with an apple, I will astonish Paris'. Moving from his native Provence to the French capital, he did just that, pioneering a brave new approach to painting with his still lives, landscapes and paintings of bathers. In the EY Exhibition: Cezanne (from 5 Oct-12 Mar 23) at Tate Modern, explore the many contradictions in his work and his struggle between seeking recognition (and joining the Impressionists) and forging his own unique path. Featuring many works shown for the first time in the UK, learn about the man who grappled with what it meant to be a modern painter, whilst also holding a deep skepticism about the world he inhabited. www.tate.org.uk.
Richard Mosse: Broken Spectre, 180 The Strand (12 Oct-18 Dec)
Photographer Richard Mosse has become well-known for his documentation of humanitarian and environmental crises, often shot through pink-hued infrared film. Broken Spectre at 180 The Strand, from 12th October to 18th December, is a major installation that documents environmental crimes over a three-year period, filmed in remote areas of the Brazilian Amazon. The artist's photographs will be displayed alongside an installation that includes large-scale images. www.180thestrand.com.
Still from Broken Spectre, 2022, five-channel 4K video with 20.4 surround sound. Courtesy of the artist, Jack Shainman Gallery, New York and carlier|gebauer, Berlin/Madrid.© Richard Mosse
Detail of The Book of the Dead of Queen Nedjmet, papyrus, Egypt,1070 BC, 21st Dynasty.© The Trustees of the British Museum
Hieroglyphs: Unlocking Ancient Egypt, British Museum (13 Oct-19 Feb 23)
Marking 200 years since the decipherment of Egyptian hieroglyphs, Hieroglyphs: Unlocking Ancient Egypt (from 13 Oct-19 Feb 23) at the British Museum charts the history of the mysterious ancient symbols. Go on a journey of discovery as you learn about this ancient language through inscriptions on the objects they studied – from romantic poetry and tax returns to shopping lists and international treaties. As well as having a fervent belief in the afterlife and the power of pharaohs, they also loved food, writing letters and having a good joke. www.britishmuseum.org.
Making Modernism, Royal Academy of Arts (12 Nov-12 Feb 23)
Making Modernism (from 12 Nov-13 Feb 23) celebrates the innovative works of Paula Modersohn-Becker, Kӓthe Kollwitz, Gabriele Münter and Marianne Werefkin: a group of pioneering women working in early 20th century Germany. Subjects such as still-life, self-portraiture, landscapes and the female body have been reimagined through the experiences of these artists who were just as fundamental to the development of innovative approaches to art in Europe as their better-known male equivalents (such as Kandinsky). www.royalacademy.org.uk.
Still from Broken Spectre, 2022, five-channel 4K video with 20.4 surround sound. Courtesy of the artist, Jack Shainman Gallery, New York and carlier|gebauer, Berlin/Madrid.© Richard Mosse
Abakan Orange 1971 Tate. All works by Magdalena Abakanowicz are © Fundacja Marty Magdaleny Abakanowicz Kosmowskiej iJana Kosmowskiego, Warsaw.
Magdalena Abakanowicz, Tate Modern (17 Nov-21 May 23)
In the 60s and 70s, Polish artist Magdalena Abakanowicz became known for her radical sculptures – huge works made from woven fibre that towered above, and hung from the ceiling. These became known as the 'Abakans'.  This exhibition of her work has brought together the most significant Abakans in the long gallery space of the Blavatnik Building at Tate Modern. Early textile pieces and little-known drawings are also on display. www.tate.org.uk.
Cornelia Parker, Tate Britain (to 16 Oct)
This exhibition, running until 16th October, showcases the work of Cornelia Parker, one of Britain's best-loved contemporary artists. Using a playful and curious approach, she takes domestic objects and reimagines them, at the same time as engaging with societal themes of ecology, violence or human rights. Iconic works including the suspended Thirty Pieces of Silver 1988-9, Cold Dark Matter: An Exploded View 1991 and Magna Carta 2015 (her colossal collective embroidery) are brought together in this exhibition, as well as films, prints, drawings and photographs. www.tate.org.uk.
Cornelia Parker, Perpetual Canon 2004. Collection of Contemporary Art Fundación "la Caixa", Barcelona © Cornelia Parker
Portrait of Cecilia Vicuña in front of Quipu Womb 2017 at Tate Modern, 2022 c. Cecilia Vicuña. Photo © Tate (Lucy Dawkins)
Hyundai Commission: Cecilia Vicuña, Tate Modern (11 Oct-16 Apr 23)
The annual Hyundai Commission – located in the vast and mesmerising space that is Tate Modern's Turbine Hall – understandably attracts millions of visitors each year. This autumn, from 11th October to 16th April 23, Chilean artist Cecilia Vicuña's work will be on display in the compelling space. Known for her radical textile sculptures (such as Quipu Womb, 2017), Vicuña explores social justice, ecology, community and social justice in her work. Weaving is combined with painting, poetry and performance to represent the culture and history of her indigenous country, Chile. www.tate.org.uk.
Please like, share and comment below and see if we have anything else to inspire your next visit to London.