Art lovers and dog lovers alike will be thrilled with the selection of exhibitions and events at The Wallace Collection this month, as Amy Hughes discovers
The Wallace Collection can be found in Marylebone's Manchester Square © Amy Hughes
Conveniently located just a few minutes from Oxford Street and Baker Street, The Wallace Collection is a free museum that is home to a world-class collection of Old Master paintings, sculptures, furniture, armouries and porcelain. Highlights include The Laughing Cavalier by Frans Hals and Rubens' The Rainbow Landscape, though it is man's best friend that is the focus of a selection of exhibitions and events at the moment.
Portraits of Dogs: From Gainsborough to Hockney
Postponed from 2020 due to the pandemic, a much-anticipated exhibition finally arrived at The Wallace Collection at the tail end of March this year. Portraits of Dogs: From Gainsborough to Hockney (to 15 Oct) explores human's devotion to dogs, with artworks from the 17th century to the present day.
Dog portraiture developed contemporaneously with its human counterpart – furry friends appear in early cave paintings, alongside people. More than 50 artworks are on display, with the earliest example being a striking late first-century Roman marble sculpture of two greyhounds, which has been loaned to the exhibition by The British Museum. Other highlights include Landseer's Hector, Nero and Dash with the Parrot Lory (left), which depicts Queen Victoria's favourite pets.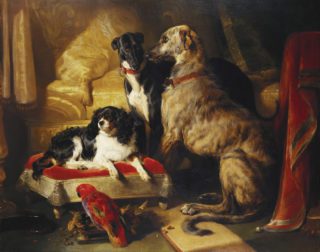 Hector, Nero and Dash with the Parrot Lory, Edwin Landseer, 1838 © Royal Collection Trust / His Majesty King Charles III 2022
'[it's the] most beautiful thing imaginable'.
– Queen Victoria, when presented with Landseer's painting of her beloved pets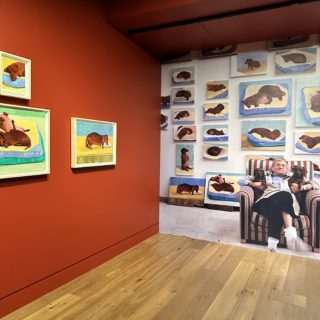 The Hockney room is a real crowd pleaser © Amy Hughes
It hangs adjacent to a selection of intriguing sketches drawn by Queen Victoria herself and her husband Prince Albert. Famed as one of the world's longest reigning monarchs, Victoria was also a keen artist and as a young princess would often draw her pets including her favourite King Charles Spaniel, Dash.
The exhibition finishes with a series of vivid paintings by David Hockney. It's a touching tribute to the pair of dachshunds adopted by the artist in 1987. Their cheekiness has been captured in video footage, available to watch on screens in the same room as the paintings.
Coinciding with and continuing the theme of the major exhibition, a one-room display of photographs celebrates the unique canine connection that the late Queen Elizabeth II was famed for. Often associated with her beloved corgis, Her Majesty owned more than 30 in her lifetime, right up until her death in September 2022. The display is located through the gift shop, is free to enter and open until 25 June. Look out for the corgi family tree on the wall!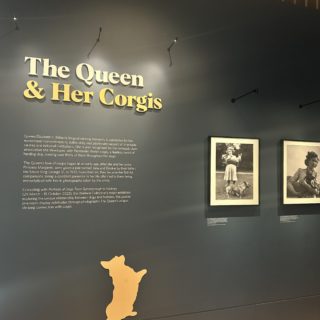 The Queen and her Corgis © Amy Hughes
On Friday 19 May (6.30pm-7.30pm), join Charlotte Gere – who is a leading specialist in 19th-century art – and Alexander Collins, assistant curator of the Portraits of Dogs exhibition, as they discuss the British royal family's affection for dogs across the centuries, with a particular focus on Queen Victoria and Prince Albert. Tickets to the on-site event are available from £22, or it's just £9 to join online. If you are joining the event in person, your ticket will include refreshments and a visit to the Portraits of Dogs exhibition too.
Address: The Wallace Collection, Hertford House, Manchester Square, W1U 3BN
Nearest station: Bond Street
Tickets are available to buy online at www.wallacecollection.org
Please like, share and comment below and see if we have anything else to inspire your next visit to London