Van Gogh Alive is a multi-sensory experience that takes visitors on a journey from the Netherlands to France, via the incredible artwork by the famous artist. On in Kensington Gardens until Sunday 26 September 2021.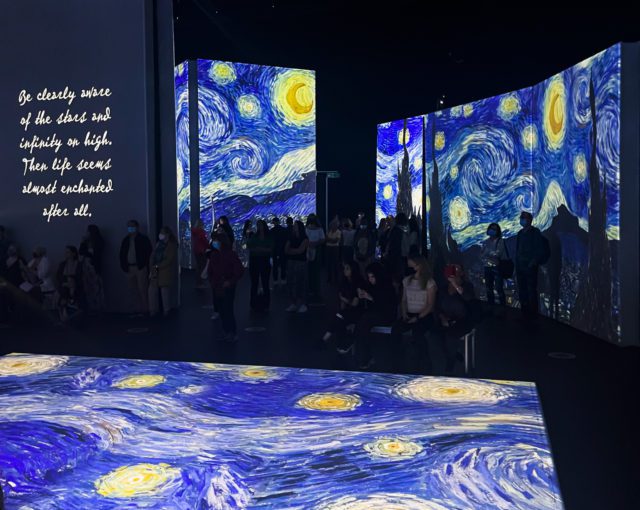 Sitting next to The Albert Memorial opposite the Royal Albert Hall is an unassuming semi-permanent gazebo which, at first glance, seems to be a café. However, the temporary addition to Kensington Gardens is in fact home to Van Gogh Alive, the world's most visited immersive multi-sensory experience.
A young couple exited as I arrived, agreeing: "That was incredible". As a long-time Van Gogh fan, I was already looking forward to visiting, but hearing so many visitors chatting about how much they enjoyed it only made me more excited.
What to expect
The experience begins in the lobby, where there are several plaques providing a brief history of Van Gogh's life, details about how the experience is structured, plus in-depth information about some key artworks within the context of the artist's life. Then visitors pass a photo op – a life-sized recreation of Vincent's Bedroom in Arles – before the darkened corridor leads you towards the entrance. Then the fun really begins.
View this post on Instagram
Within one large room, divided by floor to ceiling projections, is an incredible patchwork of the artist's work. A powerful classical score accompanies the display, including the likes of Vivaldi, Bach and Shubert. Visitors see over 3000 images during the 45 minute show, including some lesser-known pieces and letters. The website states 'Van Gogh Alive gives visitors the unique opportunity to immerse themselves into Van Gogh's artistry and truly venture into his world,' which is exactly the case. Standing or sitting amongst the vast screens, the masterpieces absorb you.
How is it structured?
There are five movements, each demonstrating a style and tone that reflects the emotional state of the troubled artist. Following a series of introductory self-portraits, the first movement is stylistically dark: landscapes, people and still life in subdued, earthy tones mark Van Gogh's time in his homeland, the Netherlands.
Movement two marks a clear change when the energy of impressionist painters inspired the artist. He developed a much brighter palette, painting beautiful flowers, gardens and fruit bowls. Next, to Arles. Perhaps the happiest time in the artist's life, this movement begins with his infamous Sunflowers series. Also played out within this movement is Van Gogh's spiral into mental illness. Vincent's Bedroom in Arles marks a particular turning point in his emotional stability.
Movement four details his time in the Saint-Rémy asylum following his voluntary commitment. Teetering between crisis and control, tortured and peaceful landscapes feature culminating in the glimmer of hope that is Starry Night. The finale explores a broad range of landscapes Auvers-sur-Oise. His haunting final works includes arguably his most evocative piece Wheat Field with Crows. Coming full circle, the show ends with a series of brooding self-portraits spanning the artist's career.
Once the show has finished, you can stay to watch it again or exit via the sunflower infinity room. A Yayoi Kusama-style infinity room, with mirrored walls and ceiling, filled with sunflowers for an optical illusion and an Insta-worthy shot.
Essential Information
The experience is on in Kensington Gardens, next to The Albert Memorial, until Sunday 26 September 2021. Pre-booking is required and tickets can be purchased at www.vangoghaliveuk.com. Guests are allowed to take photos and videos.
There is no cloakroom so we recommend only taking small bags inside the venue. The venue is wheelchair and stroller friendly.
Please like, share and comment below and see if we have anything else to inspire your next visit to London.