Amy Hughes wanders through the capital's museum neighbourhood in search of the unmissable
Tree-lined streets, stately Victorian buildings, elegant mews and garden squares: Kensington and South Ken, as they're popularly known, are instantly recognisable and home to some of the capital's cultural heavyweights. Spend the day exploring west London, from the dinosaurs at the Natural History Museum, to the boutiques on Kensington High Street. 
It may be one of London's wealthiest areas, but Kensington is home to a cluster of free museums that are among the most popular. Jump off the Tube at South Kensington and head to the aptly-named Exhibition Road. This summer, the Victoria and Albert Museum welcomes
Africa Fashion (from 2 Jul). Garments by mid-20th century African designers hang alongside personal testimonies, photographs, sketches, film and catwalk footage in a dynamic celebration of this eclectic fashion scene. Meanwhile, men's fashion and gender is under the spotlight in Fashioning Masculinities: The Art of Menswear (to 6 Nov), presented in partnership with Gucci, and Beatrix Potter: Drawn to Nature (to Jan 2023) celebrates the beloved children's author. The poignant temporary display Ukraine in Focus (to 29 Aug) offers a glimpse of life in the country through portraits taken from 2014 until the Russian invasion earlier this year.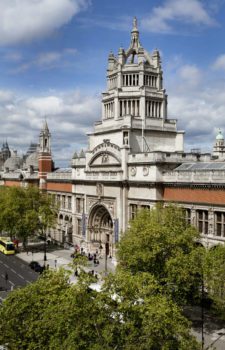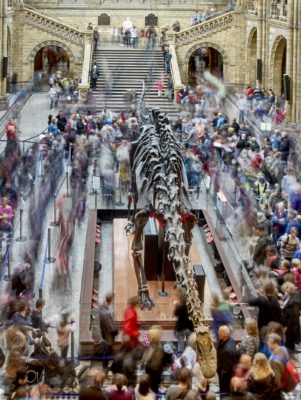 Dippy the Diplodocus © Natural History Museum
Across the road at the Natural History Museum, Dippy the Diplodocus has made a triumphant return following its five-year nationwide tour. After shaking off the initial awe of Hintze Hall, turn right and go to the Waterhouse Gallery to see the famous skeleton (to Jan 2023). Silent Discos are also back (29 Jul & 26 Aug). Choose your side as three DJs battle over separate wireless channels – will you choose pop, rock or party classics? 
Right next door, the Science Museum is filled with interactive exhibits, including the Red Arrows 3D simulator; discover the thrill of flying during an aerobatic display before going to the Flight gallery to see suspended aeroplanes. In Cancer Revolution: Science, Innovation and Hope (to Jan 2023), discover the past, present and future of detection and treatment through objects and personal accounts.
Continue down Exhibition Road and you will see The Albert Memorial emerge triumphantly, standing opposite the Royal Albert Hall. Celebrating 150 years this year, the Hall will host BBC Proms (15 Jul-10 Sep) and Titanic Live (10 Jul) – see James Horner's timeless score played live by the Royal Philharmonic Concert Orchestra. You can also join a tour of the Hall and go behind the scenes while learning about its illustrious history.
You'll find some of London's most expensive streets, cobbled mews and hidden gardens in the area. In fact, the Royal Borough has more than 100 distinctively British garden squares.
Start your exploration on Kensington's busy High Street which is filled with chic boutiques, or antique shops on Kensington Church Street. Once you've finished browsing, duck down backstreets to find some beautiful green squares. Kensington Square is just moments away from the High Street and dates back to 1692. Over in South Kensington, Onslow Square was often frequented by Lewis Carroll, author of Alice's Adventures in Wonderland, whose favourite uncle lived at number 101. Here you will find two formal gardens with original railings, well-tended lawns, magnificent trees and one with its own tennis court. However, many of the gardens are private and only accessible to residents. 
If you're looking for somewhere to take a seat or to enjoy a picnic, Kensington Gardens is the place to go. Home of Kensington Palace, the Serpentine Galleries and the Diana Memorial Gardens, it's a tranquil haven of 265 acres just a stone's throw away from Kensington High Street. Did you know that Peter Pan creator and local resident JM Barrie was inspired by Kensington Gardens? See if you can find the Grade II-listed Peter Pan statue while here.
Take a stroll around the picturesque Italian Gardens near Lancaster Gate, believed to have been created by Prince Albert for Queen Victoria. After all that walking, you can restore your energy levels at the Italian Gardens Café where you can pick up a quick coffee or snack.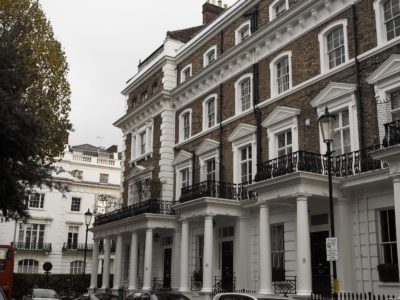 Georgian architecture in Onslow Square © Shutterstock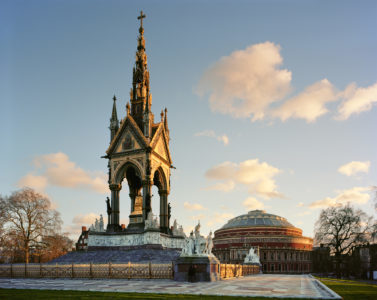 The Albert Memorial © Shutterstock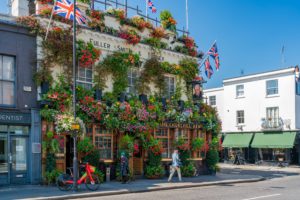 The Churchill Arms © Shutterstock
Kensington is filled with scenic cafes and charming pubs, including The Churchill Arms which is one of London's more famous watering holes. Decked out in all manner of adornments year-round, it is positively dripping with flowers throughout summer. Find a seat to enjoy real ales and authentic Thai cuisine. For more eastern adventures in the west, go to Japan House London. It's a three-storey Art Deco building on Kensington High Street with a gallery, a shop selling all sorts of Japanese products and the fine-dining restaurant Akira, which specialises in sushi and robatayaki. For divine breakfast options, head to the bright and homely eatery, Muriel's Kitchen. From a classic full English breakfast to brioche French toast with blueberry compote, this isn't a want, it's a need.
Please like, share and comment below and see if we have anything else to inspire your next visit to London