Give your sightseeing tour a festive spin and tick off these magnificent Christmas trees in London. They can be admired from November into the New Year.
Trafalgar Square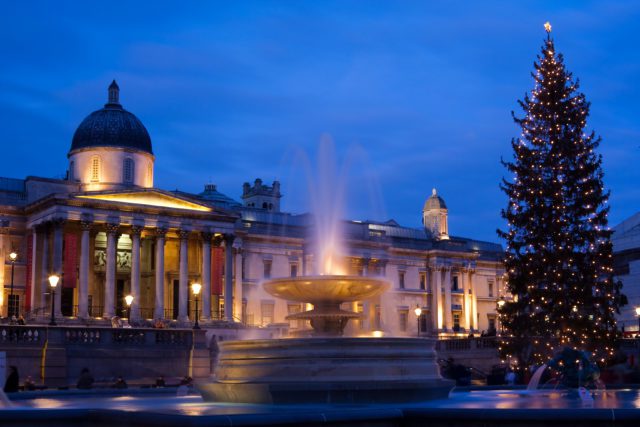 Every year since 1947, the people of Norway have sent the gift of a Norwegian spruce as a gift in gratitude for Britain's support for the country in World War II. It towers at 66ft and lights up Trafalgar Square throughout the festive period. Don't miss the lighting of the famous tree, typically occurring in early December. There's also usually a blessing of the crib ceremony, featuring a torchlit procession and music from St Martin-in-the-Fields church.
Covent Garden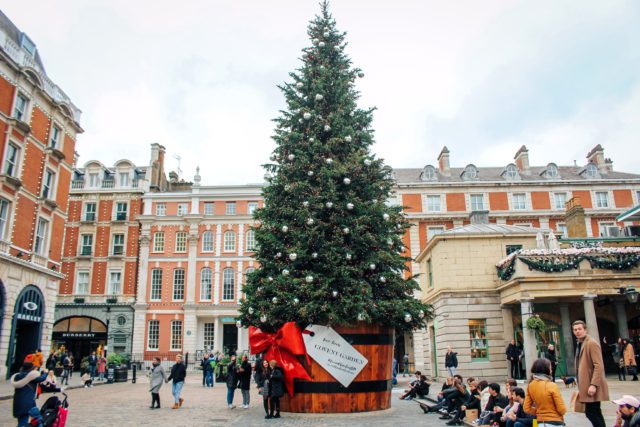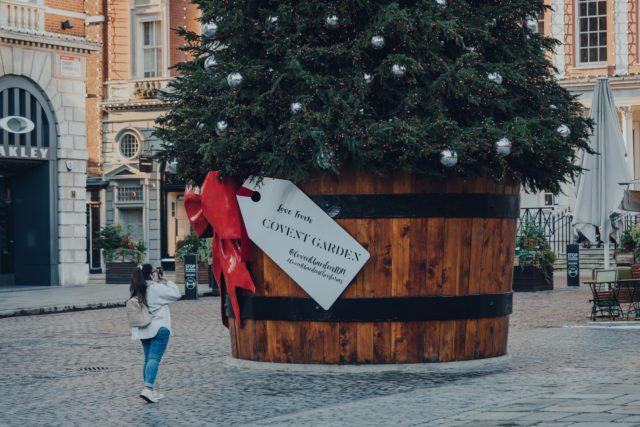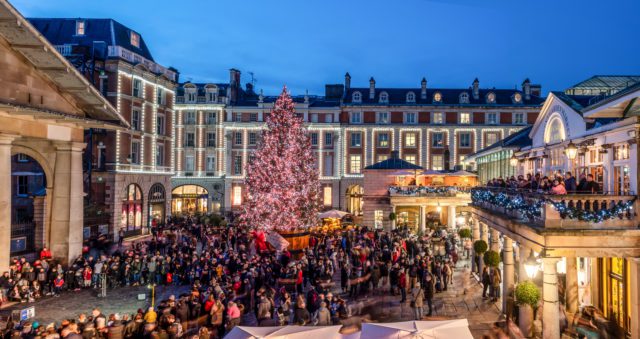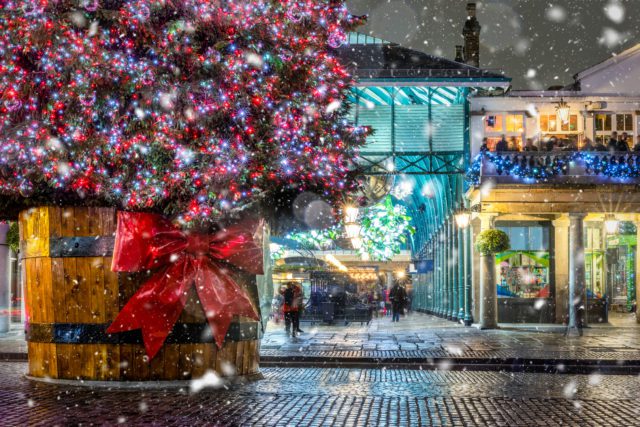 One of the largest Christmas trees you'll stumble across in the capital, this is always an Instagrammer's favourite. The 60ft tree shines above the beautiful cobbled streets of the 19th-century piazza. The rest of the square and market area is usually adorned with spectacular decorations such as mistletoe chandeliers and thousands of twinkling lights. Festivities typically arrive here in the first half of November.
Claridges
View this post on Instagram
The luxurious Mayfair hotel presents an iconic Christmas tree installation, created by a different designer every year. Last year, Kallu Ellis's tree was inspired by the Roaring 20s and Art Deco surroundings of the hotel. Dressed with more than 10,000 crystal garlands and pendants, it sat on a mirror, creating magical, frosty reflections across the lobby. Decorations tend to pop up from mid-November and the tree was revealed in early December last year. Afterwards, why not wander over to the West End to gaze at some of London's best Christmas lights?
St Pancras International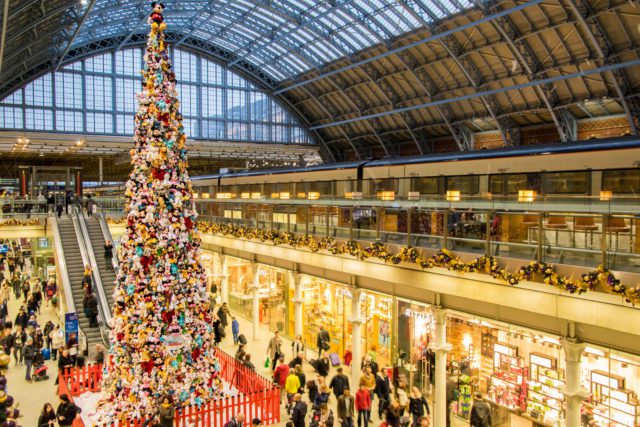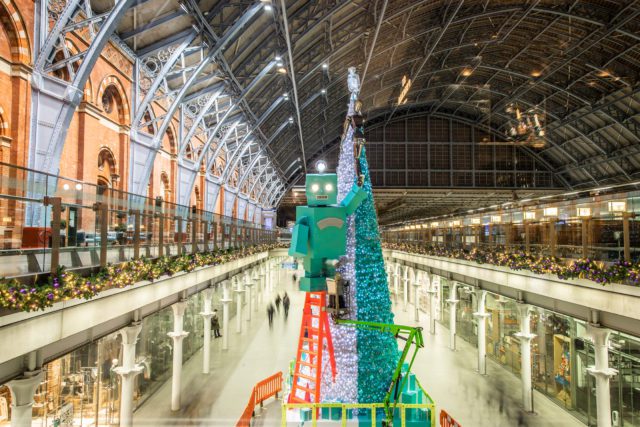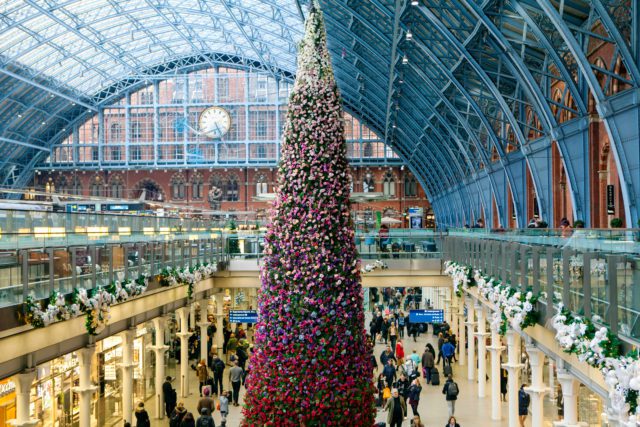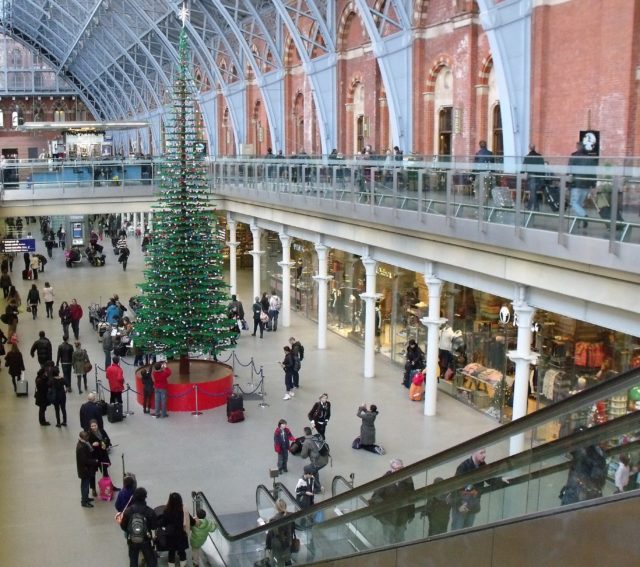 If you're travelling via St Pancras International station this festive season, make sure to stop by the quirky tree. Previous installations include the world's largest LEGO® tree in 2011, Disney's 2015 creation and the 2019 Tiffany and Co's robotic beauty. Always a spectacular addition to the station concourse. Typically revealed in early November. Discover St Pancras station.
Granary Square
View this post on Instagram
Check out one of London's most arty Christmas trees at Granary Square, nearby Kings Cross St Pancras station. The bold, geometric creation pictured here was designed by a local architecture practice, Sam Jacob Studio. It played on the tradition of ancient Celtic groves with futuristic metal pine trees placed on a platform, glowing green after dark. It arrived towards the end of November last year.
Coal Drops Yard
View this post on Instagram
The Traditionally Untraditional Christmas Tree installation above came courtesy of Coal Drops Yard residents the Botanical Boys. The 28ft tall Terrarium Tree was made from 70 terrariums. Hanging like giant baubles, each contained a unique miniature garden inside. The terrariums were illuminated at night, casting a warm glow across Coal Drops Yard. The core structure of the tree is reusable and will continue to be transformed into new tree designs. It arrived towards the end of November last year.
Leadenhall Market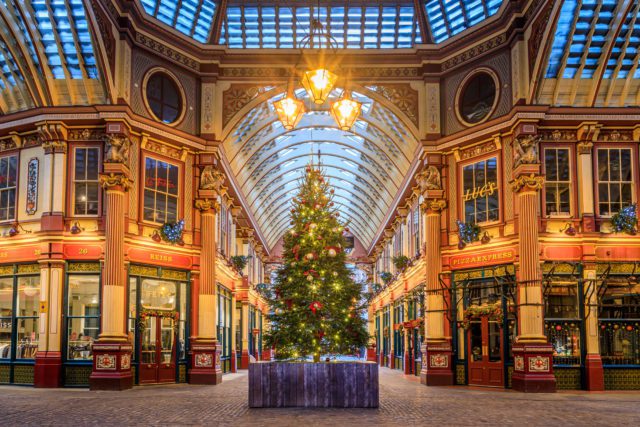 Stumble upon a beautiful festive tree at the Victorian Leadenhall Market nestled in the heart of the City of London. Embrace the magical atmosphere with a gift-stop at the shops, before wandering locations used in some of the Harry Potter movies. It is a striking place to visit all year round, with its vaulted glass roof and elaborately painted storefronts, but Christmas brings an extra special atmosphere. Soak it in and pop into one of the cosy Dickensian-style pubs for a mug of mulled wine. The tree usually arrives from mid to late November.
Annabell's
View this post on Instagram
Okay, we're using a bit of artistic licence on this one, but this 2019 installation is worth mentioning. The Mayfair privates members' club changes its decorations every year. While you may not get inside (unless you treat yourself to a membership), the exterior is always extravagant beyond belief and arrive from mid to late November.
The Churchill Arms
View this post on Instagram
A short walk from Kensington Gardens and South Kensington's museums and galleries is the most Christmassy pub in London. Each year The Churchill Arms transforms into a festive spectacle. Decked out in over 90 Christmas trees and thousands of lights, it's a sight to behold. The decorations take weeks to prepare but you can expect to see them from mid to late November. Step inside for delicious Thai food in cosy surroundings.
Windsor Castle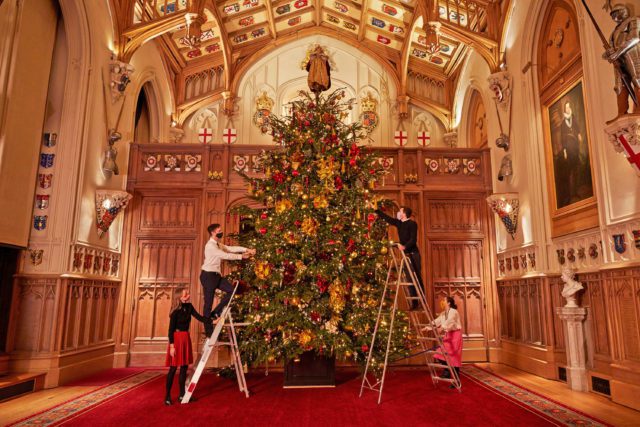 Just over 30 minutes by train from Paddington, Windsor is fantastic for a day trip out of London. Head to the oldest and largest occupied castle in the world while you're here. Magnificent Christmas trees, twinkling lights and festive garlands transform The State Apartments at Windsor Castle. Highlights include a 20-foot-high Christmas tree in St George's Hall, dressed with 3,000 lights and hundreds of ornaments. The tree, a Norway spruce, is sourced from Windsor Great Park around early December time.
Wembley Park
View this post on Instagram
Winterfest: Reunited in Light returns to Wembley Park (25 Nov-9 Jan) after one-year hiatus. London's largest LED tree will be back. Made up of 100,000 mesmerising lights, you can walk through the tree and get the perfect picture. Brand-new digital artwork City Lights, commissioned by Brent artist Yoni Alter, will dress the tree. You'll also see brand-new commissions and light installations.
Victoria & Albert Museum
Every year to celebrate the festive period, the V&A Museum commissions a designer to create a Christmas tree to sit in the Grand Entrance. These unique installations range from lavishly decorated real trees to hand-crafted twists on the tradition. In 2017, The Singing Tree (above) was a technical marvel. Visitors were invited to contribute a word which then became part of an audio-visual carol, accompanied by an interactive choir of human and synthesised voices. Find out what this year's tree will offer from mid-November.
Paddington
View this post on Instagram
Each year you can let Paddington Central's installation light up your trip to London at Christmas time. Last year, the display featured a beautiful rainbow statement piece, accompanied by seven installations lit up in each colour, with an inspiring word of hope atop. It paid tribute to the NHS workers of nearby St. Mary's Hospital and across the nation, with touchless donation points available throughout the area. Expect it's arrival from late November.
The Connaught Hotel
View this post on Instagram
The Connaught Christmas tree is a landmark of Mount Street from late November and during the festive months. Admirers travel from miles around to marvel at the creative genius dreamt up by some of the top artists in the world. Previous collaborators include Sean Scully (2019), Tracy Emin CBE (2017), Damien Hirst (2015), or the simple twinkling tree pictured above, reflecting in the Tadao Ando water feature.
The Shard
View this post on Instagram
Towering above London Bridge, The Shard's typical illuminations get into the festive spirit, becoming an ultra-modern Christmas tree of sorts. Inside, the festivities continue. The View From The Shard has the highest Christmas tree in London. There are as many lights on the 18ft Christmas tree as there are panes of glass in the Shard building – 11,000! A few floors down, the sophisticated Aqua Shard restaurant also offers a tree installation.
Please like, share and comment below and see if we have anything else to inspire your next visit to London.