The UEFA Women's EURO 2022 tournament is being held in England, starting on Wednesday 6 July. If you haven't managed to get a ticket, no sweat. Find out where you can watch the football across the capital
It feels like just the other day that the country was cheering on the England men's football team in the Euros 2020 final. While they didn't win, England's women are hoping for more success this year. They will play Austria on the first day, and hopefully, we'll see whether football will be coming home at the final on Sunday 31 July.
Want to see all the action in blistering HD glory? Here's a list of spots that will be showing the matches across the city.
TOCA Social, The O2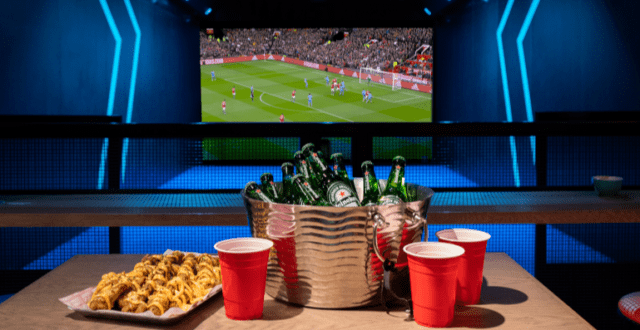 Screening every match throughout the tournament, TOCA Social isn't just a great place to support England. Try the immersive gaming experience with a match-winning food and drink offering, including TOCA Social's famous fried pickles. You can also book a TOCA Social Box for the ultimate viewing experience. Available for up to 20 people, the TOCA Social Box provides you with your very own exclusive screen and table service so you don't miss a kick.
Trafalgar Square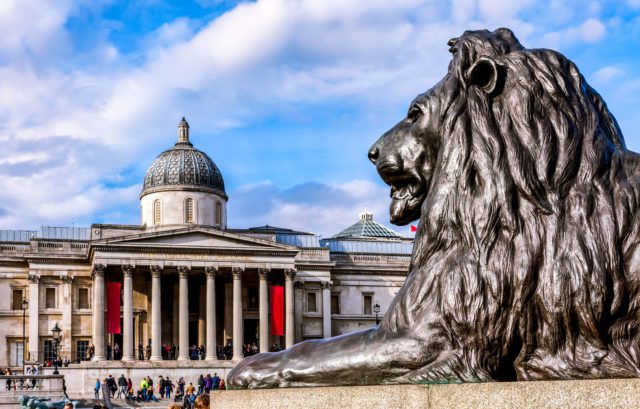 The iconic square will be transformed into an epic Women's Euros football fan zone with screenings, food, events and more. A pop-up football pitch will appear, where exhibition games and coaching sessions will take place. Head to the square between matches for screenings of Bend It Like Beckham, live panel discussions, interviews and food and drink stalls. You can also buy official Women's EURO 2022 merchandise. Open daily Jul 23-31, 11am-6pm. Entry free. Find out more.
Boxpark, various locations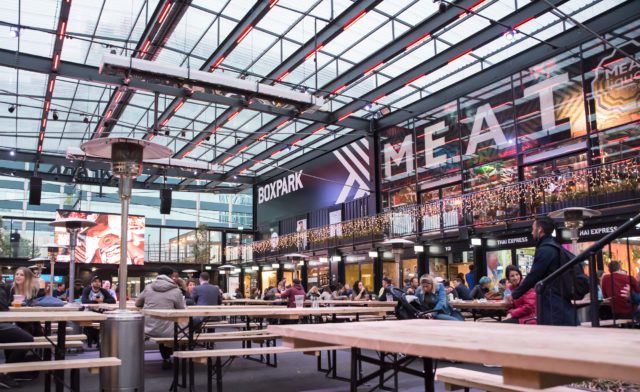 What began as a humble shipping container dining and shopping destination in 2011 has grown to three locations across London. Boxpark is built upon an eat-drink-play philosophy; it's the perfect place to catch the footie action. You can watch live screenings of all 16 participating nations across the 3 London locations: Croydon, Wembley and Shoreditch. Book a table though, it gets busy!
Bar Kick, Shoreditch
View this post on Instagram
Combine watching live sport with table football at Bar Kick on Shoreditch High Street. It's a lively bar with bookable table football tables, to really up the ante. Get in the competitive spirit before catching some of the Championship action. This is a hotspot for live sport, with twelve 4k screens set across two floors, meaning you'll always have a clear view of the game. What's more, the bar can show up to three games at once, so if some of your group would rather catch Formula 1 or tennis, you'll be covered. The food is great too: dirty burger or fried chicken, anyone? 127 Shoreditch High Street, E1 6JE. T: 020-7739 8700. www.barkicklondon.com
Freemasons Arms, Covent Garden
The Freemasons Arms was built during the reign of Queen Victoria and plays an unexpected role in football history. The Football Association met here in 1863 to thrash out the laws of a game! This sporting connection endures to this day with an impressive display of memorabilia and six high-definition screens which show all the top matches. Any footie fan will find a lot to interest them here. 81-82 Long Acre, WC2E 9NG. T: 0207 836 3115. www.freemasonsarmscoventgarden.co.uk
Dates for the diary…
●      England v Austria, Wednesday 6th July @ 20:00
●      England v Norway, Monday 11th July @ 20:00
●      England v N. Ireland, Friday 15th July @ 20:00
Please like, share and comment below and see if we have anything else to inspire your next visit to London.