The Royal Botanic Gardens in Kew (Kew Gardens to you and I) is one of the brightest gems in London's crown, a UNESCO World Heritage Site, vast green space and home to more than 50,000 living plants from across the world. Changing with the seasons, the programme of events and activities offers something for everyone.
Now a globally recognised scientific institution, Kew Gardens dates back to the 18th century when it was a royal palace and home to Princess Augusta, mother of King George III. In 1840, ownership was transferred from the Crown to the Government and the gardens were opened to the public.
Since then, it has built a reputation as one of the top botanical science institutions in the world with many historic buildings on its grounds. The Temperate House, opened in 1863, is the largest Victorian glasshouse in the world and is filled with 10,000 plants from Africa, Australia, New Zealand, the Americas, Asia and the Pacific Islands. In the Palm House, travel to the depths of the rainforest where the air is heavy and dense with lush vegetation – opened in 1848, it's even older than the Temperate House.
Ready to reconnect to nature this summer? Look no further. New for this year, Kew has launched The Wander Trails, offering five new ways to explore the gardens. Having invited a selection of artists, musicians and environmentalists to contribute to the trails, inviting explorers to feel, hear, move and think differently in their surroundings. The question is, are you an adventurer, wanderer, time traveller, protector or dreamer? The trails are included in entry price and running until 3 September.
On 27 July, hop on your bike and enjoy an evening cycle around the gardens where bikes usually aren't allowed. Entertainment at Summer Cycle will include unicycles, Tree Tours and live music in scenic spots, from a jazz, blues and swing band to alternative rock and pop. Make an evening of it and stop for a summer drink, bring your own picnic or dine at one of the restaurants on route.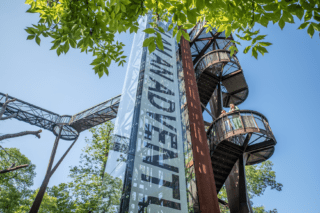 The Wander Project at Kew Gardens © RBG Kew
At the Shirley Sherwood Gallery of Botanical Art, a trio of summer exhibitions has opened, celebrating the work of acclaimed artists Anila Quayyum Agha and Sue Wickison until 17 September. All the Flowers are for Me showcases two stunning sculptures by Pakistani-American Agha. First, a large, laser-cut steel cube is suspended from the gallery ceiling filling the space with elaborate floor-to-ceiling shadows in an exploration of cultural connectedness and peaceful co-existence in our increasingly fractious world. Secondly, making its UK debut is a wall-mounted piece constructed from mirrored stainless steel, inspired by the botanical artist Albrecht Dürer's watercolour painting Great Piece of Turf.
The Wonderful World of Water Plants comprises intricate botanical illustrations of the record-breaking Victoria boliviana, discovered in 2022. Meanwhile, Plants of the Qur'ān brings together 30 brand-new botanical paintings by artist Sue Wickison in a global premiere exhibition. Wickison has documented and illustrated a myriad of plants, from garlic to grapes, in collaboration with Kew scientist Dr Shahina Ghazanfar.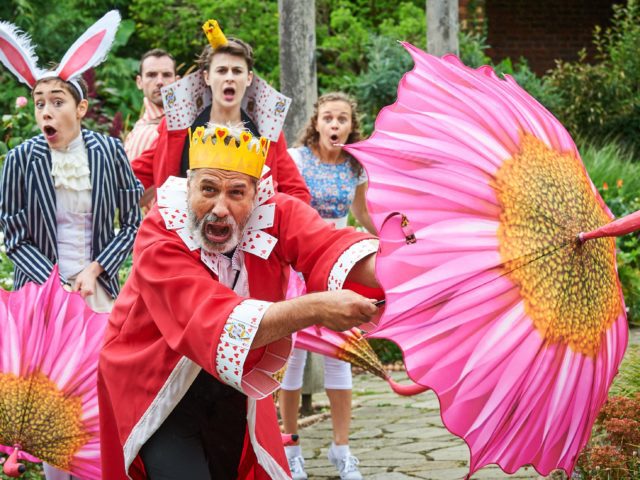 Theatre on Kew: Alice in Wonderland © RBG Kew
In the woodland between the Palm House and Temperate House, at Berberis Dell, you may stumble across a magical theatre show. Journey down the rabbit hole and enter a fantastical world inhabited by curiouser and curiouser characters. Alice in Wonderland is a specially-commissioned, outdoor theatre performance led by a very talented cast of actor-musicians. Performances take place at 11am and 2pm on Wednesdays, Thursdays, Fridays and Saturdays until 28 August. Prices vary.
Once the curtain has gone down on the theatre shows, an alfresco cinema will pop up next to the Pavilion Bar and Grill. Kew the Movies (30 Aug-3 Sep) is a collaboration with The Luna Cinema, bringing a fantastic line-up of films for families and adults. Across the five days, choose from the Oscar-winning Top Gun: Maverick, the heart-warming adventure of Moana, box office smash Avatar: The Way of Water and many more. Sit back, relax and enjoy your favourite films on the big screen set against a beautiful botanical backdrop.
There are a number of ways you can boost your physical and mental wellbeing, calm your body and mind, and get back in touch with nature at Kew. At the Arboretum, join a forest bathing session inspired by the Japanese art of Shinrin-yoku (to 7 Oct). An expert guide will help you disconnect from the stresses of everyday life on a sensory woodland walk. At the Nash Conservatory on select dates in August, September and October, you can listen to the calming sounds of a variety of gongs, singing bowls and gentle percussion in a therapeutic sound bath.
Fancy moving your body a little more? Rise and shine with an early-morning yoga session in the Temperate House on 9 & 19 August, or a sunset flow on 12 September; learn standing meditation, joint loosening exercises and two traditional tai chi movement routines on select dates until 13 October; and tone your body while taking in beautiful views at pilates (30 Aug and 7, 13 & 19 Sep).
For the ultimate disconnect from everyday life, go on a journey through breathwork, dance, qigong and meditative stillness at the intuitive dance sessions. The practice can help you find new ways of moving and being, reignite your creativity, relieve stresses and tensions and leave you feeling alive and full of joy – and no dance experience is necessary! Classes are available on 15 August (7pm-8pm) and 13 September (9am-10am).
The best way to fully immerse yourself in the botanical world of Kew is on a guided tour, led by a guide. Exploring the world-class collections, iconic buildings and outstanding landscapes with an expert by your side will reveal more about the Gardens than you may have previously experienced, if you're on a return visit.
The Introduction to the Gardens tour is available daily and included in the admission price, delving into Kew's history, work and seasonal highlights. Throughout summer, the free walking Summer Tours are focused on specific themes: The Queens Garden through August, and Grass Garden and Dukes Garden through September.
Other tours that tap into specific interests include the Edible Science Kew's Kitchen Garden Tour, which reveals more about the edible plants grown at the Gardens, and Wine Walks (6 Sep) in partnership with Laithwaites Wine. You'll enjoy a late summer's evening at Kew with wines inspired by the Gardens and matched with the spaces you will encounter. There are also Sensory Tours available for visitors with sight impairment and their carers, which place an emphasis on touch and smell (on various dates).
On Thursday 21 September, the Nash Conservatory will be spectacularly candlelit for an evening of live music. Originally built within the grounds of Buckingham Palace, it is the oldest of the 19th century glasshouse at Kew, and is a magical venue. The Morassi Quartet, an exciting young string quartet, will perform for 90 minutes at The Nash Sessions, beginning at 7.30pm.
From late September, diversity in art, plants and funghi will be celebrated in a new month-long festival. Queer Nature will takeover the Temperate House from 30 September until 29 October. Discover the large-scale suspended artwork and installation, House of Spirits, by New York-based artist Jeffrey Gibson, and marvel at the living installation Breaking the Binary which has been created by garden designer Patrick Featherstone and Kew's Youth Forum. There will also be film installations as well as music, performance and comedy after dark on selected dates throughout October.
As the year draws to a close, everyone's favourite Christmas light trail will return. Christmas at Kew is a highlight of London's festive season, so make sure to book your tickets to avoid disappointment. The Gardens are transformed by glittering tunnels, breathtaking light installations and a monumental lakeside laser finale – and you might stumble across Father Christmas along the way too.
Address: Kew, Richmond, TW9 3AE
Nearest station: Kew Gardens Tube or Kew Bridge station
Opening times: To 31 Aug: Mon-Fri 10am-7pm; Sat, Sun & Bank Holidays 10am-8pm. September: daily 10am-7pm. October: daily 10am-6pm. 29 Oct-13 Nov: daily 10am-4pm. 14 Nov-7 Jan 2024: daily 10am-3pm.
The Gardens will be closed on 24 and 25 December
Please like, share and comment below and see if we have anything else to inspire your next visit to London.