The Victoria and Albert Museum is the world's leading museum of art and design and is always a favourite of visitors in London. Find out everything you need to know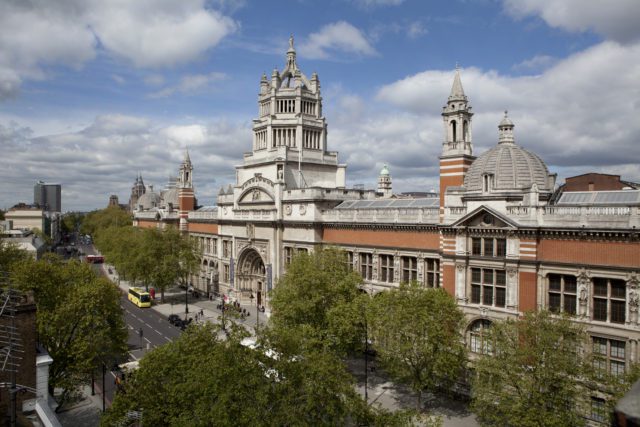 ©Victoria and Albert Museum, London
Housing a permanent collection of more than 2.8 million objects, books and archives that span more than 5,000 years of human creativity, the V&A Museum is a world-leading leading museum. It holds many of the UK's national collections and some of the greatest resources across architecture, furniture, fashion, textiles, photography, sculpture, painting, jewellery, glass, ceramics, book arts, Asian art and design, theatre and performance.
In 1852, the Museum of Manufactures opened in Pall Mall but by 1854, it was already outgrowing its home. Prince Albert provisioned space for a permanent museum in the new cultural quarter, which would become South Kensington, that he was developing at the time. Following decades of building works, different architects and changing ideas, Queen Victoria laid the foundation stone for the museum we know and love today in May 1899. In her last public ceremony, this was also when the Museum of Manufacturers became the Victoria and Albert Museum.
Spanning ancient Chinese ceramics to Chanel gowns, take an incredible journey through 5000 years of human creativity across four floors.
DIVA, until 7 April 2024
Celebrating the power and creativity of iconic performers, including Marilyn Monroe, Tina Turner, Shirley Bassey and Elton John. DIVA is the first exhibition of its kind with more than 250 objects spanning fashion, photography, music and many rare pieces, including the fringed black dress worn by Marilyn Monroe in Some Like it Hot.
Displayed in two acts, explore the historical context of the term 'diva' through to the present-day icons, learning how it has been subverted or embraced over time across opera, stage, popular music, and film.
Gabrielle Chanel. Fashion Manifesto, opens 16 September
Perhaps unbelievable, the first ever UK exhibition dedicated to the work of Gabrielle 'Coco' Chanel is due to open at the V&A Museum this September. Gabrielle Chanel. Fashion Manifesto is based on the exhibition of the same title which premiered in Paris in 2020 and has been re-imagined for the V&A, featuring rarely seen pieces from the London museum's collection.
It is a major retrospective charting the evolution of the founder of 'one of the most successful fashion houses in existence', according to director of the V&A Tristram Hunt, from the opening of her first millinery boutique in Paris in 1910 to her final collection in 1971. More than 180 looks, as well as jewellery, accessories, cosmetics and perfumes will be on display, with key pieces including outfits created for British model Anne Gunning and Hollywood star Marlene Dietrich.
Explore more…
The V&A Museum is vast, covering 12.5 acres and 145 galleries. It would be easy to spend a full day here and still leave areas unexplored. To relieve some of the pressure, guided tours are a fantastic way to experience the huge collection and gain additional insight that you wouldn't get on a self-guided exploration.
Free tours
Highlights of the V&A – a volunteer guide will uncover the origins of the museum and its fascinating treasures. Perfect for first-time visitors or those with an interest in art and design who are keen to learn more
LGBTQIA+ tour – explore gender and sexual identities through a selection of lesbian, gay, bisexual, transgender and queer plus objects in the V&A's collections. Held on the last Saturday of the month, except December.
Female voices tour – Saturday tour that dissects the contribution of women to art and design.
Historical and Hidden Caribbean – examine the narratives of a Caribbean past with an appreciation of the cultural traditions, culture, the challenges of migration, the movement of people and the impact of creolisation.
Treasures of Europe tour – delve deeper into the extensive collection, reflecting on some of the finest craftsmanship and the influences and styles that define European design.
Britain Galleries tour – discover 400 years' of British design and lifestyle history, from the Tudor monarchs to the end of Queen Victoria's reign.
African heritage tour – Every second Saturday of the month, join volunteer guides as they reveal the extraordinary African Heritage narratives within the V&A collections
Designing the V&A tour – volunteer guides lead an architectural tour of the South Kensington building, taking you through the history of the museum through the visionary architects, designers, artists and directors who created one of the best-loved buildings in the world.
Fashion tour – the V&A's fashion collection is world-renowned, covering changing shapes and tastes in style from beautiful 17th-century fashions to contemporary, cutting-edge designs and haute couture.
Please be aware that tours are subject to cancellation.
Other tours
You can also book private group tours and talks if travelling as part of a group, in order to gain insight into a special area of interest, a particular gallery or just an overview of the museum's collection.
Choose from four options:
Set tours – choose from 11 popular tours of the permanent collections.
Tailor-made tours – choose your own subject of interest.
Exhibition-related tours or talks – based on the current exhibitions.
Intercultural tours – discover objects within or across different faiths in the collections.
Essential Information
Address: V&A South Kensington Cromwell Road, SW7 2RL
Nearest station: South Kensington
Opening times: Daily 10am-5.45pm; Friday 10am-10pm (selected galleries remain open after 5.45pm)
Price: Admission free, some charges may apply for exhibitions and events
Find out more at www.vam.ac.uk
Please like, share and comment below and see if we have anything else to inspire your next visit to London.