London is famed for its thriving Indian cuisine scene. It would be almost impossible to choose the best Indian restaurants, but here are a few of our favourites
Fatt Pundit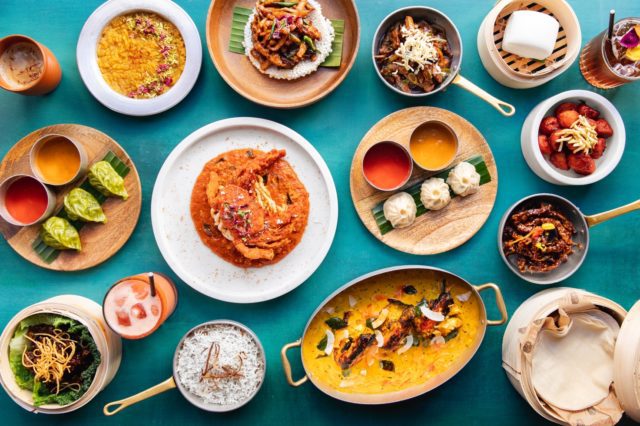 Discover Indian spices incorporated into Chinese dishes. Begin with some hearty Nepalese dumplings packed with aromatic fillings such as beef, leek and chilli, or kid goat, garam masala and cardamom. Somewhat uniquely, there is only one curry on the menu – the Malabar monkfish curry – or alternatively, szechuan honey duck is served in crispy strips perfectly seasoned with five-spice and ideal for wrapping in freshly steamed pancakes. Finish up with the Lady Kenny, inspired by a favourite Bengali sweet named after Lady Charlotte Canning, one of India's most prolific women artists.
6 Maiden Lane, WC2E 7NA (and branches). 020 7836 8883. Open Tue 5pm-10.30pm; Wed-Fri 12pm-2.30pm & 5pm-10.30pm; Sat noon-10.30pm; Sun noon-9pm. fattpundit.co.uk
Amaya
View this post on Instagram
Amaya opened in 2004 to immediate acclaim and awards including a Michelin Star. It remains revolutionary and one of London's hottest restaurants to this day. Situated in the heart of exclusive Belgravia, enjoy sophisticated, modern and unique grilled Indian cuisine, cooked in full view in a clay oven, an open grill, a searing hot iron plate, or stir-fried. While visiting, try the smoked chilli lamb chops or for vegetarian options, the chargrilled aubergine and spinach tikki with spiced fig are winners in our eyes.
Halkin Arcade off Lowndes St, SW1X 8JT. Mon-Fri 6pm-10.30pm; Tue-Fri 12.30pm-2.30pm; Sat 12.30pm – 3pm & 6pm-10.30pm; Sun 6pm-10pm. www.amaya.biz
Chutney Mary
View this post on Instagram
The trendsetting landmark fine dining Indian restaurant with a glamorous bar can be found in elegant St. James's. When visiting, try Hyderabadi lamb korma – boneless lamb Osso Bucco is slow-cooked in a rich sauce infused with aromatic spices to reach a tender texture. The small plates are perfect for trying a bit of everything: Tokri chaat, a string potato basket filled with veg goodies, golden fried prawns and Andhra lobster chilli fry. 
73 St James's St, St. James's, SW1A 1PH. Mon-Fri noon-2.30pm & 6pm-10.30pm; Sat noon-2.45pm & 6pm-10.30pm; Sun noon-2.45pm & 6pm-10pm. chutneymary.com
Farzi Café
View this post on Instagram
Heading to the theatre? Nearby on Haymarket, you'll find Farzi Café. The first branch opened in 2014 in Gurgaon, 30km southwest of India's national capital, New Delhi. Now, there are restaurants all around the world, including in Canada and Dubai. It is a modern restaurant that serves unusual dishes such as paneer popcorn (pictured), avocado and pomegranate tacos, dal chawal arancini – fried lentil and rice balls – and asparagus and edamame kolhapuri. Perfect for a pre- (or post) show meal.
Farzi Cafe, 8 Haymarket, SW1Y 4BP. Tue-Thu noon-10.30pm; Fri-Sat noon-10.15pm; Sun noon-9pm. farzilondon.com
Kahani
View this post on Instagram
Opposite Cadogan Hall, famous for its classical music, jazz and other musical shows, Kahani offers a high-class dining experience in luxe, seductively lit interiors. The finest seasonal and traditional British ingredients are brought to life with heady spices and Indian culinary techniques. As a result, meals are delicious and perfect for sharing… maybe. Choose from the two or three-course pre-theatre menu, the six-course tasting menu or the weekend roast menu – the slow-cooked Somerset lamb shank with Kashmiri spices is heavenly.
1 Wilbraham Place, SW1X 9AE. Mon-Fri 5pm-10.30pm; Sat noon-2.30pm & 5pm-10.30pm; Sun 12.30pm-8pm. kahanilondon.com
Madhu's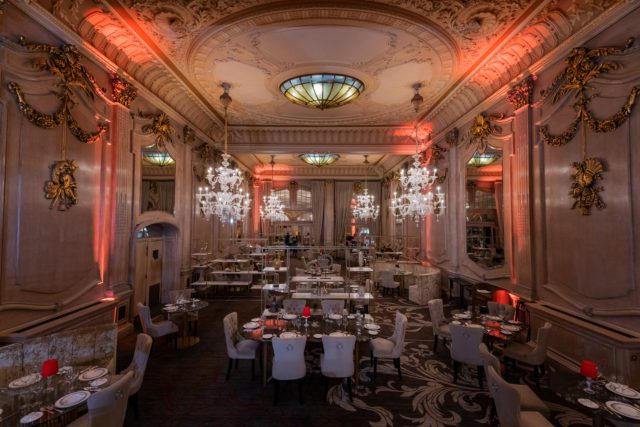 A family-owned business that began in 1935 in Nairobi, Kenya, Madhu's is now a highly-regarded brand in Britain. They've catered the House of Commons, as well as Windsor Castle and Buckingham Palace twice! New for 2021, Madhu's of Mayfair is a stunning new dining destination offering authentic Punjabi cuisine with a Kenyan twist, including secret recipes handed down over four generations. Madhu's macchi is the signature seabass dish seasoned with the legendary marinade. Boozi bafi is lamb chops in a thick curry sauce, while Madhu's makhani dall consists of slow-cooked black lentils in a creamy tomato and garlic sauce.
21 Piccadilly, W1J 0BH (and branches). Tue-Thu 5.30pm-11.30pm; Fri-Sat 5.30pm-1am; Sun 5.30pm-11.30pm. madhus.co.uk
Masala Zone
View this post on Instagram
Delicious, genuine Indian food and fantastic service. As well as many other awards, Masala Zone has been rated one of London's six best Indian restaurants by the Evening Standard. The menu includes pioneering street food, thalis (family platters), freshly prepared vegetables, flavourful grills, regional curries and biryanis. Inspired by the gourmet homes and street stalls across India's regions. With branches in Camden, Covent Garden, Earls Court, Islington and Soho, there's always a Masala Zone in close proximity when you're in London.
48 Floral St, WC2E 9DA (and branches). Daily from 12.30pm. Please check times. masalazone.com
Veeraswamy
View this post on Instagram
Overlooking Regent Street, Veeraswamy has been an iconic institution since it opened in 1926 and offers classical Indian cuisine tuned to the tastes of the 21st century. The roast halibut with pandan leaf is a recipe inspired by the town of Karaikal in southwest India, and the roast duck vindaloo is a proper Goan vindaloo – it's not for the faint-hearted!
Victory House, 99-101 Regent St, W1B 4RS. Tue-Fri 12pm-2.30pm; Tue 6pm-10.30pm; Sat 12.30pm-3pm & 6pm-10.30pm; Sun 12.30pm-3pm & 6pm-10pm. veeraswamy.com
Bombay Bustle
View this post on Instagram
Bombay Bustle captures the essence of Mumbai, suited to a leisurely dinner with friends, a quick lunch for one and evening dining. The menu is inspired by the city's diverse flavours and home-style cooking. The À la carte menu sees recreations of some of Mumbai's most loved dishes and Indian comfort food alongside family recipes from Founder Samyukta Nair and Executive Chef Surender Mohan. Try creations such as madras chicken curry with southern spices and coconut milk, and masala chai panna cotta (pictured) with a sumptuous combination of strawberries, figs, cinnamon and cardamom.⁠ The weekend brunch menu offers decadent feasts that a slow Sunday morning calls for, including a brunch bundle, perfect for two or more people to share.
29 Maddox St, W1S 2PA. bombaybustle.com
Cinnamon Kitchen
View this post on Instagram
High-energy, theatrical, all-day dining with an open tandoor grill create a memorable, interactive dining experience that's not to be missed. Since Cinnamon Kitchen opened, it has established itself as one of the finest modern Indian restaurants in London. It continues to challenge the status quo by fusing the spice of the subcontinent with the finest British ingredients and culinary traditions to create modern dishes that remain classic and timeless. Why not try the 10-dish sharing brunch (pictured) with optional bubbles?
9 Devonshire Square, Spitalfields, EC2M 4YL (and branches). Tue-Sun noon-11pm. cinnamon-kitchen.com
Dishoom
View this post on Instagram
When Iranian cafés first opened in Bombay, people from all walks of life shared tables, rubbed shoulders and broke bread together. Dishoom pays homage to this style of Irani café from the past, and the food of all Bombay. Tuck into lamb or vegetable samosas, vada pau – Bombay's version of London's Chip Butty – and jackfruit biriyani. The Winter Feast menu will be available for groups of six or more from 21 Nov-24 Dec.
Branches in: Kensington, Shoreditch, King's Cross, Carnaby, Covent Garden and Canary Wharf. dishoom.com
Kricket
View this post on Instagram
In search of the divine? You'll find a modern and minimalistic take on the basement speakeasy at Kricket. The a collection of modern Indian restaurants which combine British ingredients with the flavours and aromas of the Indian subcontinent and neighbouring countries. Enjoy flavours including date, pistachio, mango, tamarind, ginger, garam masala and much more. Kricket now operates three permanent locations in Brixton, Soho and White City.
12 Denman St, W1D 7HH (and branches). Mon-Sat noon-2:30pm & 5pm-10:30pm; Sun noon-9pm. kricket.co.uk
Kolkati
View this post on Instagram
Kolkati was opened in 2016 by Kate de Lord and Jack Hogarth, after 5 months of adventuring around India. While travelling, the Kati Roll grabbed Kate and Jack's attention in Kolkata. As a result, they decided this was the ultimate street food dish to bring back to the UK. Kolkati serves hot Kati rolls with a punchy balance of sweet, sour and spice for the ultimate flavour satisfaction.
KERB Camden Market, West Yard, Camden Lock Pl, NW1 8AF. Mon-Thu 11am–6pm; Fri 11am-7pm; Sat 10:30am-8pm; Sun 10:30am-7pm. kolkati.com
Gunpowder
View this post on Instagram
Celebrating traditional family recipes with a modern twist. Gunpowder restaurants showcase the vibrant, bold flavours of the subcontinent through responsibly sourced ingredients. Small plates include Spicy Venison Doughnut, Tandoori Chicken and Karwari Soft Shell Crab. Try the Feast Menu – six dishes, steamed rice and a dessert served for two people. Additionally, vegetarian options are available throughout.
20 Greek St, W1D 4DU (and branches). Mon-Thu noon-3pm & 5pm-10pm; Fri-Sat 11am-10pm; Sun 11am-9pm. gunpowderrestaurants.com
Please like, share and comment below and see if we have anything else to inspire your next visit to London.