Audiences at 2:22 A Ghost Story are politely asked not to reveal the surprises in the edge-of-your-seat supernatural thriller at the Criterion Theatre from 7 May 2022.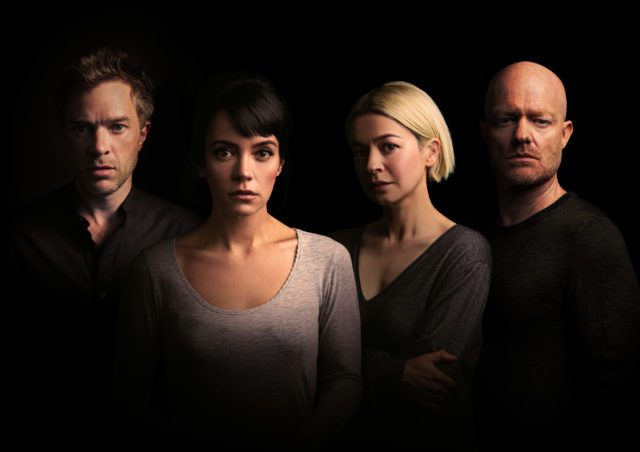 Jenny believes her new home is haunted, but her husband Sam isn't having any of it. They argue with their first dinner guests, old friend Lauren and new partner Ben. Can the dead really walk again? Belief and scepticism clash but something feels strange and frightening, and that something is getting closer, so they're going to stay up…until 2:22…and then they'll know.
"a brilliant investigation into the ghosts that haunt us […] It's everything I love; wit, a meditation on marriage and relationships and family all hinging on a frightening plot" – Lily Allen
Returning this summer following two record-breaking seasons, the acclaimed star performances has already included Lily Allen, James Buckley and Giovanna Fletcher. The next run will star Tom Felton (Harry Potter) and Mandip Gill (Doctor Who) among others.
2:22 is written by award-winning writer Danny Robins, creator of the hit BBC podcast The Battersea Poltergeist, and is directed by Matthew Dunster. Look out for the clues to unlock the mystery in this brilliantly funny and intriguing play; it's an adrenaline-filled night where secrets emerge and ghosts may or may not appear… What do you believe? And do you dare discover the truth?
Get set for an adrenaline-filled night where secrets will emerge and ghosts may appear! Audiences will be hanging on every word until 16 October at the Noël Coward Theatre.
Please like, share and comment below and see if we have anything else to inspire your next visit to London.