Audiences at 2:22 A Ghost Story are politely asked not to reveal the surprises in the brand-new, edge-of-your-seat supernatural thriller at the Noël Coward Theatre until 16 October 2021.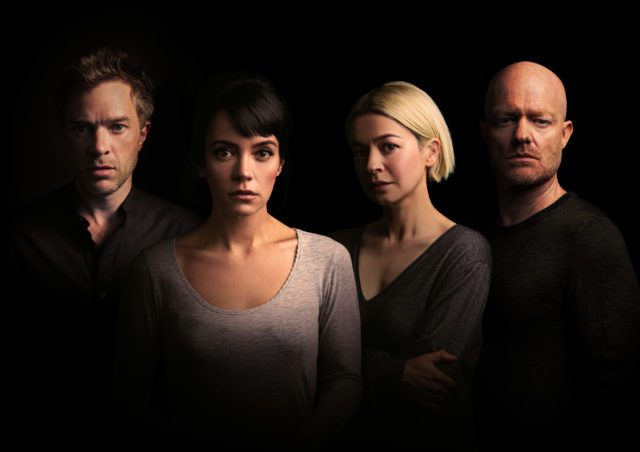 Jenny (Lily Allen) believes her new home is haunted, but her husband Sam (Hadley Fraser) isn't having any of it. They argue with their first dinner guests, old friend Lauren (Julia Chan) and new partner Ben (Jake Wood). Can the dead really walk again? Belief and scepticism clash but something feels strange and frightening, and that something is getting closer, so they're going to stay up…until 2:22…and then they'll know.
"a brilliant investigation into the ghosts that haunt us […] It's everything I love; wit, a meditation on marriage and relationships and family all hinging on a frightening plot" – Lily Allen
The play is the West End debut for many stars. Firstly, the award-winning writer of A Ghost Story, Danny Robins. Robins is the host of the podcast Haunted. He also wrote and co-created shows like We Are History, Young Dracula, Rudy's Rare Records and The Museum of Everything. Lily Allen also makes her debut starring as Jenny.
Get set for an adrenaline-filled night where secrets will emerge and ghosts may appear! Audiences will be hanging on every word until 16 October at the Noël Coward Theatre.
Please like, share and comment below and see if we have anything else to inspire your next visit to London.