Pantechnicon is a new shopping and dining destination on Motcomb Street near Harrods
The concept
The new shopping and dining hub is inspired by Japanese and Nordic culture, so expect cool, minimalist designs and menus.
The building
The five-storey building was built in 1830 as an art and crafts centre.
It was later used as a warehouse to store aristocrats' souvenirs, furniture and carriages.
Painted cream, it features 10 columns in the style of an ancient Greek temple and was featured in novels by Thackeray and Dickens.
Now refurbished, the Grade II-listed building has maintained its grand exterior. However, inside it has a raw warehouse feel in keeping with its 2020 ethos as a cool shopping destination.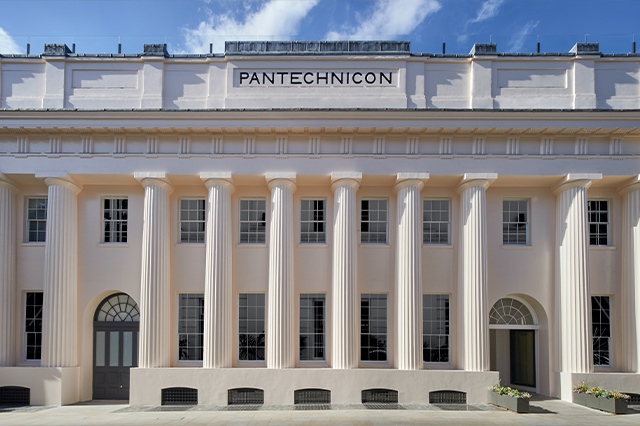 The lower ground floor
Sachi will be a 100-seat restaurant, bar and cocktail lounge with a street terrace and takeaway kiosk. It's expected to open on the lower ground floor in the spring of 2021.
If you can't wait that long, visit a pop-up on the first floor, which is already open.
The ground floor
The ground floor showcases handcrafted and designer items from 150 Japanese and Nordic brands.
Japanophiles can browse tokyobike bikes, Kaikado homeware, Porter Yoshida bags and Shihara jewellery.
In addition to the above brands, Antipast's accessories and Suicoke's footwear are exclusive to Pantechnicon.
Meanwhile, fans of all things Scandi can browse Aesther Ekme accessories and fragrances from the Swedish perfumer 19-69.
In addition to these, you can shop for Finnish homeware from Katriina Nuutinen, jewellery from the Norwegian brand Tom Wood and trainers from the Danish brand Erik Schedin. All of these are exclusive to Pantechnicon.
Once you've shopped, drop into the UK's first permanent branch of Café Kitsuné, which is already a hit in New York and Paris.
Alternatively, make a night of it and visit Sakaya, a bar and off-licence with an entrance on the street on the east side of the building.
As well as sake and Japanese wine, it serves rare, hand-crafted Japanese whisky and other spirits. You can also try umeshu, a liqueur made with unripe plums.
The first floor
The first floor is reserved for beauty products from Bijo.
Furthermore, the floor has a large space designed for exhibitions, workshops, dining pop-ups and tastings. You'll be able to meet artists and creators here soon, too.
If you need a break, grab a bite to eat at Little Sachi. The 30-seat lunch and dinner spot has a menu co-curated by Nancy Singleton, the author of Phaidon's Japan.
The second floor
 If you've never tried Nordic cuisine, now's your chance, as the second floor is taken over by Eldr, a 70-seat contemporary Nordic restaurant.
The name means fire in Old Norse, so expect dishes cooked over flames as well as foraged and pickled ingredients.
The third floor
The top floor roof features a garden designed by the Finnish horticulturalist Taina Suonio. You can also dine at The Nordic, a 130-seat bar and restaurant.
The roof is covered by a retractable glass roof, making it suitable for all weather.
Expect contemporary dishes by Finnish head chef Joni Ketonen from Eldr and cocktails curated by bartenders from Iceland and the Faroe Islands.