Fans of Harry Potter, Harry Houdini and David Blaine can now recreate magic at a new wizardry experience
You can't miss Wands & Wizard Exploratorium – a magic shop which is housed in a pink townhouse on Greek Street in Soho.
The enchanting magic centre is from the team behind The Cauldron, a molecular cocktail making experience in London, Edinburgh and New York.
The new five-storey magic hub has been designed with social distancing in mind, and is opening in phases.
Co-founder Matthew Cortland says, 'As a former high school teacher, I could not be more excited to be creating an exploratory experience for kids and adults that celebrates science, technology, engineering, mathematics, literature and imagination.
'We showcase how fantasy can be made real with today's technology. It's why we founded the company and the passion that drives our team.
'In a Covid-19 world, it's more important than ever to provide safe, fun, and educational experiences to developing minds.'
The ground floor
The ground floor is already open. The shop sells homemade pumpkin ice cream, poison toffee apples, pumpkin punch and sweets in bizarre flavours – dispensed with a magic wand, naturally.
You can also order homemade HallowCream, an alcoholic or non-alcoholic hot drink. Infused with spiced apple, cinnamon and orange, it's topped with butterscotch and a drizzle of caramel.
Visit in October and you can take part in pumpkin carving sessions, too.
The middle floors
The basement, first and second floors are reserved for The Wizard Exploratorium, which opens in November.
As soon as you enter, you'll be given a magic wand which you control throughout your visit. You'll feel like you've stepped into a real-life fantasy thanks to the uneven wooden floors, underground stone vault and secret miniature door.
The self-guided interactive exhibition explains the science behind levitation and disappearing acts.
The attic
Like The Wizard Exploratorium, the Magic Wand Experience also opens in November. You must book ahead.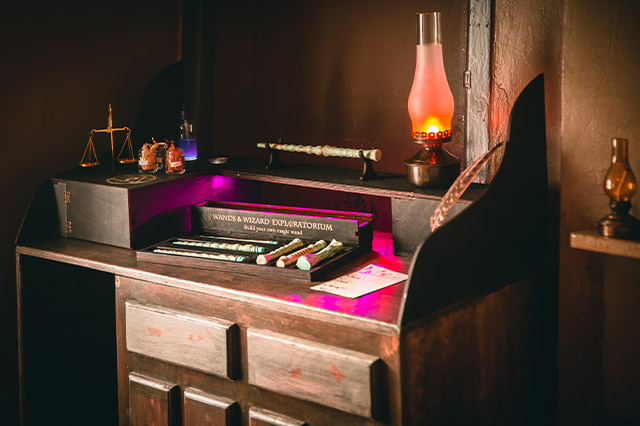 The theatrical workshop has been designed for small groups. A wizard will help you build your own illuminated magic wand.