The immersive theatrical experience The Great Gatsby returns to Mayfair
If London's dark nights seem gloomy, now you can brighten them up thanks to The Great Gatsby.
The 1920s 'maskquerade' ball takes place at Immersive Ldn (1 Oct-31 Jan 2021). Immersive Ldn is a three-storey building near Bond Street which was the former home of the Queen Victoria's Rifles Association.
The show
The Great Gatsby is an immersive show created by Alexander Wright.
After premiering in York in 2016, it transferred to London's Vault Festival in 2017. Later, it went on a national tour.
It is co-produced by Olivier Award-winners Louis Hartshorn and Brian Hook. The duo previously worked on the West End musicals Urinetown and American Idiot.
Hartshorn says, 'We're deeply proud of the team who have worked so skilfully and passionately to welcome back our audiences and restore some of the cultural offering in London that has been missing for far too long.
'We are excited to welcome folks back to Gatsby's mansion in a responsible and measured way, and to be one of be the first shows in the West End that is able to re-open its doors to fans.
'At Immersive Ldn we will always lead the way with innovation. We're hoping this can be a blueprint to help our other productions around the world begin to open.
'It has been a joy to revisit the production with new scenes and new choreography.'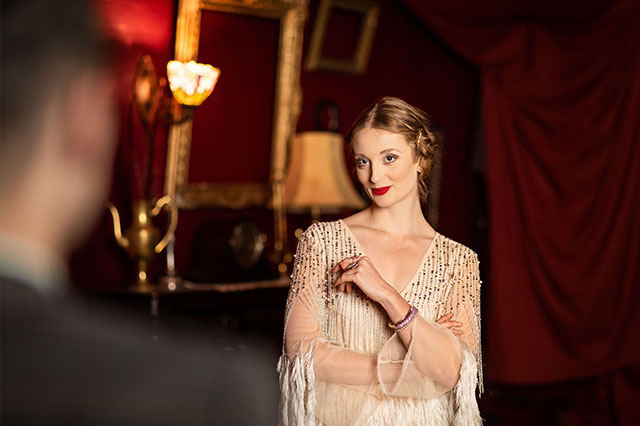 The plot
The theatrical event is inspired by F Scott Fitzgerald's 1925 novel, The Great Gatsby, about an eponymous millionaire who throws lavish parties.
So dress to the nines in 1920s garb and head to Jay Gatsby's home, where the Champagne flows and the drama unfolds.
While there, you can sip cocktails, listen to a jazz band and learn the Charleston.
The cast
Craig Hamilton (Secret Cinema's Casino Royale, TV's Belgravia) takes the lead.
Hamilton will star alongside Lucinda Turner as Gatsby's love interest, Daisy. Meanwhile, Dean Graham will play Daisy's unfaithful husband Tom.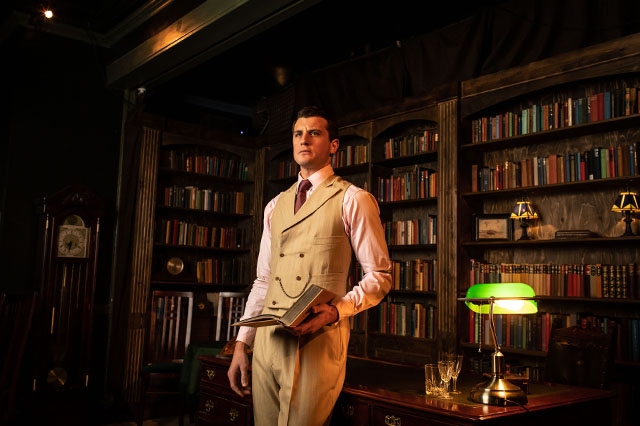 Safety measures
As the show is immersive, you can choose where you stand and move throughout the performance. Therefore, you can ensure you remain two metres apart from others. Capacity has been reduced to encourage social distancing, too.
In addition to the above measures, the show's costume designer, Heledd Rees, has created bespoke face masks that you can buy at Immersive Ldn.
Furthermore, audience members and staff will have their temperatures checked on arrival.
Meanwhile, the venue and bar equipment will be sterilised before and after each performance, and the bar will take card payments only.
Lastly, there is a no-questions-asked exchange policy.