After the merriment of Christmas and the New Year, the cold dark days of January can be hard to face. So here are a few ways to lift your spirits and banish the winter blues.
Doctors swear that laughter is the best medicine; it boosts immunity, lowers stress hormones and makes us happy. What's not to like? So, head to a stand-up night at one of the many comedy clubs in the capital – lots are located in and around Leicester Square, where you will find statues of legendary funnymen Laurel and Hardy perched on the roof of the TKTS box office, Charlie Chaplin in the square itself and a bronze Bugs Bunny in Leicester Place.
Here, too, you'll find Leicester Square Theatre, where you can catch up-and-coming comics as well as famous, more experienced faces. The theatre's director, Martin Witts, opened the Museum of Comedy in the repurposed crypt of Grade I-listed St George's Church in Bloomsbury. Its state-of-the-art performance space hosts everything from stand-up shows to cabaret. Portraits of comedy stars, original Spitting Image puppet heads and the back door of Del Boy's Robin Reliant are guaranteed to put a smile on your face too.
Just around the corner on Oxendon Street is the legendary Comedy Store, which has been making London laugh since 1979. Everyone from Alexei Sayle and Rik Mayall to Keith Allen and Ben Elton have braved the stage here, and you may even spot the next Peter Kay at one of the monthly new material nights. In fact, there are shows on pretty much every day, so if you get the midweek blues instead of the Monday ones, you won't lose out. Every Sunday, you can watch improvised comedy by the Comedy Store Players from £20 – grab a drink and a stone-baked pizza at the bar and diner, sit back and enjoy yourself. Tickets for stand-up shows (Thu-Sat) start at £18, and open-mic nights take place on the last Monday of each month. Whether you laugh your head off or heckle is anyone's guess, but that's the fun of live comedy.
Other venues worth visiting are the Soho Comedy Factory upstairs at The Blue Posts pub on Berwick Street. There's stand-up comedy here every Wednesday from 7pm, so get down to this small, tiled 'boozer' that harks back to Soho's bohemian heyday. Or visit the West End Comedy Club, located upstairs in the Piano Bar at Covent Garden Social Club on Great Newport Street. On Monday to Thursday evenings, you can watch stand-up comics, TV acts and veterans from the comedy circuit. There's a bar too, with card-only table service.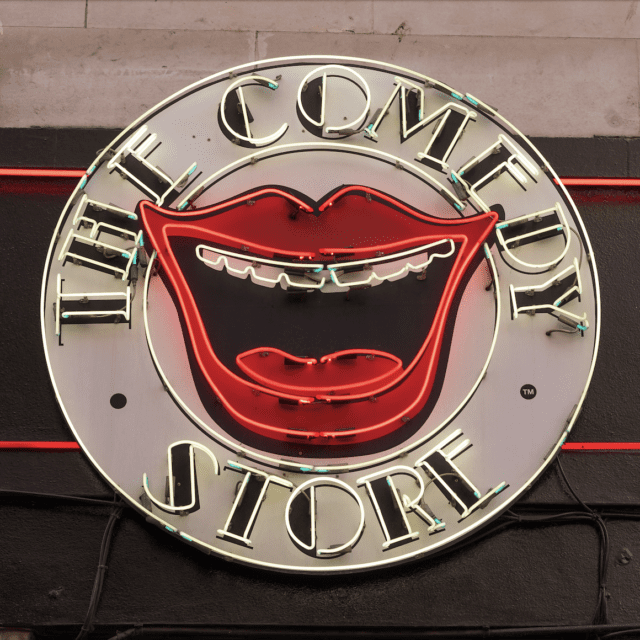 The Comedy Store © Shutterstock
Boost your happy hormones
It's not just comedy shows that will cheer you up though. For a big boost of happy hormones, visit the multisensory immersive experience, Dopamine Land, in South Kensington. There's a ball pit for big and little kids, a room where you are immersed in the sight and smell of fresh popcorn (bliss!), an infinity lights room covered with mirrors and a space where you can let loose and have a pillow fight. These colourful installations, projections and nostalgic games are guaranteed to get your endorphins going. And after the action, head to the Bubble Bar and order a blackberry and passionfruit bubble tea – its name will make you feel happy before you've even tasted it!
If you still feel down, there are a few other ways to cheer yourself up. A brisk run in one of the capital's Royal Parks will blow the cobwebs away. St James's Park is beautiful with its Canada geese strutting around the lake. Or you could go and see the hyenas at London Zoo and hope their strange laughter is contagious. Grab a cheery cup of hot chocolate afterwards: Chin Chin Labs in Camden and Soho cover theirs with gooey marshmallow fluff while Rabot 1745 in Borough Market does a boozy version with a dash of Saint Lucian rum. Yum!
Finally, a beautiful work of art always uplifts. The Design Museum's Yinka Ilori: Parables for Happiness is a free exhibition that shows off the British-Nigerian artist's trademark bright colours and bold patterns. The exuberance of Frans Hals' The Laughing Cavalier in The Wallace Collection is bound to make you smile, meanwhile, and the sunny yellow and orange glow of Vincent van Gogh's Sunflowers bring a burst of life to Room 43 of The National Gallery. And just remember, spring is only around the corner.
Please like, share and comment below and see if we have anything else to inspire your next visit to London.