There's more to the legendary King's Road than its shops. Find out what's on at the Saatchi Gallery in the coming months
Just steps away from Sloane Square station, in the Duke of York's Square complex, you'll find the Saatchi Gallery, a gigantic space that was once a Georgian army barracks and is now home to some of the world's best contemporary art. Since 1985, Saatchi Gallery has amused, challenged and shocked us – who can forget Damien Hirst's shark swimming in formaldehyde? And 2023 is set to be equally eye-catching with both blockbusters and free exhibitions that are smaller but no less interesting.
The New Black Vanguard (until 22 Jan)
You haven't got long left to see The New Black Vanguard (to 22 Jan), so catch it while you can because the exhibition has received rave reviews and is one of our Editor's favourites of the year – high praise indeed! Based on the thought-provoking book of the same name by American writer and critic Antwaun Sargent, it showcases 15 of today's most influential and talented photographers, stylists, models, make-up artists and creative directors.
You'll see the walls of this vast gallery covered in celebratory bright colours – an intentional deviation from the classic white walls you might expect to find in an exhibition. The beautiful portraits spark a debate about the role of the Black body in art, fashion and culture, as well as the barriers that face Black photographers. Artists featured in the exhibition include Campbell Addy, who has snapped covers for Time, Dazed and Rolling Stone, and Nadine Ijewere, who in 2019 became the first Black female photographer to shoot a Vogue cover.
If you want to know more ­– and you will after seeing these amazing images – go to Art After Dark! (13 & 20 Jan, until 9pm), where you can view the exhibition, chat with some of the artists involved over a drink and even do a bit of life drawing if you fancy.
Beyond the Streets London (17 Feb-9 May 2023)
Fresh for spring is a colourful celebration of graffiti and street art and it's set to take over the entire gallery, all 70,000 square feet of it. From prehistoric cave drawings to Jean-Michel Basquiat and Banksy, our streets, trains, pretty much any scrap of public space, have been decorated with mesmerising yet temporary art. If you're more inclined to view graffiti as vandalism, you're certain to change your mind at Beyond the Streets London (17 Feb-9 May), where you'll see eye-popping images, from hip hop to punk rock, and discover why street art has such a huge influence on underground culture. Noted graffiti historian Roger Gastman has curated this show of original works, rare ephemera, photos, site-specific installations and fashion displays, so put on your Adidas and go and see it.
Free displays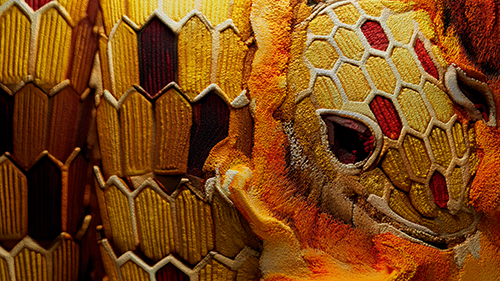 Look out, too, for a few other interesting free displays at the Saatchi. Only hanging arou d for a few weeks longer, Serpenti Metamorphosis is presented by Bulgari in collaboration with award-winning media artist and director Refik Anadol. Following the success of last year's exhibition and digital experience in Piazza del Duomo in Milan, it is in London until 23 December.
Bitter Nostalgia (to 25 Jan, in Gallery 4) presents new works by the South Korean painter Hyangmok Baik and the multi-disciplinary artist Adébayo Bolaji. Their theme is nostalgia, and the bold paintings explore our memories, emotions and how we recollect the past.
Equally striking is the work of a man who, while he was homeless and fighting addiction, found solace through art. When George Westren died during the pandemic, his neighbour rescued the elderly man's portfolio of complex op art drawings left behind in his Spitalfields flat. You can see George's angular, Escher-like images at George Westren: On the Straight and Narrow (6-25 Jan, in Gallery 3) and learn more about his life, which was as complex and challenging as his art.
Finally, A New Paradise (to 22 Jan in Gallery 10) asks questions about the world around us and our hopes and fears for the future. See works by Campbell Addy, who you'll find in The New Black Vanguard too, and award-winning artist Jahnavi Inniss, whose Black British History Quilt was appliquéd with the names of prominent Black Britons through the centuries.
Essential Information
Address: Duke of York's HQ, King's Road, SW3 4RY
Nearest station: Sloane Square
T: 020-7811 3070
Opening times: Mon-Sun 10am-6pm; last entry 5.30pm (please check per exhibition). Closed 25-26 December.
Please like, share and comment below and see if we have anything else to inspire your next visit to London.