A brand-new multi-dimensional immersive art experience is coming to Marble Arch this autumn. Frameless is the biggest exhibition of its kind in the UK and opens on Friday 7 October. Find out everything you need to know
Tech-centric immersive art exhibitions have been popping up around London – and the world – for a while now. You've probably seen them across social media: famous artworks are projected onto floor-to-ceiling screens and synchronised with music to create an entirely new way to experience masterpieces from some of the world's most famous artists. But one bold place is taking such experiences to even more exciting heights.
Opening in London on 7 October, Frameless is a brand-new culturally rich, multi-dimensional art experience. Housed in an incredible 30,000-square-foot venue and located just a few short steps from Marble Arch and Oxford Street, it is the biggest of its kind in the UK.
At all angles – in front, behind, above and below you – art seeps into every inch of space. You won't simply be looking at a picture like at a typical exhibition, you'll be in the picture. As you walk through artworks by Cezanne, Kandinsky, Monet, Dalí, Van Gogh, Canaletto, Rembrandt and Klimt to name a few, a breath-taking score of classical and contemporary music is played through surround sound speakers. It's an immersive experience to excite and inspire visitors of all ages.
Set across four distinctive galleries, you'll experience a different type of immersive technology in each one. With more than 479 million pixels delivered by a million lumens of light, Frameless elevates the traditional art experience to a whole new level.
The first of the four galleries, Beyond Reality, combines projection with mirrors to take you on a mind-bending journey from Surrealism to Post-Impression and beyond.
Artworks in this gallery include Salvador Dalí's The Persistence of Memory (1931) and Elephants (1948); The Tree of Life (1905) by Gustav Klimt, and The Scream (1893) by Edvard Munch.
Have you ever thought of being an artist? In Colour in Motion, the second interactive gallery, you can use your own gestures and movements to paint thanks to clever motion tracking technology. As you travel from Impressionism to Neo and Post Impressionism, you'll be able to re-create the colourful vibrancy of these remarkable paintings. Your masterpiece awaits.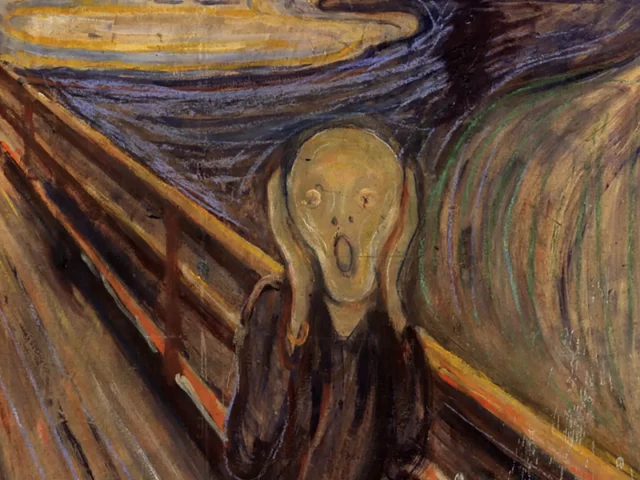 Edvard Munch (1863-1944), The Scream, 1893, National Museum, Oslo.
Artworks in this gallery include Starry Night Over The Rhone (1880) by Vincent van Gogh, The Waterlily Pond: Green Harmony by Claude Monet (1899) and A Sunday Afternoon on The Island of La Grande Jatte (1884 – 86) by Georges Seurat.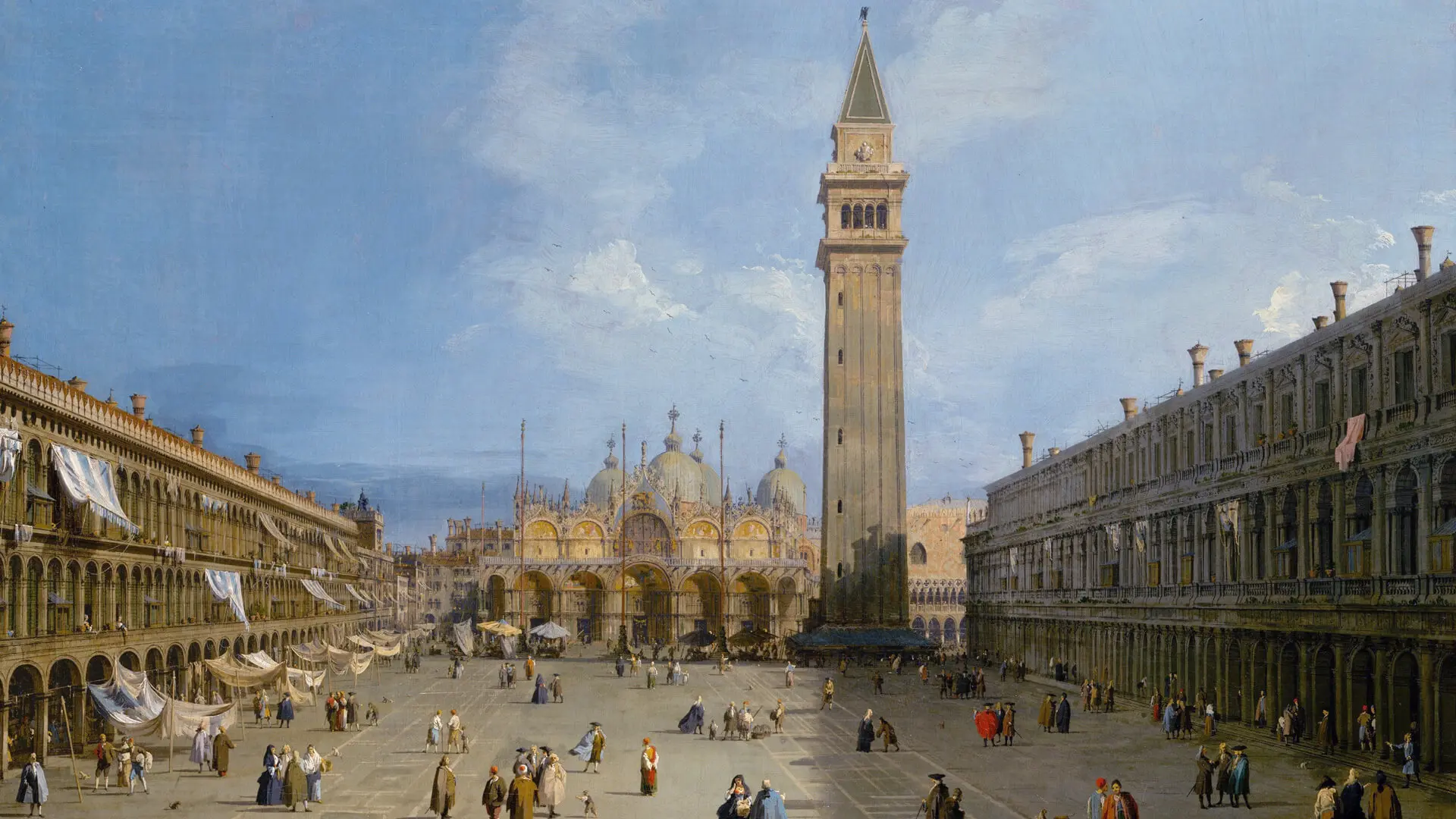 Canaletto's Piazza San Marco, late 1720s, The Metropolitan Museum of Art, New York City, USA.
Next, welcome to The World Around Us, the third and largest gallery. Here you'll experience crashing oceans, relaxing pastoral beauty, bustling cities and fiery volcanoes, moving from the Renaissance to the Romantics.
Artworks include Paul Cezanne's Avenue at Chantilly (1888), Canaletto's Piazza Di San Marco (Late 1720) and The Storm on the Sea of Galilee (1633) by Rembrandt. Norham Castle, Sunrise (c.1845) by JMW Turner and Peter Paul Rubens's The Rainbow Landscape (c.1636) also appear.
The abstract movement opened up a whole new world of vivid colour, shape and form, not simply mirroring the world but offering an entirely different expression of it. In the fourth and final gallery, The Art of Abstraction, you'll wander through a maze where masterpieces not only appear to float in space but also move across multi-layered, translucent surfaces.
Kandinsky's Yellow, Red, Blue (1925), Piet Mondrian's Composition with Red, Yellow, Blue and Black (1926) and Castle and Sun (1929) by Paul Klee all appear. Prepare to be mesmerised as you bask in the gallery's light and colour.
London's first permanent digital immersive arts experience will open at Marble Arch Place this autumn bringing art to life like never before. It's set to become a new landmark destination amongst the already world-class attractions available to London's visitors.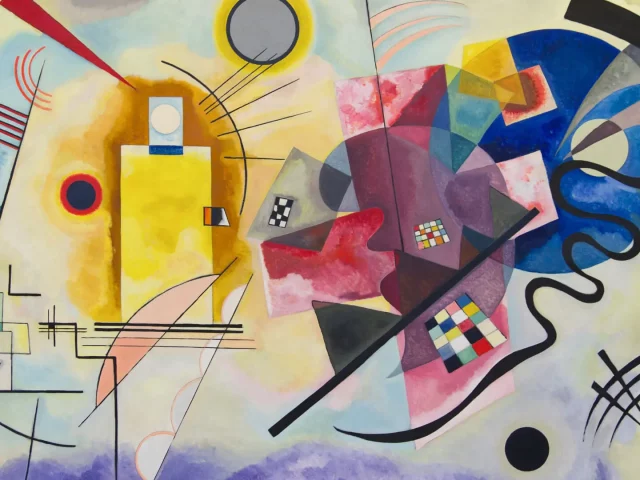 Canaletto's Piazza San Marco, late 1720s, The Metropolitan Museum of Art, New York City, USA.
Frameless, 6 Marble Arch, W1H 7AP
Tube: Marble Arch (1 min walk), Bond Street (8 mins walk), Edgware Road (12 mins walk), Marylebone (15 mins walk)
National Rail: Victoria (15 mins by bus), Paddington (10 mins by bus or tube), Marylebone (15 mins by bus or tube), Waterloo (16 mins by tube)
Bus: Marble Arch, serviced by the following buses: 2, 6, 7, 13, 16, 23, 36, 74, 94, 98, 137