Following a momentous three-year renovation project, Leighton House will reopen this October, along with its sister site, Sambourne House. Find out about this pair of historic houses and why you should visit.
Frederic Leighton was the most eminent British artist of the late 19th century. The architecture, decoration and contents of his home were all an expression of his artistic spirit. Taken together, Leighton's home established what it meant to be a great artist in late-Victorian London.
Leighton acquired an empty plot in Holland Park in 1864. The first version of the house was relatively small but he continued to work with his friend, the architect George Aitchison, on a series of extensions and embellishments for the next 30 years. The growth of the house mirrored the growth of Leighton's career. For example, he became President of the Royal Academy while building the stunning Arab Hall on the west side of the building.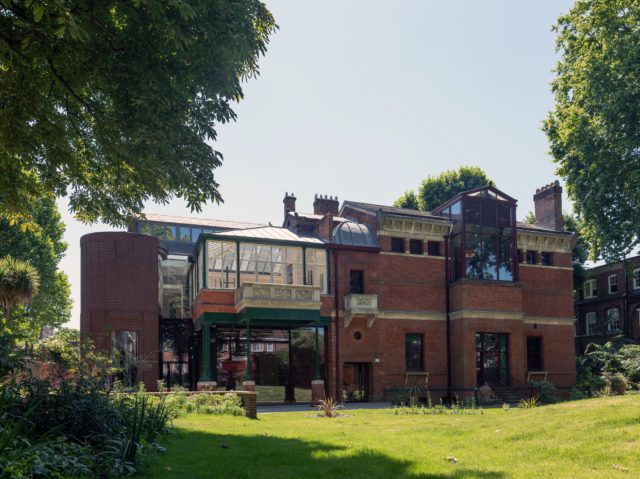 Leighton House exterior © Leighton House, RBKC. Image courtesy of Jaron James
Leighton was the only person to ever live here, creating his own "private palace of art" combining domestic accommodation, a large painting studio, spaces for entertaining and a setting for his collections. It was turned into a museum almost immediately after his death in 1896. Having taken many forms over the years, including Kensington Children's library at one stage, the house was closed in 2019 for a huge redevelopment. It was the third phase of an award-winning master plan, Hidden Gem to National Treasure, which began in 2008. This month, it will reopen to the public and we were lucky enough to have a sneak preview.
Leighton House is a Grade II* listed building, meaning extra care and consideration has to be taken during any work. The architect's aim was to make the weaker parts of the building work harder to ease pressure on the house, as well as improve accessibility throughout. Firstly, they recovered and restored what was there, then began moving the pieces of the puzzle around (i.e. relocating facilities to make it work seamlessly as a museum), before finally adding more spaces, primarily underground, where a new basement has been connected to the existing subterranean space. Thankfully, due to the huge interest in Leighton, many descriptions, photographs and illustrations of the house exist, so it's been possible to recreate many of the interiors as they would have been when he lived here.
The Entrance Hall was the first room that visitors encountered, giving a relatively understated initial impression. It had originally been a Morning Room where breakfast would be eaten, but was remodelled as part of alterations made to the house in the 1870s. With Leighton's choice of décor – muted brown walls and limited furnishings – the room doesn't give too much away, only hinting at the richness of the interiors beyond.
Adding to the many additions that Leighton made during his life here, today's architects have added a spectacular spiral staircase. Emblazoned across its walls is the first contemporary commission to be on permanent display at the house, Oneness by Shahrzad Ghaffari. It explores ideas of unity and renewal, inspired by a Persian poem, with earthy colours on the ground floor leading towards lighter colours such as turquoise as it reaches towards the higher floor and sky above.
After exploring the studios upstairs, descending the Staircase Hall into The Narcissus Hall is a real triumph. It's often described as a corridor, as its principle function is linking the Staircase Hall to the Arab Hall. However, Leighton had a far more poetic idea in mind and placed what he thought was a cast of Narcissus, excavated from Pompeii in the 19th century, in the centre of the space. Above it, the ceiling is gilded, creating a watery effect that's heightened by the sound of the trickling fountain in the nearby Arab Hall. The sculpture has since been reidentified as Dionysus, the god of wine and festivities.
The Arab Hall was the centrepiece of an extension made at the end of the 1870s. More expensive to build than the entirety of the original house, it caused a sensation upon completion in 1882. Nothing else like it existed in London at the time, and the prestige of the home grew enormously as a result. His only recorded comment t, however, is that he had built it 'for the sake of something beautiful to look at once in a while'. It was inspired by his travels to north Africa and the Middle East, as well as La Zisa in Palermo, Sicily.
Artists and Neighbours: The Holland Park Circle (15 Oct-19 Mar 2023) Free entry.
Leighton House was at the heart of a unique community of artists' studio houses that appeared around Holland Park in the late 1800s. This opening exhibition explores the diverse output of these artists, including George Frederic Watts, James Jebusa Shannon, Colin Hunter and Albert Moore. There are also photographs by Julia Margaret Cameron and recently restored paintings by Leighton's neighbour and biographer, Emilie Barrington.
A Life of Drawing: Highlights from the Leighton House Collection (15 Oct-19 Feb 2023) Free entry.
Leighton kept almost every drawing he made, often returning to them for inspiration for new works. More than 700 sheets are in the house's collection and this opening exhibition in the new Tavolozza Drawing Gallery showcases a selection of the most stunning, exploring Leighton's devotion to drawing and the role it played in his work.
Artists' Houses Walking Tours. Weekly Thu & Sun, 11am-12.30pm. Free.
Discover the unique group of Victorian studio houses built on Holland Park Road and Melbury Road by the Holland Park Circle of artists, sculptors and architects.
Just a seven-minute walk away is Sambourne House, the home of Victorian illustrator and photographer Edward Linley Sambourne (1844-1910), his wife Marion, their two children and live-in servants. The house gives an insight into the personal lives of the family and provides a rare example of what was known as an 'Aesthetic interior' or 'House Beautiful' style.
Sambourne House has also undergone a refurbishment and will also reopen o Saturday 15 October, meaning you can see the Japanese, Middle Eastern and Chinese ceramics, William Morris wallpapers and Sambourne's own photography and illustrations for yourself. As well as the new interiors, easy-to-buy combination tickets have been introduced so it's now even easier to visit both properties in one day.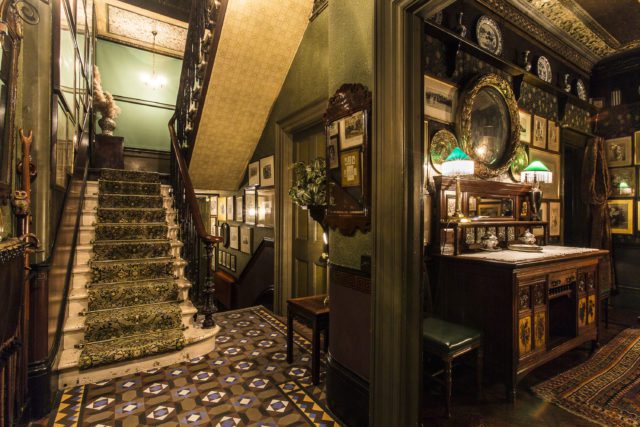 Sambourne House Entrance Hall ©RBKC. Image courtesy of Kevin Moran
Leighton House, 12 Holland Park Road, W14 8LZ. Nearest tube stations: Kensington (Olympia), High Street Kensington | Buses: 9, 23, 27, 28, 49, 328, C1
Sambourne House, 18 Stafford Terrace, W8 7BH. Nearest tube stations: High Street Kensington | Buses: 9, 23, 27, 28, 49
Please like, share and comment below and see if we have anything else to inspire your next visit to London.