Liverpool Street station is one of the capital's – and country's – busiest transport hubs, providing the starting point for journeys to Cambridgeshire, Essex, Greater London, Hertfordshire, Norfolk and Suffolk. Tens of millions of passengers pass through it each year but few may know of the vibrant square that can be found just moments away.
'Hidden gem' is a phrase that's often banded around, but Devonshire Square is a prime example of such a place. Leaving Liverpool Street Station and heading east, crossing Bishopsgate and walking down New Street, you'll reach Devonshire Square (DSQ) within just a few minutes. Passing underneath the archway, you'll enter the covered courtyard which is where the fun begins.
All-year-round alfresco fun
Dating back to 1768, the DSQ estate was used as a warehouse, storing raw silk, piece goods and textiles. Additional land was acquired and additional warehouses were constructed right up until 1820. Nowadays, DSQ offers everything from 18 bars, restaurants and shops and an annual events programme to commercial office space.
The courtyard is surrounded by the old warehouse buildings and topped by a glass-domed roof, meaning it can be enjoyed year-round. Within this area, you'll find the likes of Devonshire Terrace, a beautiful bar and restaurant, and Cinnamon Kitchen from the internationally renowned master of Indian fine dining, Vivek Singh.
In the southern end of the courtyard, don't miss Kenza which is regarded as one of the top Lebanese restaurants in the capital. Combining authentic and utterly delicious home-style Lebanese and Moroccan dishes with enchanting Middle-Eastern dance shows and music, hosted in its exquisitely furbished interiors, it's a unique experience which recreates the charming atmosphere of a traditional Moroccan riad. Dishes include hot and cold mezzo; traditional specialities like Muhammar, Kofta Karaz, Moussaka and vegetable Freekeh; as well as charcoal grilled meats and an assorted selection of vegetarian and vegan dishes.
The DSQ estate encompasses more than the courtyard though; wander through the other side and you'll find beautifully landscaped streets where a new hotel is due to open next year, as well as other food and entertainment venues.
Lucky Voice is a pioneering social entertainment brand which opened a fantastic new venue at Devonshire Square in February 2023. Inside, you can book one of nine karaoke booths and channel you're inner popstar. There is also an animated video wall, premium DJ booth, Instagrammable LED lighting features and a super-sized disco wrecking ball where guests can channel their inner Miley Cyrus. For a premium experience, book the VIP karaoke pod just off the bar. Speaking of the bar, the drink menu includes an assorted selection of spirits, wines, beers, shooters, ciders, soft drinks, and both alcoholic and virgin cocktails for the perfect party night out.
Finally, Devonshire Square's Danish restaurant, KöD, serves perfectly cooked steaks with mouth-watering side orders, paired with high-quality wine. Just six months since their opening KöD has become an unmissable destination for foodies and is rated n.1 steakhouse in London on TripAdvisor.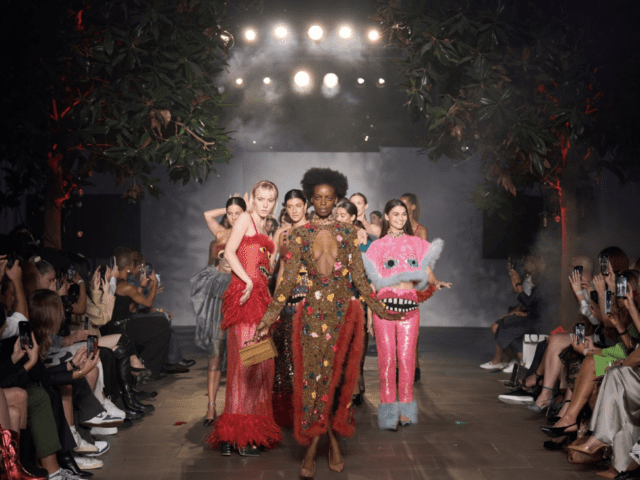 Image: The Humanitritos by AnnaFrancesca Revolution © Oxford Fashion Studio.
Now, what really sets the estate apart is the programme of year-round events that are on offer. Events and activities are focused on supporting social and environmental causes through the power of the arts and sports, and aim to promote community engagement whilst providing opportunities to vulnerable categories and emerging talents from diverse backgrounds. All events included in Devonshire Square's cultural plan are thoughtfully designed to reflect Devonshire Square's vision, which has multiculturalism, sustainability, diversity & inclusion at its very core.
From visual art exhibitions with performing arts events and festivals, to gastronomy-themed events showcasing the rich offerings available at the Square's iconic restaurants and bars, there is something for everyone.
The weekly programme includes: Pilates and barre, yin yoga, hatha yoga, social singing sessions and meditation classes, as well as fitness bootcamp sessions. Through Autumn, the programme will also include sound-healing sessions, which will launch in October in celebration of Emotional Health Month.
Since 2015, DSQ has been partnering with Oxford Fashion Studio with the aim of supporting some of the most talented rising stars in the fashion industry, from both UK and abroad, and championing inclusive, sustainable fashion.
In September, a series of fashion shows were hosted underneath the glass roof of the courtyard and we went along to watch. Each show exemplified the core values of inclusion, with models of all shapes, sizes and ethnicities appearing – which was refreshing to see during London Fashion Week. The setup of the catwalk was slick, too, with a DJ providing the soundtracks and the courtyard providing the perfect, bright and open backdrop.
The overriding thought of our day at Devonshire Square was 'I can't believe I didn't know this was here!' Being in such close proximity to one of London's busiest stations, it was a surprise to find such a peaceful yet exciting complex that offers such huge variety in its experiences. Whether you're a foodie, fashionista or budding popstar or yogi, there is something for everyone. If it's not already, Devonshire Square should certainly be on your London list.
Please like, share and comment below and see if we have anything else to inspire your next visit to London.