London's New Year's Day Parade is back and it's bigger and better than ever. Here's how to make the most of the capital's most colourful parade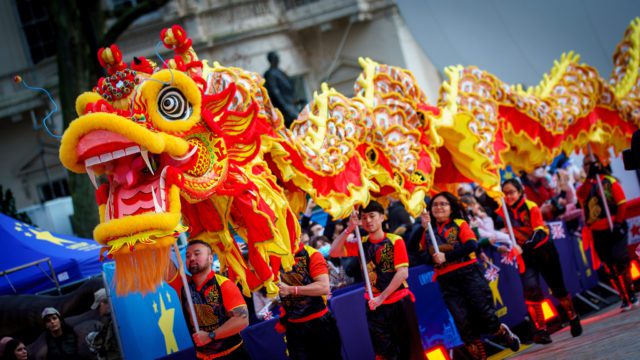 The London New Year's Day Parade and Festival is the best way to celebrate 2023 © LNYDP
One of the greatest winter spectacles in London is the New Year's Day Parade, which first took place in 1987. They say you have to see it to believe it and how right they are. London's New Year's Day Parade and Festival is the most fun that you can have for free during the holiday season and this year it returns in all its glory.
The New Year's Day Parade fills the streets of the West End with colour, culture and a whole heap of thrills and wonderment. Expect to be excited by more than 8,000 performers in 70 performance groups, from across the capital and representing numerous nations. It is sure to give you the most uplifting New Year's Day of your life.
The three-and-a-half-hour feast of world-class entertainment is perfect for all the family and, believe it or not, remains absolutely free of charge. Co-Founder Bob Bone has been at the helm of the Parade for the event's 37-year history and has worked tirelessly to give London a turn-of-the-year tradition which is now renowned around the world.
We've done our bit – creating a box of delights packed full of terrific entertainment. Now all London has to do is get out there and enjoy it. This is the most fun that you can have for free. Just ensure that you turn up early to secure your spot on the route.
– Bob Bone, Co-Founder
All the action starts at midday, beginning in Piccadilly near Green Park Station. The route turns right to Piccadilly Circus where it then winds past the stone fronts of the grand buildings of Regent Street St James's. Snaking left at Waterloo Place, the procession heads through Trafalgar Square, before turning right into Whitehall and continuing to Parliament Square.
A global event for a good cause
With more than half a million people expected to watch the parade, it is certainly worth securing one of the remaining grandstand tickets to ensure a spectacular view. Or why not even treat the family to an LNYDP VIP package which includes, a feast of fabulous food from local producers, a goodie bag, blanket, hot drinks and bottomless bubbles?
Since it started, the parade has raised more than £2m for local charities and continues to be a prominent contribution to the capital's economy. In addition to this, London's New Year's Day Parade and Festival is televised live around the world to hundreds of millions of people and is screened across America on network television.
Also, look out for the iconic Pearly Kings and Queens of London, always a popular presence at the annual kaleidoscopic carnival. With roots dating back to the 19th Century, the pearly royalty represents different parts of the capital and raises much-needed funds for numerous charities. Their button-festooned clothing originates from the traditional outfits of street traders who plied their wares.
Underground stations on (or near) the route are – Green Park, Piccadilly Circus, Charing Cross and Westminster.
Overground services go to and from Charing Cross and Victoria and are both fully operational on New Year's Day.
For the latest information

follow the parade online at www.lnydp.com and @lnydp on Twitter, Instagram and Facebook.