The capital's beer gardens are back in business, says Sarah Riches. Here are our top three
Feel nervous about drinking indoors? Then sipping a pint in a beer garden is the perfect re-introduction to London's bar scene.
When Vinegar Yard opened in 2019 in a disused car park by London Bridge, its beer garden, street food and vintage market formula proved to be a hit.
The space re-opened on 4 July (food stalls from 8 July), with new safety measures in place.
Table bookings are preferred, capacity has been reduced to allow for more space around tables and staff have their temperature checked before each shift.
Groups of up to six people now also benefit from table reservations with drinks packages.
As the name suggests, most of the yard is outside, although a warehouse provides some shelter. Inside, a spiral staircase leads up to a new cocktail bar, Abigail's, which has a 70s vibe.
The weekend market has also returned, with pre-loved and handmade items on sale from stalls and shipping containers.
Browse Levi's from Vintage Paradise, 70s watches and bric-a-brac from Eclectic Ray and scarves and hats made from Peruvian alpaca wool at Alpaca Emporio.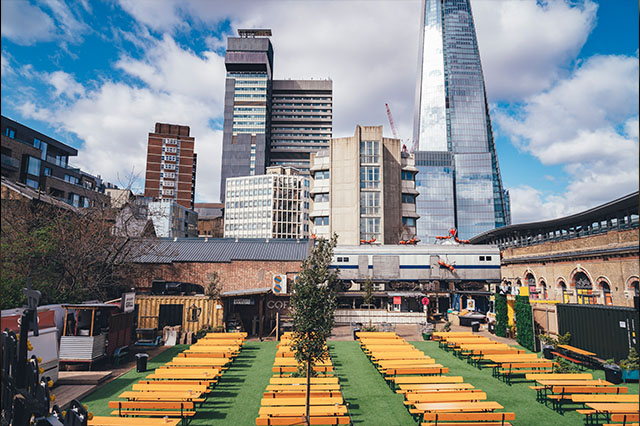 There's a lot to like about Pergola Paddington, an enormous two-storey beer garden near Little Venice.
Prior to Covid-19, the venue had space for 850, with a rooftop deck for balmy nights and a floor under a Perspex roof disguised as a blooming pergola.
Since it re-opened on 4 July, capacity has been reduced to encourage social distancing.
Other safety measures have also been put in place. Staff wear personal protective equipment (PPE); payment is contactless via card, Apple Pay or Google Pay; menus are digital only and cutlery is, alas, single use.
Visitors must also provide contact details and answer a few health questions before entering. The information is stored for 21 days before being deleted.
Everything else though, is back to normal – so you can watch the sunset while you sip a glass of wine or tuck into street food.
How does a Smash Patty burger or Temaki Bros' sushi hand roll sound? Babek Brothers is also serving up charcoal-smoked Turkish kebabs, while Thunderbird is dishing out southern fried chicken.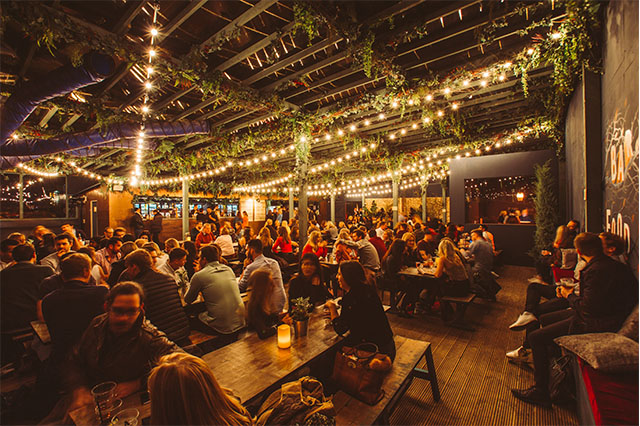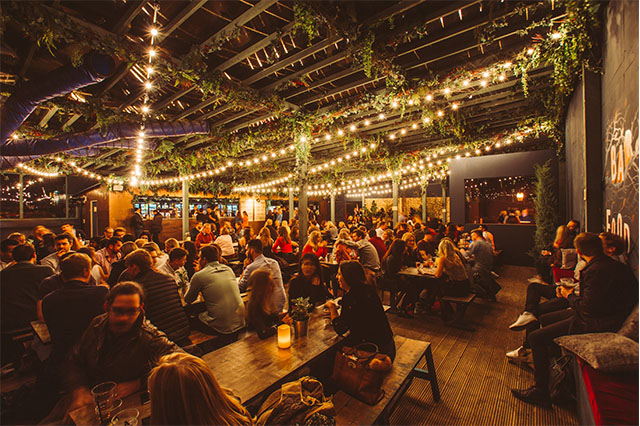 The team behind Pergola Paddington is also behind The Prince opposite Brompton cemetery, which re-opened on 4 July.
Prior to the pandemic, the former pub had space for 200. However, it has reduced capacity and introduced the same safety measures as Pergola Paddington.
A clear, retractable roof makes the open-plan deck suitable for all weather, and on sunny afternoons, sunlight beams through the blooms.
As well as three bars, the venue serves street food from Patty & Bun, pasta from Nonna Tonda and duck, steak and fried chicken with chips from Wildcard.
As for drinks, order a Bosford rose gin with raspberries or a Prince Bellini with peach and orange blossom. It's official: summer has been saved.