Fancy dining outdoors? Sarah Riches discovers London's best restaurants with gardens, courtyards and terraces
If you've had your fill of picnics in parks, then here's some good news: now you can dine outdoors in restaurants across the city.
Romantics will be first in line at this venue, which sits on the bank of the River Thames.
The Boglione family took over Petersham Nurseries in 2004, and its former chef Skye Gyngell was awarded a Michelin star in 2011 and 2012.
While the venue's plant nursery and shop re-opened in June, its café and restaurant opened on 4 July.
Now you can order salads, cakes, loose-leaf tea and pressed apple juice from the family's organic farm in Devon, direct from your table in the Teahouse cafe.
You can also dine among jasmine and bougainvillea beneath a pergola. If those seats are taken, then you can sit in the courtyard or in the glasshouse restaurant, Petersham Nurseries Café.
To celebrate the reopening, there's a new set menu.
How does borage, courgette flowers and sage picked from the garden sound? Follow it up with Haye Farm beef fillet carpaccio with rocket, sweet Tropea onion and Parmesan, then watermelon and prosecco sorbet.
For the first time, service runs till sundown on selected evenings, so you can linger over a glass of wine in candlelight.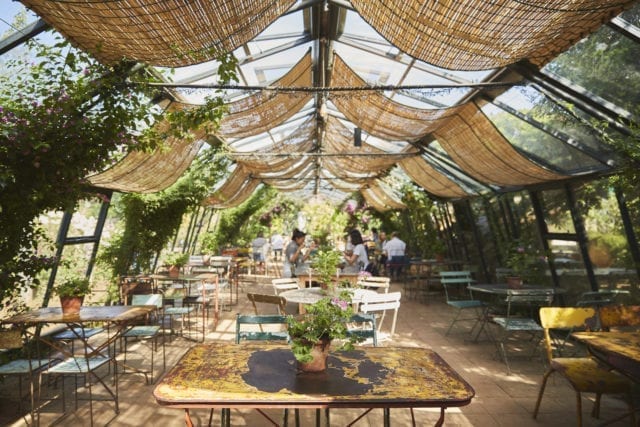 If Richmond seems too far, then visit the nursery's second branch.
The grade-II listed townhouse is set in the aptly-named Floral Court in Covent Garden.
The shop and La Goccia restaurant re-opens on 9 July.
Like the family home in Richmond, the venue has lime-washed walls, old floorboards, vintage crystal chandeliers and Italian table linen – and it bursts with blooms.
But the star of the show is its secluded courtyard, which is scented with lemon trees and lit by candles and strings of bulbs at dusk. Chairs and tables spill out onto King Street.
Sip a Limoncello spritz or Campari soda as you pick at anchovies with garlic, chilli, parsley and fried courgette flowers. Try the grilled langoustines and cuttlefish skewers too– saving space for chocolate tart with stracciatella ice cream, of course.
Contactless payments are encouraged, and as per government guidelines, till points feature screens and card machines are cleaned between use.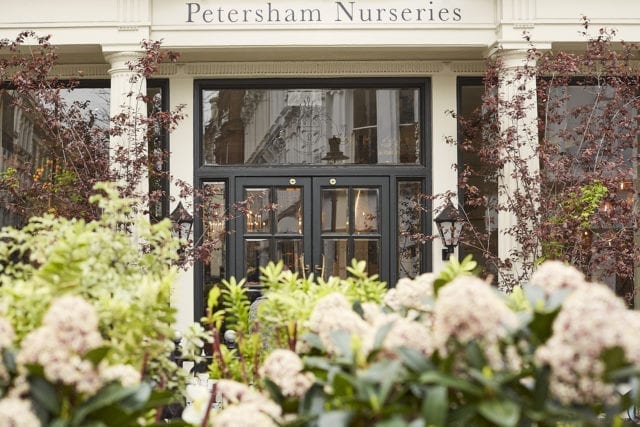 As the name suggests, this Michelin-star restaurant is on the River Thames, opposite WWT London Wetland Centre. It re-opens on 6 July.
Customers will be asked to wash or sanitise their hands on arrival. They will also have their temperature taken.
Other safety measures include following the Government's one metre plus advice, wearing masks, more cleaning staff and contactless payment. Apple Pay and Android Pay will be available.
The venue opened in 1987 in a renovated brick warehouse once used to store oil, so the interior benefits from enormous Crittall windows.
But on a sunny day you'll want to bag a seat on the terrace, which is shaded by white canopies and parasols. By day, take in the view of potted trees and a sunken garden; at night, watch the sun set over Hammersmith Bridge, which glitters after dark.
The current head chef, Sian Wyn Owen, has worked at the restaurant since 1999, working alongside Jamie Oliver, Theo Randall and Hugh Fearnley-Whittingstall.
Owen's menu features risotto, pasta and sweets such as lemon almond cake and her signature chocolate nemesis. Pair with a regional Italian wine.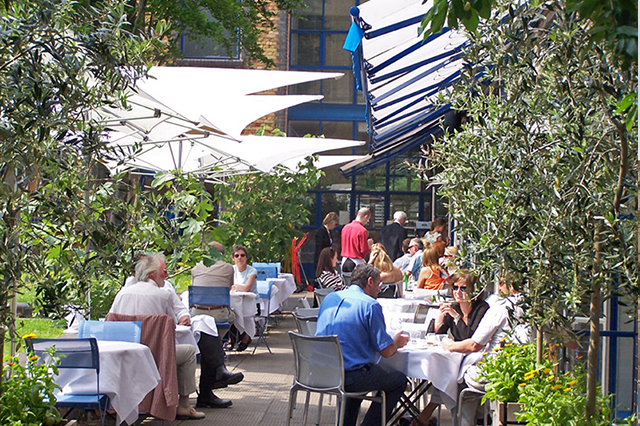 The leafy terrace at the back of this former townhouse is no secret, so you're allowed to feel a little smug if you manage to secure a table after its 4 July re-opening.
Sun seekers will want to sit by the fountain, but if you prefer shade, dine under the pergola or patio canopy.
Flowers bloom from stone urns and plants grow in terracotta pots on a windowsill by an outdoor fireplace, which is lit by lanterns after dark.
The interior is as green as the garden, with plants hanging from the ceiling and bursting from vases on the counter.
Expect a garden on your plate, too, as British dishes such as garden pea soup, crab and apple salad and blackberry ice cream are decorated with edible petals.
To reassure nervous diners, the venue has fitted thermal cameras for temperature checks. It also has air filtration units, which remove up to 99 per cent of MRSA and H1N1 viruses.
This three-storey pub in Whitechapel re-opened on 4 July.
While the bar on the ground floor features tall ceilings, bare brick walls and a herringbone floor, the venue's real draw is its charming rooftop garden.
Herbs grow in rusty cans, there's a wooden deck and a candlelit wrought iron and tiled fireplace. The views – of the nearby Gherkin – aren't too bad either.
The pub is aptly named after the medieval term for a herb and spice collector, as the rooftop features a glasshouse in which herbs and spices are grown.
On a sunny day you can order a bramble spritz or gin and hibiscus tonic made with ingredients grown on site, or pair a craft beer with steak and chips.
The Bloomsbury hotel's Dalloway Terrace re-opened on 4 July.
While the conservatory is close to Tottenham Court Road, its retractable roof, scent of lavender and displays of roses and tulips in terracotta pots makes it feel like an English country garden.
The menu is also inspired by the country, so order botanical cocktails, edible flower lollipops and summer dishes such as Welsh lamb with salsa verde. Or how about a pea, asparagus and broad bean tart?
You can also try a new afternoon tea. This features cheddar cheese and onion chutney on multigrain bread, smoked halibut on Guinness bread, blueberry and violet cupcakes and an English strawberry tart.
No doubt you'll agree it was worth the wait.