Pie and mash is London's original fast-food. It's a traditional British meal, popularised in the eastern docklands area of the capital during the Victorian era. Traditionally a working-class food, the pastry crust protected workers' transportable meals from the dirt and grime of historic London. The pie would typically be filled with minced beef, served with mashed potato and a parsley sauce known as liquor. As the eel population in the River Thames was so plentiful at the time, jellied eels was also a common worker's meal and often served with pie and mash.
The first recorded shop was Henry Blanchard's at 101 Union Street in Southwark in 1844 which was described as an "Eel Pie House". While jellied eels aren't a staple of London's menus these days, the number of eel and pie shops has remained fairly consistent since the 19th century. Many have even become Grade II listed due to their architectural and cultural significance, such as L. Manze's Walthamstow shop in 2013!
Pie and mash is as much about the people as the food. Over the centuries, each shop has developed its own special take, whether that's a secret ingredient in the liquor, a pastry-rolling technique, or a dash of homemade chilli vinegar. Luckily, we're here to help you choose which menu you'll try while in London.
F Cooke, Hoxton
View this post on Instagram
There's been a Cooke's in London since 1862 when the first outlet opened in Brick Lane. Over the years, the family have opened other restaurants and recently expanded into Essex, but visit the low-key Hoxton branch in London. The Cookes are without a doubt the oldest-established family in the business. The family name has never changed and in every F. Cooke shop, you will find a Cooke in charge. Tuck into pie, mash and liquor for just £4.75.
150 Hoxton St, N1 6SH. Nearest station: Hoxton
Goddards at Greenwich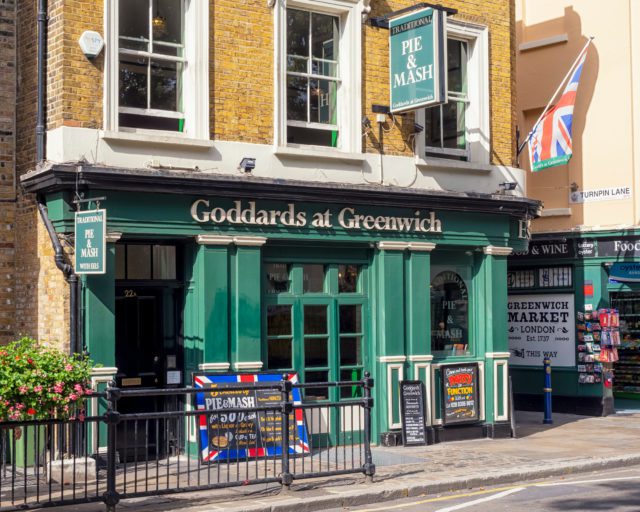 Just a short stroll away from the Cutty Sark, Goddards remains a family-run shop to this day. They know a thing or two about what makes a good pie. Be warned: you may take a while to choose as the menu is extensive. Traditionalists should opt for the handmade minced beef pie with mash and liquor. Alternatively, the chicken, lamb or even soya options are great too. Just make sure to save room for one of the delicious fruit pies and other classic English desserts.
22 King William Walk, SE10 9HU. Nearest station: Cutty Sark for Maritime Greenwich, or Greenwich Pier for travel via the River with Uber Boat by Thames Clippers.
Battersea Pie Station
Perhaps confusingly, you'll find this pie shop in the centre of Covent Garden's iconic market. Once you've explored the piazza, stop here for pies including steak and Guinness, chicken and mushroom and a vegetarian option of butternut squash and goat's cheese. All served with creamy mash and lashings of thick gravy.
28 The Market, Covent Garden, WC2E 8RE. Nearest station: Covent Garden or Charing Cross.
M. Manze, Tower Bridge
Just a mile south of Tower Bridge, 87 Tower Bridge Road has been the home of M. Manze since 1902. The family arrived in London from Italy and traded in ice and ice cream before realising post-Victorian London needed something more substantial. In 2019, the business entered into the fourth family generation, marking the start of a new chapter for the M.Manze history book. The eels you'll get from M.Manze are delivered fresh every day and prepared on the premises.
87 Tower Bridge Road, SE1 4TW. Nearest station: London Bridge.
Please like, share and comment below and see if we have anything else to inspire your next visit to London.