London has had a long love affair with chocolate – in fact, one of the earliest shops selling it was Mrs White's Chocolate Shop on St James's Street, which started out as a hot chocolate emporium in 1693. If you're wondering where to find the best chocolate shops this Easter, look no further…
Roccoco
View this post on Instagram
For a real treat, check out Roccoco. Their chocolates are exquisite, both in flavour and appearance. The Easter range this year is inspired by the mythical Panjandrum bird which lays all sorts of eggs, from delicate and pastel-coloured ones to eggs with an extra-thick chocolate shell. Made with the finest quality ingredients and beautifully packaged, highlights include Praline Quail Eggs, A Fluffle of Bunnies Nibble Bag and an assortment of mini chocolate eggs. Individual luxury chocolate eggs feature enticing flavours such as Rose & Violet and Cappucino White Chocolate (£35.95). The Panjandrum even lays vegan milky chocolate eggs filled with toasted Provencal almonds (£35.95) to keep everyone happy this Easter. 321 King's Rd, SW3 5EP.
Melt
View this post on Instagram
At family-run Melt in Notting Hill, sustainability is a key part of their ethos and chocolates are made daily with the finest quality single-origin cocoa. You'll even witness the chocolatiers rolling truffles in front of your eyes. Expect a whole range of treats, from large slabs to caramels and bonbons. Flavours include salted praline, ruby and rose and pistachio marzipan. Try the Coconut Easter Egg (£34.99) or treat your kids to a 'Paint your Own Easter Bunny' (£21.50).
Charbonnel et Walker
Are you partial to a rose cream, just like our beloved late Queen? Then visit the capital's oldest chocolatier, Charbonnel et Walker, which has been making the most exquisite confectionery since 1875 and proudly holds a Royal Warrant. As you walk through the door of its flagship store in a beautiful Victorian arcade off Old Bond Street, you'll be hit by the sweet scent of chocolate. Its Easter collection evokes the lighter days of spring with a palette of pastel pinks, blues, green and gold. The Peter Rabbit Top and Tail box set, with six yummy chocolate bunnies, is adorable (£13), but for something more sophisticated, choose a pink handcrafted white chocolate Easter egg filled with Marc de Champagne truffles (£36). You can get the pretty box personalised, too. 1 The Royal Arcade, 28 Old Bond St, W1S 4BT (and branches). 
Hotel Chocolat
View this post on Instagram
For a no-frills, affordable chocolate fix you can't go wrong with Hotel Chocolat. With branches all over the city, their range of treats is generous (featuring thick slabs and 'shells') and exceptional quality – they have their cacao farm in Saint Lucia. For Easter, there are plenty of choices. Try the Caramel Chocolate Bunnies, Speckled Eggs, or the Salted Caramel, Mint or Ginger Dark Chocolate Egg – for the more sophisticated among you (£15).
Patisserie Valerie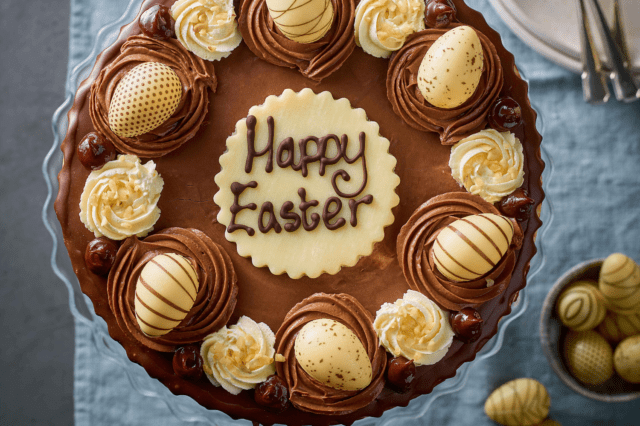 It doesn't all have to be about chocolate eggs. Cakes make every occasion more special, and Easter is no exception! The bakers at Patisserie Valerie have lovingly handmade new Easter and spring collections to celebrate – available for nationwide delivery. The limited edition Easter mini cake box (£36.95) will make all your dessert dreams come true. You'll get three Eggsquisite Chocolate Minis and three Eggciting Mini Surprises – think rich chocolate sponge layered with indulgent chocolate cream and crowned with luxury chocolate eggs in two different styles. For a Great British Bake Off-worthy showstopper, check out the decadent Chocolate & Hazelnut Easter Nest Cake. Pictured above, this 10- or 14-portion cake consists of layers of chocolate sponge and chocolate hazelnut cream, beautifully decorated with a dark chocolate ganache drip, white chocolate eggs with fresh cream rosettes alongside hand-piped swirls of Nutella and topped with a decorative "Happy Easter" plaque. Wowee. 55 Wilton Rd, Pimlico, SW1V 1DE (and branches).
Battersea Power Station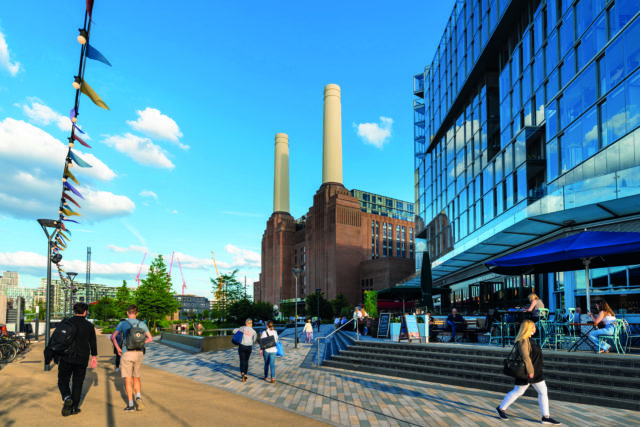 This dramatic new riverside development on the south side of the Thames is celebrating its first Easter in style with an Easter egg hunt where little ones can spot the eggs and bunny rabbits hidden around Circus West Village (9-10 & 15-18 Apr). Expect lots of chocolate as well as a maze, outdoor games such as ping pong and boules, seasonal street food and a petting zoo with rabbits, pygmy goats and lambs. There's also a beautiful butterfly-themed work of art that will make you feel like spring has finally arrived. Afterwards, head to Venchi to pick up the Cremino 1878 egg, which has layers of chocolate and a delicious dollop of hazelnut paste (£60). You don't need to splash out though as there are countless flavours of mini chocolate eggs including pistachio, raspberry and salted white chocolate ones. There's even an egg filled with gianduja, which is even nicer than Nutella. If you can't decide, why not try one of each? It is Easter after all. Turbine Hall A, Battersea Power Station Circus Rd South, Unit 28, Ground Floor, SW8 5BN (and branches).
Montezuma's
View this post on Instagram
The enticing chocolate shop, Montezuma's in Spitalfields, features bold and brazen colours that will tempt you in, as does the packaging. The cocoa here is ethically-sourced and is devoid of any nasties like palm oil so you can be (relatively) guilt-free when gorging on their products! Offering bold, fun flavours such as chilli and lime, the husband and wife team behind Montezuma's don't take themselves too seriously. But the product is still top-notch. Try the Dark Organic Giant Egg with Orange (£30), the Dark Chocolate Peanut Butter Mini Eggs or, one for the little ones, the Mother Hen with Chocolate Chicks.
Paul A. Young
View this post on Instagram
The multi-award-winning Paul. A. Young is known for his cutting-edge creativity and innovative flavour combinations. Think dark chocolate and marmite or white chocolate and Marsala spices. He and his team make all of their creations entirely by hand from the kitchens at their shop in Angel. The brightly coloured fresh handmade chocolate boxes look like something out of Willy Wonka's factory, whereas the Pecan and Sea-Salted Caramel Cocoa Pod, dusted in gold, is a thing of beauty. Stop by for some truly mind-blowing artisan treats this Easter. We'll place bets that you'll fall in love with the handcrafted chocolates, truffles and brownies on your first bite. It's well worth a visit to see his beautiful chocolates and confectionery for yourself, but you can buy them online too. 33 Camden Passage, N1 8EA. 
Prestat Chocolates
You won't miss Prestat Chocolates' store in Princes Arcade thanks to the powder-paint pink and blue colours enticing you inside. Like its neighbour Fortnum & Mason, this fabulous shop has a Royal Warrant and a notable clientele list. Roald Dahl was a fan of its confectionery and even made Prestat's signature truffles the centrepiece of his rather saucy tale, My Uncle Oswald. Visit the store for yourself and see how eye-catching it is. For Easter, there's a Hot Cross Bun chocolate egg infused with spices and filled with fruit and cinnamon truffles, though you may be tempted instead by the Pink Marc de Champagne egg, which contains some boozy truffles and is set in a hot-pink box (both £32.50). One thing's for certain, you won't leave empty-handed. 14 Princes Arcade, Piccadilly, SW1Y 6DS. 
Selfridges
View this post on Instagram
From mid-range to high-end eggs, there's a wide range of choices at Selfridges on Oxford Street. Try the Single-Origin Blonde Chocolate and Malt Egg for £19.99, the vegan Booja Booja honeycomb chocolate truffles (£12.99) or the Venchi Milk Chocolate Chocaviar Easter egg for a more substantial £45.99.
Melange
View this post on Instagram
Don't expect a 'bells and whistles' type of experience at Melange in trendy Peckham. It's a down-to-earth, rustic vibe here, with friendly staff and high-quality cocoa-based beauties. The hand-made, award-winning delicacies include unusual botanical and spice infusions. Think cumin and mint and coriander and grapefruit. Try one of the delicate 'thins' bags or an assortment of truffles (£11.50), the ideal affordable yet sublime gift for your host this Easter.
Dark Sugars
View this post on Instagram
A lot of thought went into Dark Sugars before chocolate expert Fatou Mendy launched the shop in Shoreditch. She spent three years researching cocoa on her family's farm in Ghana. Expect chocolate pearls in a variety of flavours such as sea salt caramel and passion fruit. Truffles, meanwhile, range from stem and ginger honey to chilli and vodka & orange.
Fortnum & Mason
View this post on Instagram
The royal family's centuries-old 'grocers', Fortnum & Mason on Piccadilly is world-famous for its food and drink hampers stuffed with sweet and savoury delights. If the sun is shining, you could treat yourself to an Easter Hamper (£140) and have a picnic in one of the Royal Parks – Green Park and St James's Park are footsteps away. Lift the lid of the branded wicker hamper and tuck into seasonal simnel biscuits packed with juicy fruit and crisp almonds, as well as moreish pistachio and clotted cream biscuits and much more. Another treat is Fortnum's Easter Praline Scotch egg, an unusual and very chocolatey twist on the traditional picnic snack, with an orange ganache 'yolk' (£18.50). What's not to like? If it's the height of luxury you are after, then browse the selection of exquisite eggs; the chocolate Decorated Easter Egg is a special treat at £50. 181 Piccadilly, W1A 1ER.
Harrods
View this post on Instagram
At Harrods, the chocolate selection is, of course, the best of the best but you can still pick up some mini or kids' chocolate eggs for under £20. At the other end of the scale, the Easter Showstopper Peacock Feather Egg, featuring a finely crafted feather design and including 16 bonbons, is a staggering £250! But, as it's effectively a piece of art, there's no harm in just having a look… 87-135 Brompton Rd, SW1X 7XL.
Harvey Nichols
This glitzy department store in Knightsbridge has lots of Easter goodies, from traditional to unusual eggs. Made by a small family-owned chocolatier in Somerset, the Let's Twist Again egg has a dark chocolate shell that's studded with crunchy broken pretzels and popping candy (£32), so expect fireworks in your mouth. For something truly decadent, the Everything's Golden egg is a hand-crafted beauty made with milk gianduja, praline and chopped hazelnuts (£95). There are plenty of plant-based treats too, such as Melt's bronze-speckled chocolate egg made with almond milk (£33) and a gift box of vegan-friendly jelly carrots (£12.50). 109-125 Knightsbridge, SW1 X 7RJ. 
Please like, share and comment below and see if we have anything else to inspire your next visit to London.