Whether you're craving a comedy or a gritty play, there's a show out there for you.
See a play
Given the current coronavirus situation, I wouldn't blame you if you're in a dark mood. So if you feel like moping about while self-isolating in your hotel room, then watch Endgame starring Daniel Radcliffe and Jane Horricks.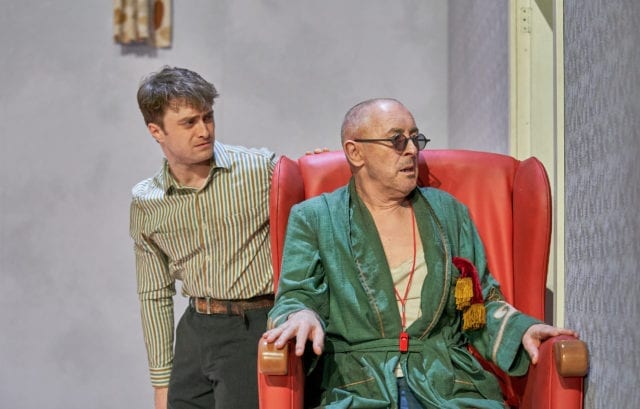 Written by Samuel Beckett and first performed in 1957, the play is as topical as ever.
Set in a drab, empty room following an apocalypse, the play has themes of death, isolation, scarcity of resources and physical restriction – two characters spend the whole play inside rubbish bins.
Always quick off the mark, The Old Vic was among the first of London's theatres to announce audiences can still see the play online after the venue closed. Ticket holders are encouraged to donate the cost of their ticket to support the theatre. In return, you will receive a link to a recording of the production, which was filmed before it closed for private archive purposes. You can also watch a video message of appreciation from the cast, and benefit from a free Friends membership. This gives you priority booking for a year – perfect for your next visit, once the battle with coronavirus has been won.
Watch a teen-friendly musical
But the theatre scene is not all doom and gloom – as Eugenius! sets out to prove.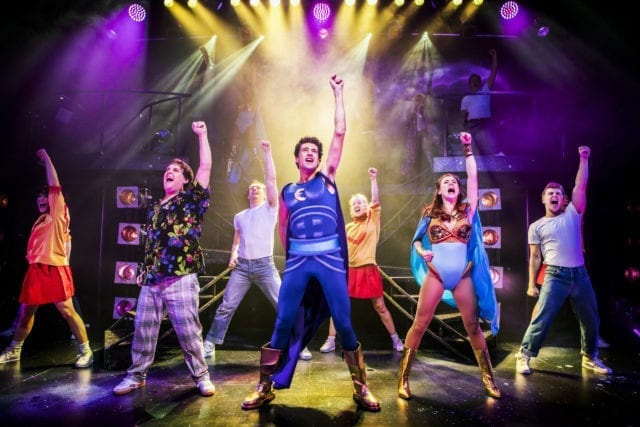 Teenagers can only Snapchat for so long, so once they're bored of that they can get their kicks by watching this light-hearted show.
Originally a concert performance at the London Palladium in 2016, it transformed into a musical with two runs at The Other Palace in 2018. The story follows Eugene, a teenager who creates his own comic book film in Hollywood. Joined by his friends Janey and Feris, he conjures up superheroes to save the world from human and extra-terrestrial villains. Along the way, he falls in love.
Ben Adams and Chris Wilkins co-wrote the script, music and lyrics. Adams says, 'As shows close across the globe and people are forced to stay at home, there's never been a more important time to bring the joy of live theatre right to your doorstep. Unlike some other shows that have recordings intended for release, this was never intended to be seen. But the cast are incredible, the music rocks and it still delivers the same heartfelt story and feel-good factor that audiences took away with them when they saw the show live, so we thought you should see it anyway. Team Eugenius thank you in advance for your support. Go Hygienius, go hygiene!'
To watch the show, visit @Eugeniousthemusical on Facebook. Click the donate button to support Acting For Others, an organisation that offers financial and emotional support to theatre workers.
See a family-friendly musical
All ages meanwhile will enjoy The Wind in the Willows. You can stream it online for free – although a small donation to theatre charities is appreciated.
Based on the children's story by Kenneth Grahame, the musical opened at the London Palladium in 2017.
It follows Ratty and Mole as they endeavour to keep up with their friend Mr Toad, a mischievous heir with an insatiable appetite for fast cars. Rufus Hound plays Toad alongside Simon Lipkin (Ratty) and Craig Mather (Mole). It also stars Neil McDermott (Chief Weisel), Denise Welch (Mrs Otter) and Gary Wilmot (Badger).
Stream it after signing up to www.willowsmusical.com.
Watch opera or a ballet
Meanwhile, if you're a fan of opera and ballet, you needn't miss out as the Royal Opera House in Covent Garden has launched a programme of free online content via its Facebook and YouTube channels. Take your pick from The Royal Ballet's Peter and the Wolf (from 27 Mar 2020) and The Metamorphosis (from 17 Apr 2020), or The Royal Opera's Acis and Galatea (from 3 Apr 2020) and Così Fan Tutte (from 10 Apr 2020).
You can also sign up for a free 30-day trial on Marquee TV, an international performing arts streaming service, to watch performances on demand ranging from La Traviata and Alice's Adventures in Wonderland.
We hope you enjoy the shows! Let us know what you think on social media.
Credits: Endgame courtesy of Manuel Harlan and The Old Vic; Eugenius! courtesy of Pamela Raith.