What's on at Tate Britain and Tate Modern? Here are the temporary exhibitions displaying at two of London's most iconic galleries in the coming months
When it first opened in 1897, Tate had just one site and displayed a handful of British artworks. Now, there are four major sites in the UK displaying British art from 1500 to the present day and international modern and contemporary art. Between them, they house nearly 70,000 artworks.
The two London sites are Tate Britain in Vauxhall and Tate Modern in the striking former Bankside power station in London Bridge.
Tate Britain
Bill Brandt: Inside the Mirror
(to
15 Jan 2023)
Bill Brandt (1904-1983) became renowned for his work in the mid-20th century. This was a time of growth and change for photography, which was now being displayed in galleries and printed in magazines. His captivating images are a hybrid of everyday life and art with inspiration coming from books such as Alice in Wonderland and artists including Henry Moore. This free display charts the evolution of his style throughout his career and showcases his images in all their surreal beauty.
Tate Britain Commission 2022:

Hew Locke: The

Procession
(to 22 Jan 2023)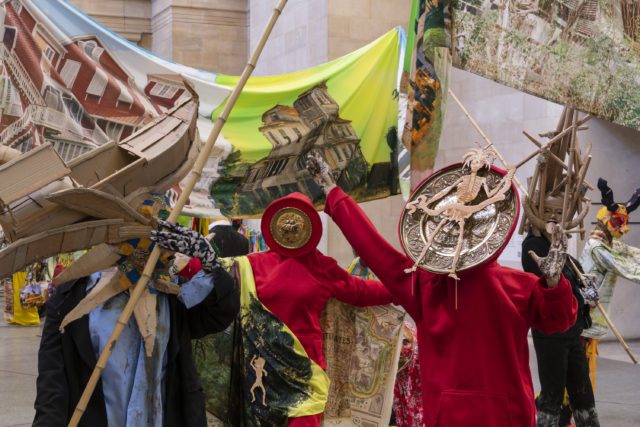 Hew Locke is a British sculptor and contemporary artist selected for Tate Britain's 2022 prestigious annual commission. Locke has filled the considerable Duveen Galleries with almost 150 life-sized figures that represent both imagery and objects, from Caribbean carnival characters to floods. The hand-made, vibrant figures in The Procession draw on ideas of pilgrimage, trade, carnival, social celebrations, migration and our own personal journey through life. They vary in age, culture, time and geography. The exhibition also highlights pressing issues such as the climate crisis, Black Lives Matter and the invasion of Ukraine. Free to view.
Lynette Yiadom-Boakye: Fly In League With The Night
(to 26 Feb 2023)
View this post on Instagram
This survey of work by British artist and writer Lynette Yiadom-Boakye returns to Tate Britain, after having been cut short by the lockdown. The artist is known for her portraits of fictitious people and this exhibition brings together around 70 of her works, from 2003 to the present day. The paintings portray figures constructed from her imagination through spontaneous brushstrokes. Their poetic titles, such as To Improvise a Mountain 2018, reflect the importance of her writing in her painting practice. She once said 'I write about the things I can't paint and paint the things I can't write about.' Adult £16; child £5.
Art Now: Hannah Quinlan and Rosie Hastings
(to 7 May 2023)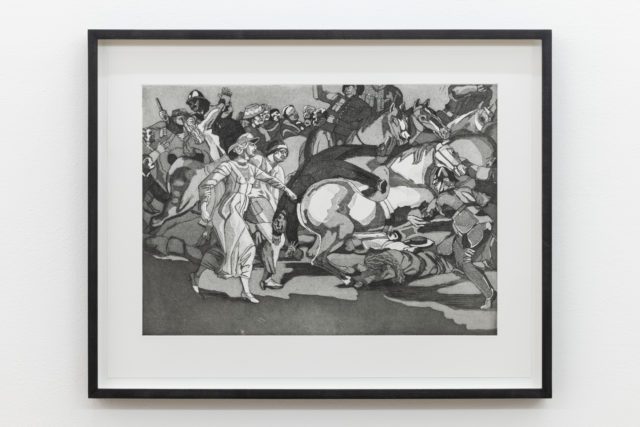 This duo have used the medium of fresco painting to depict street scenes in which groups of people portray power dynamics, class, social relations and positions of authority. Their combined work considers themes such as gender and sexual identity and through it, they ask their audience to question what public space looks like. This is a free display.
Coming next:
The Rossettis (
6 Apr – 24 Sep 2023)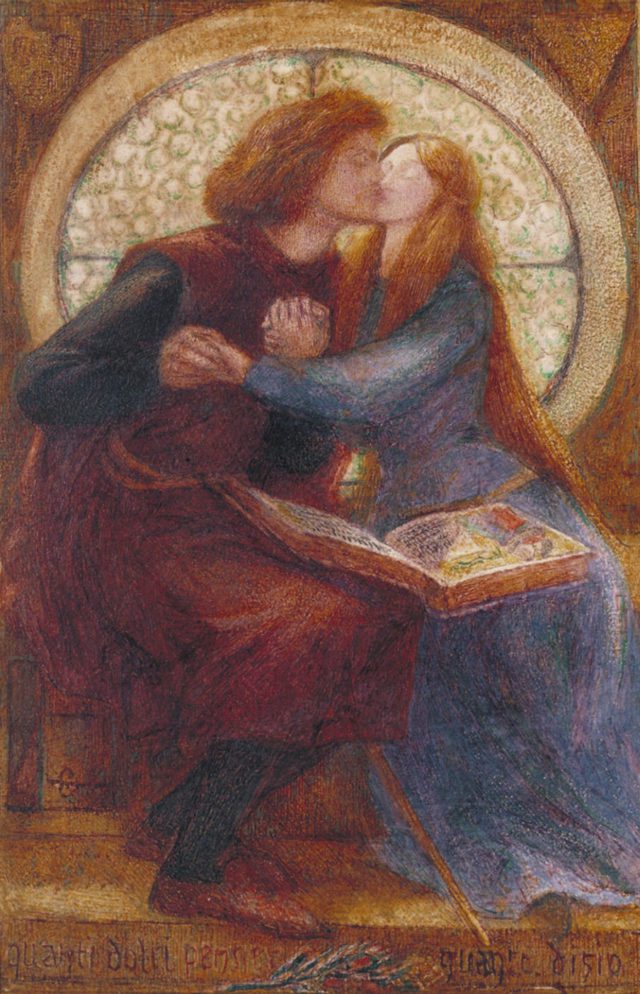 This major exhibition will display world-famous works from the Rossetti generation, throughout and beyond the Pre-Raphaelite years. It is the first retrospective of Dante Gabriel Rossetti at Tate. It will also feature the works of Christina and Elizabeth Siddal, with rare watercolours and important drawings on display. Consider the intriguing stories surrounding the unconventional relationships between Dante Gabriel Rossetti, Elizabeth Siddal, Fanny Cornforth and Jane Morris. Adult £22; child £5.
Tate Modern
EY Exhibition: Cezanne (to 12 Mar)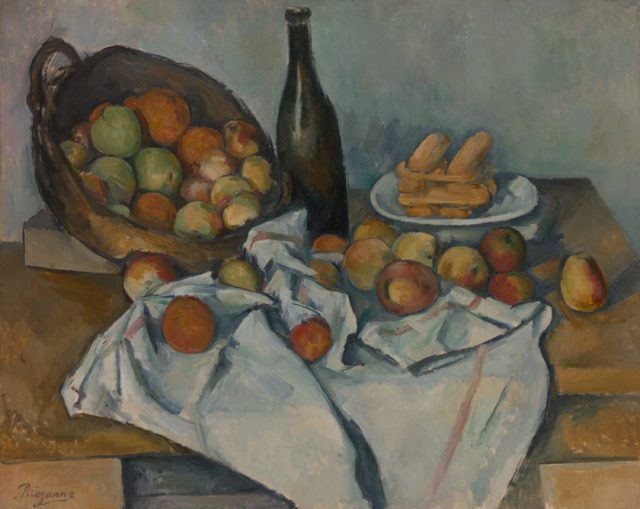 The French 19th-century painter, Cezanne, once said, 'with an apple, I will astonish Paris'. Moving from his native Provence to the French capital, he did just that, pioneering a brave new approach to painting with his still lives, landscapes and paintings of bathers. In the EY Exhibition: Cezanne, explore the many contradictions in his work and his struggle between seeking recognition (and joining the Impressionists) and forging his own unique path. The display features many works shown for the first time in the UK. Adult £22; child £5.
Yayoi Kusama: Infinity Mirror Rooms

(to
Aug 2023)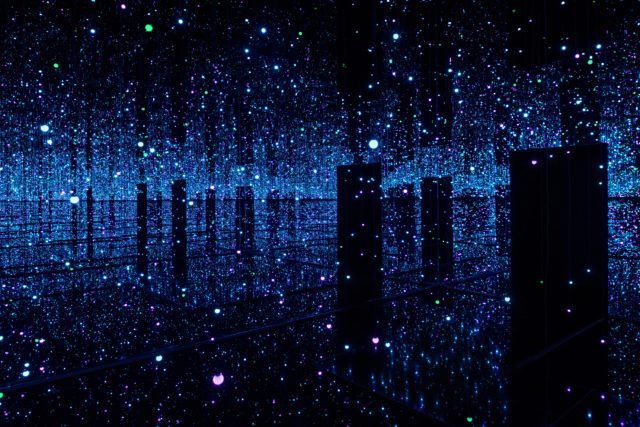 Acclaimed Japanese artist Yayoi Kusama's exhibition, Infinity Mirror Rooms, has been a global phenomenon. It is so popular that it keeps selling out, but has now been extended to April. The display features two of her breathtaking immersive installations that present the idea of endless reflections. Infinity Mirrored Room – Filled with the Brilliance of Life is her largest to date and was made for her 2012 retrospective at Tate Modern. Chandelier of Grief, meanwhile, is a 'boundless universe of rotating crystal chandeliers.' Her kaleidoscopic creations play with the idea of space and distance, and also reflect her own troubled mental state. Adult £10; child £5.
Hyundai Commission: Cecilia Vicuña (to 16 Apr 23)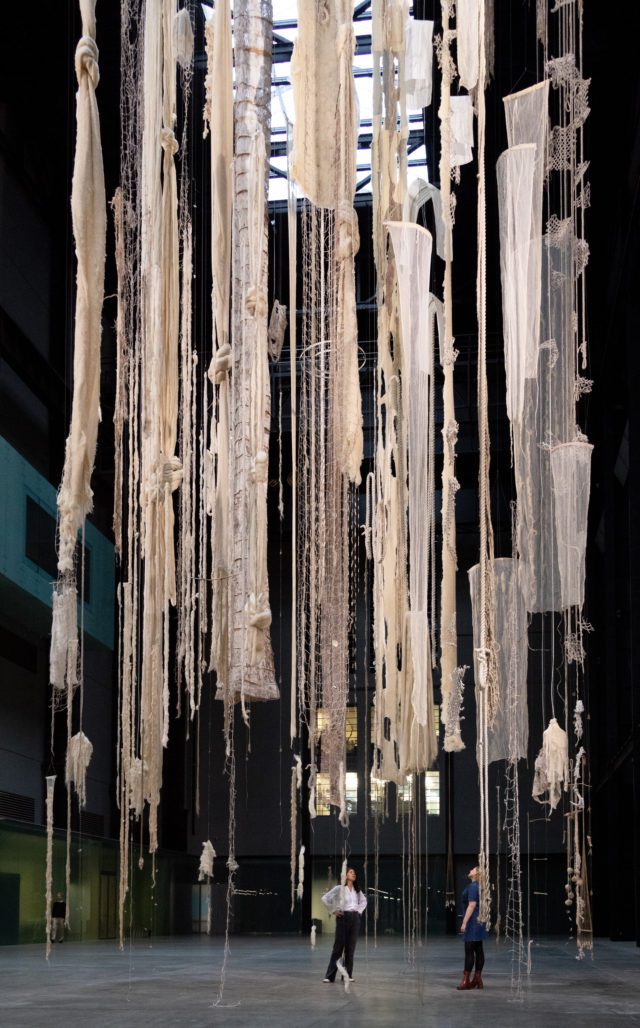 The annual Hyundai Commission – located in the vast and mesmerising space that is Tate Modern's Turbine Hall – understandably attracts millions of visitors each year. Chilean artist Cecilia Vicuña's work is on display in the compelling space until April 2023. Known for her radical textile sculptures (such as Quipu Womb, 2017), Vicuña explores ecology, community and social justice. Weaving is combined with painting, poetry and performance to represent the culture and history of her indigenous country, Chile. This display is free to view.
Magdalena Abakanowicz: Every Tangle of Thread and Rope
(to 21 May 23)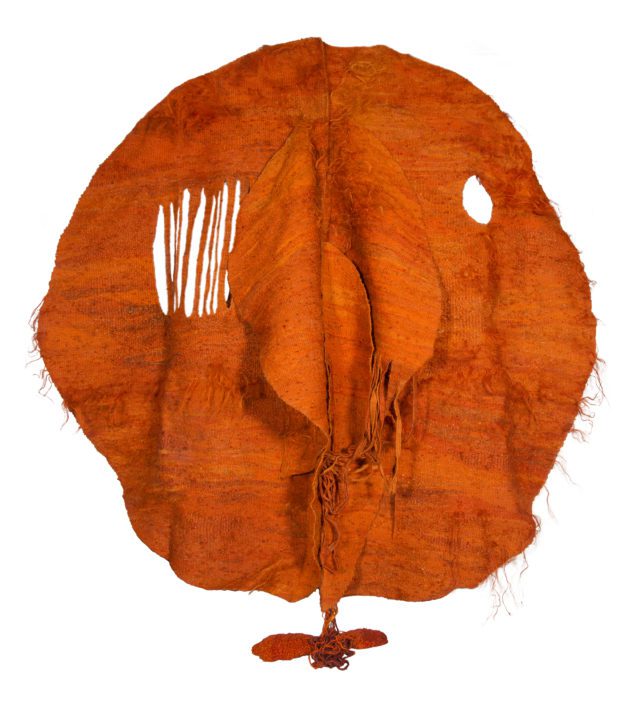 In the 60s and 70s, Polish artist Magdalena Abakanowicz was recognised for her radical sculptures – huge works made from woven fibre that towered above, and hung from, the ceiling. These became known as the 'Abakans'. This exhibition of her work has brought together the most significant Abakans in the long gallery space of the Blavatnik Building at Tate Modern. Early textile pieces and little-known drawings are also on display. Adult £16; child £5.
Maria Bartuszová (to 25 Jun 23)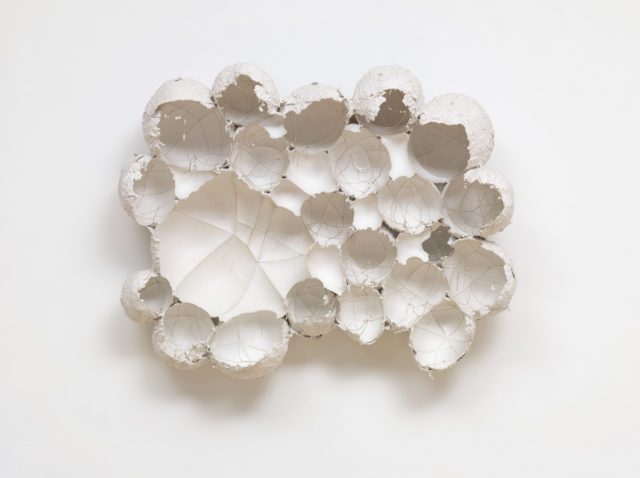 This exhibition brings together the elegant works of Maria Bartuszová, the Prague-born Slovak artist whose delicate plaster sculptures are inspired by the natural world. She produced around 500 sculptures during the three decades she lived in Košice, a city in Slovakia. Bartuszová began experimenting with her signature material, white plaster, in the 1960s.  She had been inspired by playing with her daughter, pouring plaster into rubber balloons. Bartuszová would shape her sculptures by submerging them in water and creating shapes resemblant of eggs, raindrops, seeds and the human body. She often photographed them outside in nature – these images are also on display. Adult £16; child £5.
Coming next:
Hilma af Klint & Piet Mondrian (
20 Apr-3 Sep 2023)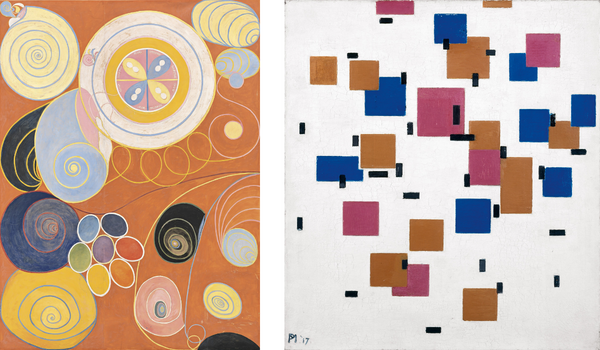 Explore the work of these two groundbreaking modern artists, Swedish painter Hilma af Klint and Dutch painter Piet Mondrian. Although the pair never met, they had much in common: They shared a love of nature, reflecting it in their work through abstract art. Klint and Mondrian also both began their careers as landscape painters and were interested in spirituality, scientific discovery and philosophy. Klint was a medium, and she believed that many of her large-scale, otherworldly paintings were being channelled through her by a higher power. Adult £18; child £5.
Essential Information
Tate Britain:
Address: Millbank, SW1P 4RG
T: 020-7887 8888.
Nearest station: Pimlico or Vauxhall,
Tate Modern:
Address: Bankside, SE1 9TG
T: 020-7887 8888.
Nearest station: London Bridge.
For more information, please visit www.tate.org.uk
Please like, share and comment below and see if we have anything else to inspire your next visit to London.