Following a three-year closure, the National Portrait Gallery has reopened for summer with new spaces, new commissions and the same old awe-inspiring charm, as Amy Hughes explored on reopening day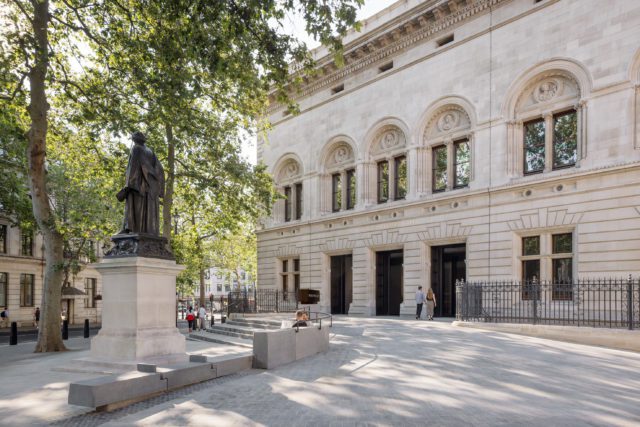 There is a welcoming new forecourt at the entrance © Olivier Hess/National Portrait Gallery
Tucked beside the National Gallery is one of London's most popular galleries which houses the world's greatest collections of portraits, spanning six centuries. The National Portrait Gallery underwent its most extensive transformation since 1896 during the past few years, and, at the end of June, the hard work was revealed.
There is now a sleek and welcoming forecourt outside the north façade of the building and the entrance, which used to sit at the eastern side of the building, has been reconfigured to face the new forecourt. Three vast doors tower above visitors as they enter, each adorned with low-relief bronze portrait panels representing 'every woman, throughout time,' according to artist Tracey Emin.
Public space within the building has been increased by around a fifth, including a modern entrance hall which sits adjacent to an exhibition space – see Paul McCartney, Photographs 1963–64: Eyes of the Storm here until 1 October – and the new Weston Wing, which used to be office space but is now a series of beautiful, top-lit galleries which house the contemporary collection.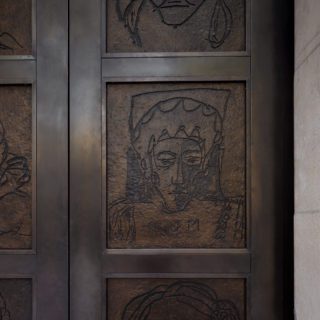 The National Portrait Gallery commissioned Tracey Emin to design three large bronze doors © National Portrait Gallery
Upon entering, visitors travel straight up to the third floor to begin the chronological journey winding down through portraiture from the Middle Ages to the present day. More than 1,100 portraits hang now, including some of the most beloved portraits such as Holbein's majestic drawing of Henry VIII, as well as many important new contemporary commissions.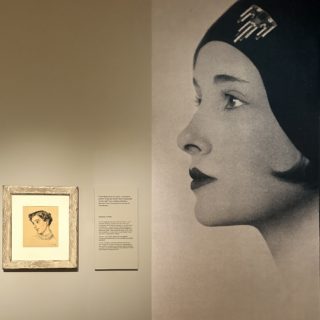 Yevonde: Life and Colour © Amy Hughes
Inclusivity and representation across the gallery have noticeably improved and almost half of the portraits in the 20th and 21st century galleries are of women, having increased by 13 per cent. There is also a new focus on photography and one of this summer's key exhibitions, Yevonde: Life and Colour (to 15 Oct), highlights both improvements as the life and many newly discovered works of the suffragette and pioneering photographer Yevonde Middleton is put under the spotlight.
During its closure, I had somehow forgotten how enormous the gallery is – though the addition of new spaces does of course contribute to that effect. It is entirely possible to spend a full day ambling through the rooms, and once finished, some refreshments and a comfy seat will be high on your agenda.
On the ground floor, Audrey Green is an all-day Australian café which serves speciality coffee and cakes, including lamingtons in all manner of flavours. Relaxed and buzzing, it's from the team at Daisy Green Collective who individually design cafes and restaurants. Stop here for fresh juices and drinks, as well as delicious salads and sandwiches.
It also extends downstairs into the historic vaults of the gallery where, by day, diners can enjoy brunch classics and exhibition-inspired afternoon teas, and by night, the space transforms into Larry's Bar. Originally built as coal storage in 1896, the space has been transformed into an elegant evening destination.
The walls are lined with more than 100 portraits of famous West End faces, giving a suitable nod to the nearby gallery as well as Covent Garden and Theatreland which are just a short stroll away. Naturally, the menu consists of drinks with names like The Hepburn, Portrait & Punch and Dirty Martini Yevonde – a CMYK fizz and ode to the exhibition currently showing in the gallery.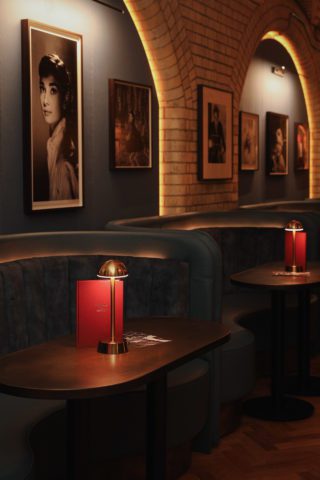 Larry's is a new underground bar at the gallery © Melisa Coppola
Address: St Martin's Place, London, WC2H 0HE
Nearest station: Leicester Square or Charing Cross
Opening times: Daily 10am-6pm; Fri & Sat 10.30am-9pm
Visit www.npg.org.uk for more information.
What's On
Paul McCartney Photographs 1963–64: Eyes of the Storm
28 June-1 October 2023. From £22.
Yevonde: Life and Colour
22 June-15 October 2023. From £15.00.
David Hockney: Drawing from Life
2 November 2023-21 January 2024. Tickets on sale soon.
Taylor Wessing Photo Portrait Prize 2023
9 November 2023-25 February 2024. From £8.50.
Please like, share and comment below and see if we have anything else to inspire your next visit to London.