New year; new shows: here is our round-up of exhibitions launching this month.
London Art Fair, Business Design Centre (18-22 Jan)
View this post on Instagram
Although it's not an exhibition in the traditional sense, the annual London Art Fair showcases such a wide range of art, you won't know where to start. It's housed in Islington's Business Design Centre and features work from more than 100 leading contemporary galleries from across the globe, all of it for sale. Expect a broad spectrum of work, from big names (such as David Hockney, Bridget Riley and Henry Moore) to emerging talent. You won't just be looking at the artworks though; dive right in with talks and tours as well as immersive installations. Adult day passes are priced at £19.50; book tickets via the website. www.londonartfair.co.uk
Jonathan Baldock, Stephen Friedman Gallery (20 Jan-25 Feb)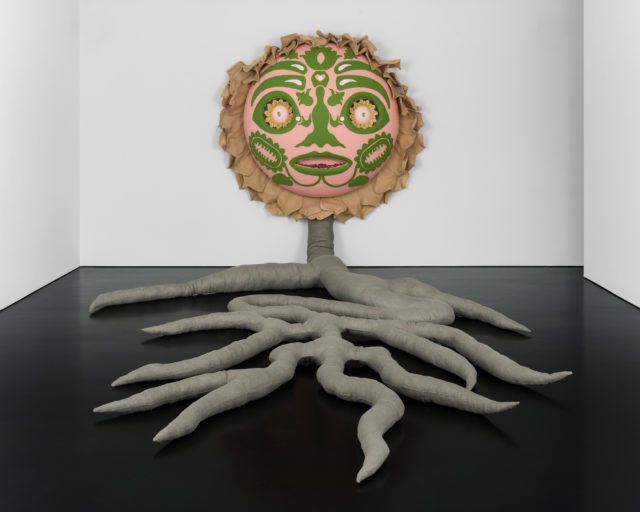 Jonathan Baldock's work spans multiple disciplines including sculpture, installation and performance. In this exhibition he has focused on the themes of nature and the cycle of life, reflecting on his relationship with his mother and her garden. Using ceramics and wall-based sculptures Baldock's series of flowers with faces on them are humourous but also explore what it means to be alive. www.stephenfriedman.com
Spain and the Hispanic World: Treasures from the Hispanic Society Museum & Library, Royal Academy (from 21 Jan-10 Apr)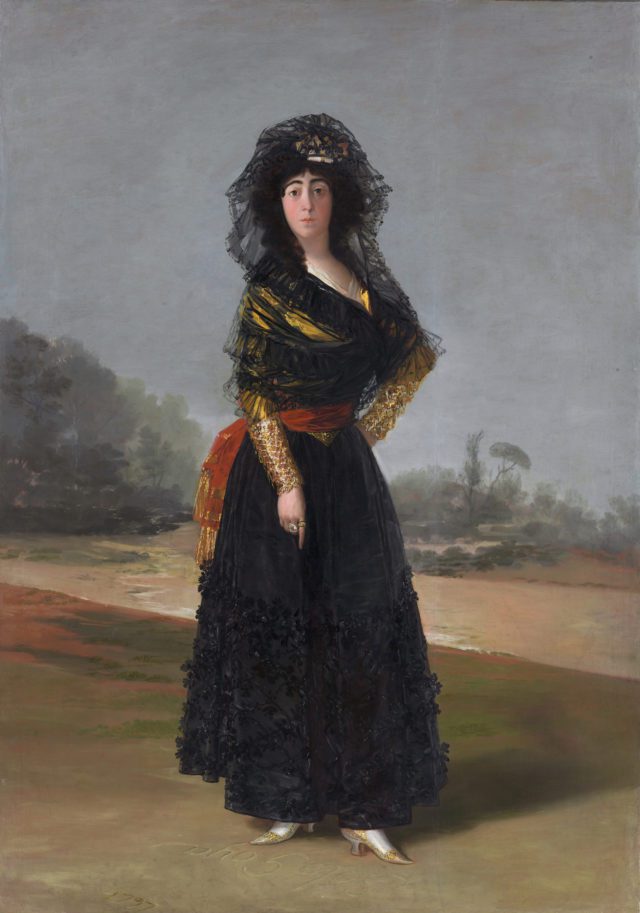 This dazzling exhibition of Spanish and Hispanic art at the Royal Academy of Arts spans works from ancient times through to the early 20th century. It displays more than 150 artworks including masterpieces by El Greco, Goya and Velázquez as well as sculptures, paintings, silk textiles, jewellery and drawings, among other treasures. Exhibition highlights include the renowned World Map of 1525 by Giovanni Vespucci and the monumental Vision of Spain – a series of 14 paintings – by Sorolla. The works are from the Hispanic Society Museum & Library in New York, the foremost collection of Spanish art outside of Spain. www.royalacademy.org.uk
Heaven's Gate, Outernet London (from 22 Jan-26 Feb)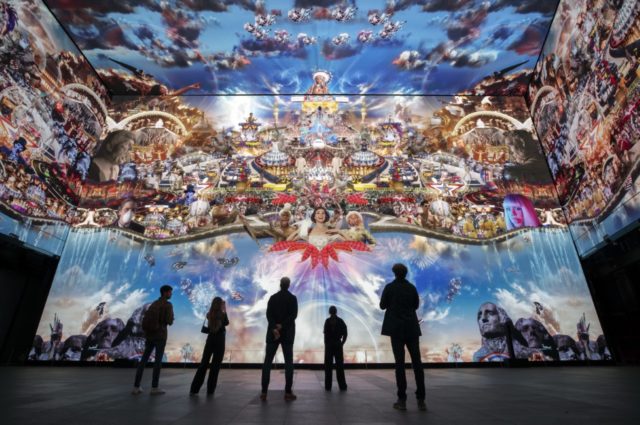 Imagine a large-scale psychedelic poster on the theme of Hollywood and you'll come only a smidgen close to what it is like to behold Heaven's Gate 'in the flesh'. The new installation by world-renowned artist Marco Brambilla is being shown at Europe's biggest digital exhibition space, Outernet London. Heavens' Gate is presented on 23,000 square feet of floor-to-ceiling, 360-degree,16K screens across four storeys. The screens feature a kaleidoscopic collage of iconic scenes from cinematic history. It is colourful, monumental and truly mesmerising. See it for yourself at The Now Building, Centre Point.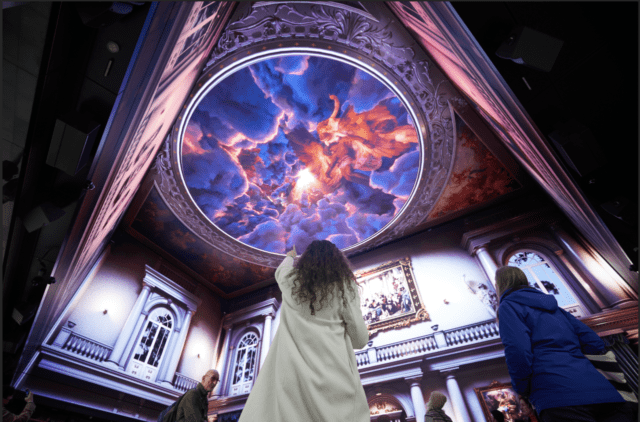 Another exhibition turning heads (or should we say craning necks?) at the Now Building is The Summer Palace by Agustin Vidal Saavedra (from 12 Jan to mid-Feb). Expect a crazy and beautiful combination of Renaissance paintings, animation, particle simulations and 3D visuals in 8k resolution. Galaxies, stars and explosions mix with Sistine-Chapel-Esque visuals. The result is an astonishing spectacle. It is free to enter. www.outernetglobal.com
Kenneth Noland: Stripes/Plaids/Shapes, Pace Gallery (25 Jan-4 Mar)
Kenneth Noland (1924-2010) was an American painter who first became known for his 'circle' paintings and use of colour. He explored a wide range of hues and applied them to the canvas in a variety of shapes, from diamonds to horizontal bands. This exhibition charts the development of his work from the iconic 'Stripe' paintings during the 60s to the 'Shape' works in the early 80s. www.pacegallery.com
Mohammed Sami: The Point 0,
Camden Arts Centre (
27 Jan-28 May)
Mohammed Sami was born in Baghdad, Iraq, in 1984, and lived under the regime of Saddam Hussein. His large-scale paintings, devoid of people, depict his memories of conflict. They range from hectic cityscapes to abandoned spaces and everyday objects. You'll be left considering what lies beyond these empty spaces. The exhibition will feature a series of new paintings as well as the first dedicated monograph on Sami. camdenartcentre.org
Please like, share and comment below and see if we have anything else to inspire your next visit to London.