London is now one of the top foodie destinations in the world, not only due to its countless high-calibre restaurants but also top-notch street food stalls and markets. Here's our selection of the best.
Borough Market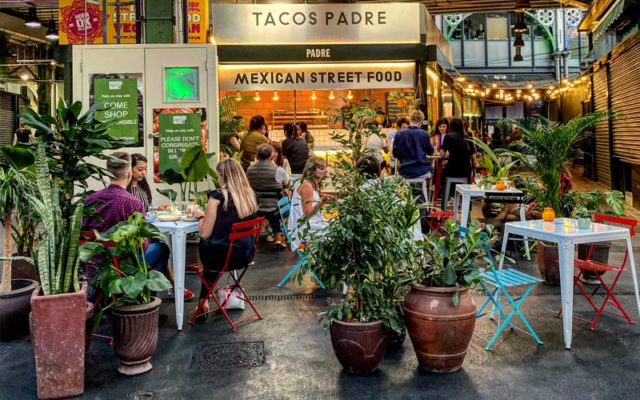 With its hustle and bustle, wooden carts of fresh produce and smoke wafting out of food stalls, Bermondsey's Borough Market feels old and it is, having been established in 1756; there's been a market on this site since the 13th century. Even if you just come for the atmosphere, it is worth it. Expect more than 100 food and drink stalls, bars, restaurants and shops selling everything from artisan cakes to fine wines and Indian vegetarian street food to goat's milk ice cream. www.boroughmarket.org.uk
Flat Iron Square
This food court-cum-bar has an interesting location underneath Borough railway arches in Southwark. With a great variety of street food stalls, in addition to live DJ sets and an on-site brewery, it features Lebanese food, New Orleans-style sandwiches and burgers made from wild game. You can also book a table in the Garden, Taproom or under the arches. www.flatironsquare.co.uk
Camden Market
View this post on Instagram
The largest market in London, Camden Market has been trading since 1974. It features a diverse mix of street food traders, creative sellers and independent shops next to the Regent's Canal in the heart of this eclectic borough of London. There are more than 1,000 places where you can eat, drink, shop and dance including a Greek street food stall, a place to enjoy Portuguese custard tarts with your morning coffee or a bar for rooftop tacos, mezcal and margaritas. www.camdenmarket.com
Southbank Centre Food Market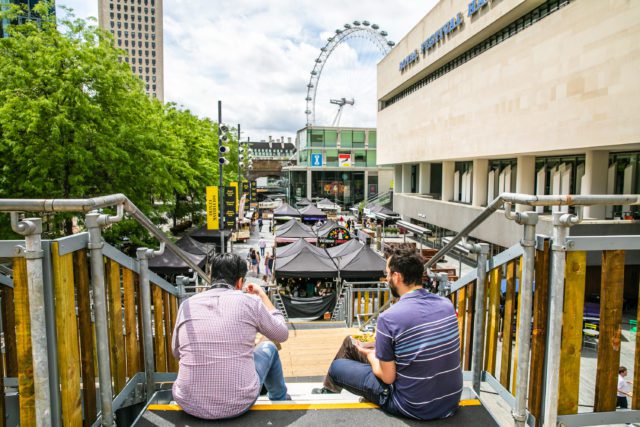 This charming market feels alive with the thrilling energy that the city can bring, especially at Christmas time. Positioned by the Southbank Centre and on the banks of the River Thames, it is overlooked by the London Eye and Royal Festival Hall. Whether you want some Asian street food, a juicy hamburger, or plant-based cakes or cocktails, it's the most picturesque spot for a takeaway lunch or drink. www.southbankcentre.co.uk
Market Hall Victoria
View this post on Instagram
This epic food hall is sprawled across three floors in a striking Victorian building in the buzzing heart of Victoria. Featuring eight kitchens from the likes of Baoziinn, the Northern Chinese street food restaurant offering exceptional dim sum and noodles, Pasta Evangelists and Butchies (melt-in-the-mouth buttermilk fried chicken), there is also a generous roof terrace and bars for drinks galore. It has a fun, young, buzzy vibe. Other branches are on Oxford Street and Canary Wharf. www.markethalls.co.uk
Kerb Seven Dials Market
View this post on Instagram
This two-floor market in the heart of Covent Garden, with its galleried upper level, glass roof and large atrium is not only a stunning space but a food lover's paradise. There's a plethora of incredible produce as well as an enormous food hall where you can sit at one of the communal tables and wait for your order via a food buzzer. Cucumber Alley, the entrance to the atrium, features artisanal goodies such as flowers, olives, jam, charcuterie, booze and jam. Meanwhile, in the main court, Bad Boys Pizza, Yum Bun (gua bao buns) and Curry on Naanstop are just some of the stalls where you can indulge. There is also free water and wifi so you can while away the hours here. www.sevendialsmarket.com
Mercato Metropolitano (various locations)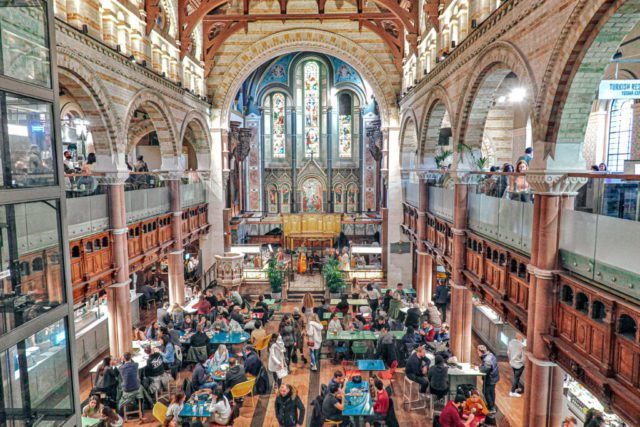 Bringing diverse food and ingredients from different countries, cultures and traditions into urban environments, Mercato Metropolitano now has four London sites: Mayfair (housed in an old church), Canary Wharf and two in Elephant & Castle. Walking around each marketplace, you'll find everything from fresh handmade pasta to Greek gyros; bao buns to Korean fried chicken. In fact, there are so many options that you may struggle to choose what to order. While the food is authentic and grounded in traders' traditions, the use of locally-sourced ingredients is encouraged. It's a global approach with a local focus. www.mercatometropolitano.com
Broadway Market
View this post on Instagram
Teeming with hipsters, Broadway Market, nestled in the heart of the East End, is the place to be seen. The street is rich with history: part of the old Porter's Path supply route, it has been used since Roman times. Nowadays, you'll find an array of pretty jewellery, clothes and gift shops and trendy pubs, interspersed with street food stalls from the likes of Hanoi Kitchen and Deeney's (Scottish-inspired toasties). The street food market operates on Saturdays only. www.broadwaymarket.co.uk
Maltby Street Market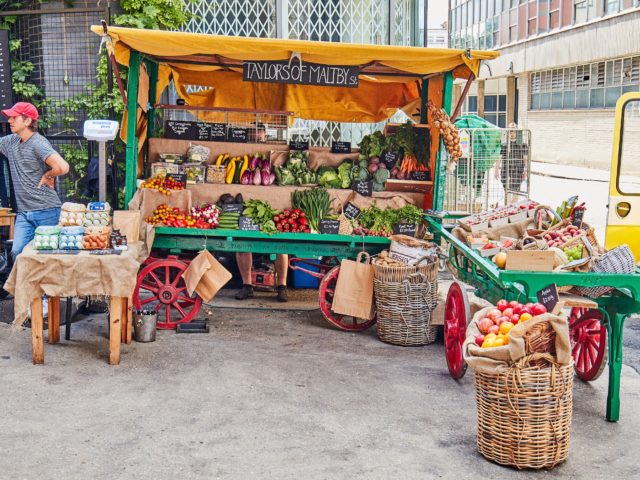 This market on Maltby Street in Bermondsey is a relative newcomer (it launched in 2010) but has become a firm favourite for its local vibe and top-quality food stalls. Think quality, not quantity here, as there are only a handful of traders, but don't let that put you off. Mouth-watering dishes from stalls such as Bangers Catering (next-level bangers and mash), Amen Ethopian Cuisine, Duck Frites (duck-inspired dishes) and La Pepia (Venezuelan street food) will make you want to come back again and again. www.maltby.st
Eataly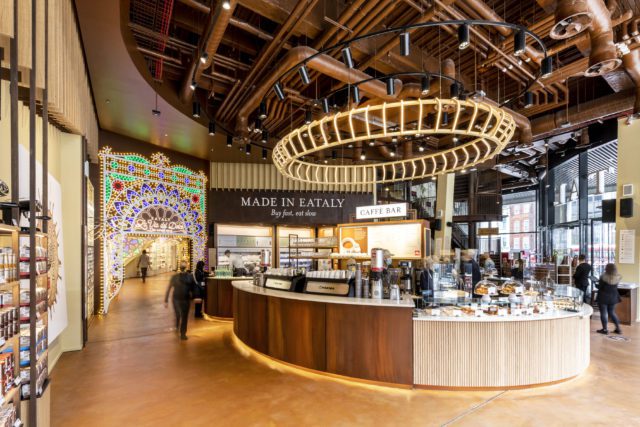 A hybrid of the words 'Eat' and 'Italy', the Italian food market Eataly opened its doors last year in Bishopsgate. At an astonishing 42,000 square feet, it includes a huge retail market, restaurants, food stalls, a terrace for drinking and dining and even has its own cookery school. Come here for exceptional Italian food and products, all made using the finest ingredients. At 'Pasta Fresca Bar', where fresh pasta is made daily on-site, watch the experts at work as they create intricate pasta shapes before your eyes. There are also three on-site restaurants. www.eataly.co.uk
Brixton Village & Market Row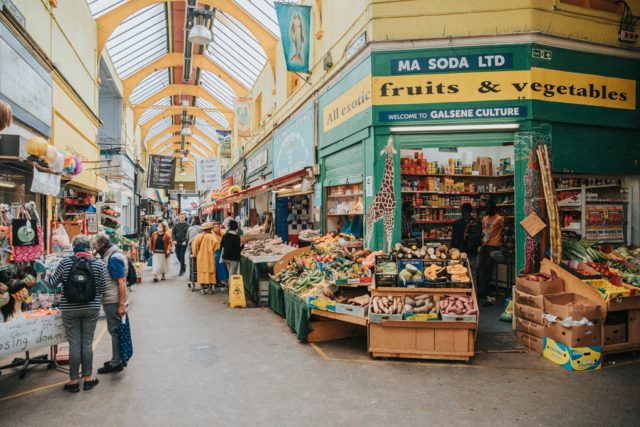 Brixton Village and Market Row are two markets housed in separate arcades within easy walking distance of each other in lively, diverse southeast London. Over recent years they have evolved to become known as home to some of the best multi-cultural cuisines in the capital, serving everything from Indian to Asian and African to South American and Caribbean. There are now a variety of sit-down eateries nestled among the stalls and eclectic shops too, including Black Bear Burger, Cheese + Fizz, Kanome (Japanese kitchen) and many more places to indulge. Honest Burger and Franco Manca, now big brands with sites all over the city, began life here. www.brixtonvillage.com
 Arcade Food Hall, Battersea Power Station
View this post on Instagram
Battersea Power Station, the monumental Grade II listed art deco, once-derelict building on the banks of the River Thames, has been brought back to life as a space for retail, entertainment and accommodation. The £9 billion development opens to the public on Friday 14th October and in 2023, Arcade Food Hall is set to follow. Run by JKS Restaurants (the team behind industry heavyweights Hoppers, Boa and Gymkhana), this will be their second site; visit the one on Oxford Street to get a taste of what's to come. The 24, 000 sq ft space will feature the likes of Taiwanese restaurant Bao and many more. Watch this space. www.arcadefoodhall.com
Please like, share and comment below and see if we have anything else to inspire your next visit to London.