Opening for its European premiere at London's Royal Albert Hall (from 13 Jan 2023), KURIOS: Cabinet of Curiosities is a spellbinding yet hilarious new show from Cirque du Soleil
The contemporary circus company Cirque du Soleil has built quite a reputation over the years. It all began in 1980s Canada, where a troupe of performers – known as Les Échassiers de Baie-Saint-Paul (the Stiltwalkers of Baie-Saint-Paul) – took their talents to the streets of a charming village near Quebec City. These jugglers, acrobats, fire breathers, and musicians were the core of what would grow into the Cirque du Soleil that is recognised around the world today.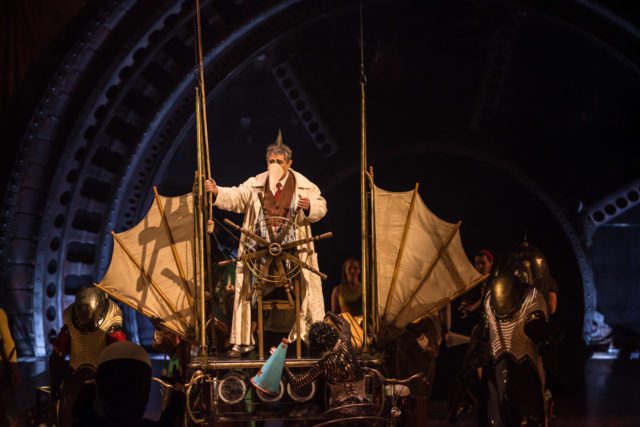 The plot
Set during the Victorian Industrial Revolution, this Steampunk-style spectacle introduced an eccentric inventor, The Seeker, who believes that an alternate world exists inside his curio cabinet. Enter the realm of astonishing inventions, mindboggling feats and flying machines. The clock shows 11:11. You're now in a future past; a Thomas-Edison-meets-Jules-Verne retro-future.
The acts
Meeting the cast for the first time, a giant steam train arrives on stage and a whole host of travellers disembarks. As the hall fills with soaring music, percussion and dance and acrobatics, the show begins with a bang. It's time to settle in for the first half. It won't be long until you're watching with bated breath: act two sees a strongman become a human trapeze, flinging a porcelain-faced ballerina high above the stage. They make way for a group of dinner guests who defy gravity atop a tower of chairs, which is mirrored above their heads in a parallel, albeit inverted, world. One of the most tense performances comes from Rola Bola, a fearless aviator who arrives in a small propeller plane. After a soft landing, he begins the daring feat of balancing on a teetering tower of cylinders. Will he manage it? What about when the trapeze starts to swing?
There are moments of light relief interspersed throughout the show though. The oddball ringmaster introduces a mini circus of invisible performers which, despite what you may think, is both magical and hilarious. Watch out for the lion on the loose! In the second half, watch as hand artists recreate breakdancing battles, skateboarding and more with only their hands. So simple and yet so entertaining; the crowd was in stitches.
The verdict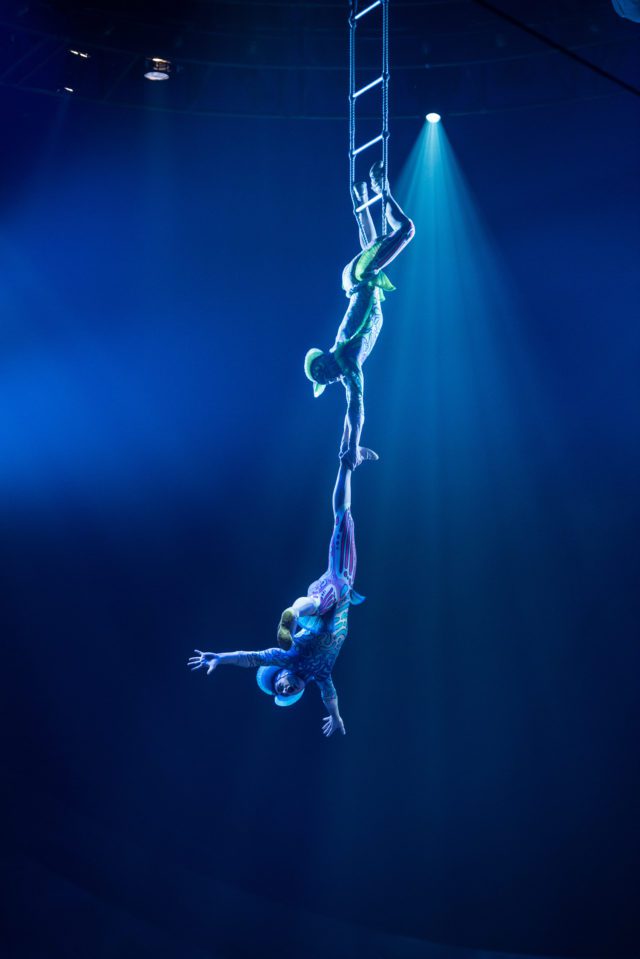 We were lucky enough to watch the dress rehearsal ahead of the show's European Premiere which opened on 13 January. The troupe's reputation precedes it and I saw a different show more than a decade ago, so I had an inkling of what lay ahead. But KURIOS is a lot funnier than I remember the other show being; just as breathtaking, but there's a lot more comedy involved. You could hear children gleefully laughing along and sometimes sharing hushed comments following death-defying stunts. It's certainly a great show for all ages.
Despite its Steampunk theme, a lot of the costumes transport you to underwater worlds of electric eels and other sea creatures. The combination of the industrial and the sea-worthy creates a truly surreal, dreamlike world in which you lose all sense of time.
As I write this, I'm looking at a page in the programme (which is glorious by the way) which asks 'what if by engaging our imagination and opening our minds we could unlock the door to a world of wonders?' This succinct yet cryptic question perfectly summarises the show and the lasting feeling it leaves you with. Step inside The Seeker's world and discover the bizarre characters that inhabit his curio cabinet.
Essential information
KURIOS: Cabinet of Curiosities plays at the Royal Albert Hall from 13 January 2023. Performances take place on various dates at 11.30am, 3pm, 7.30pm and 8pm; please check online for availability, dates and times.
Tickets from £46.
Address: Royal Albert Hall, Kensington Gore, SW7 2AP.
Nearest station: South Kensington or High Street Kensington.
Pre-booking is required. Book tickets here now to avoid disappointment.
Please like, share and comment below and see if we have anything else to inspire your next visit to London.