Based on the 2019 book by American writer, editor and curator Antwaun Sargent, The New Black Vanguard: Photography between Art and Fashion is a groundbreaking exhibition now displaying at the Saatchi Gallery (to 22 Jan)
Featuring the work of 15 international Black photographers, The New Black Vanguard: Photography between Art and Fashion is the ground-breaking exhibition that has toured American, Doha, France, Sweden and Switzerland before arriving at London's Saatchi Gallery late last year.
Each of the featured artists contributes a new vision of the Black figure in this striking celebration of Black creativity, both in front of and behind the camera: from stylists and make-up artists to models and creative directors. Curated by American writer and critic Antwaun Sargent and supported by Burberry, explore Black portraiture and the cross-pollination of art, fashion and culture in image-making.
I have now visited the exhibition twice: once during its first few weeks and again last Friday evening at the gallery's Late event. My first visit was a slow meander through the rooms, admiring each image, every artist biography and what new perspective they offered. Where you might expect stark white walls, you'll instead find pops of colour: inky blue becomes insta-worthy pink, which becomes a creamy yellow sitting starkly against a post-box red. This was an intentional decision made by Sargeant to reflect the vibrancy and optimism of the work that hangs on the walls.
The photos themselves reveal more about the new guard of Black creatives, many of whom are closely connected to London. Campbell Addy and Nadine Ijewere still live and work here, for example.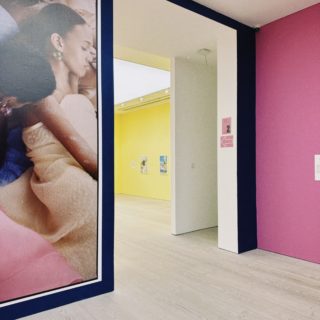 Ijewere spoke at last week's Saatchi Lates event – my second visit – discussing her career journey, her second Vogue cover on the January 2023 issue and her plans for the future. It was a fantastic evening seeing the rooms filled to the brim with clearly creative people all bonding over a love of art, fashion, photography and Black culture. This Friday 20 January, enjoy a conversation with Campbell Addy and a book signing to follow. There will also be an opportunity to take part in a live model drawing session, for those interested.
I don't want people to come here and just see Black people; I think that's so lazy. Yes, we are Black people but we experience so many other things outside of just our race. So I don't want people to come and be like 'Oh what a fab Black exhibition!', because they don't do that with other ethnic minorities.
– Campbell Addy, at the press preview of The New Black Vanguard exhibition, via Dazed
My two experiences of the exhibition were wildly different. The first was quiet, with barely any other visitors due to it being early on a mid-week morning, allowing me the time and space to admire each photograph and fully absorb the experience. The second was energetic, buzzy and reflective of the boldness of the exhibition itself thanks to the other visitors. Both offered something different but there was no avoiding the beauty and power of the work on display and the messages conveyed.
The New Black Vanguard is one of my all-time favourite exhibitions. So much so that I bought not one, but two coffee table books: Antwaun Sargent's The New Black Vanguard and Nadine Ijewere's Our Own Selves (and although I love browsing gallery gift shops, I usually exercise a lot more restraint!). I'll be sad to see the exhibition leave the Saatchi Gallery, but I have these lasting reminders of the new generation of creatives changing the face of Blackness in art and fashion.
The New Black Vanguard is open at the Saatchi Gallery until Sunday 22 January 2023.
Address: Saatchi Gallery, Duke of York's HQ, King's Road, SW3 4RY
Nearest station: Sloane Square
Opening times: Mon-Sun 10am-6pm; Fri 20 Jan 10am-9pm.
Tickets: Adult £10; under 10s enter free with a paying adult. Book online now.
Please like, share and comment below and see if we have anything else to inspire your next visit to London.