Book a table at one of these top date night restaurants in London for a perfect Valentine's Day, whether treating your significant other or celebrating with your friends.
Looking for the perfect place to impress your date this Valentine's Day? Look no further. London's food scene is one of the most diverse in the world and can please any palate. Sweep your partner or friends off their feet this year and explore the city's culinary world with these romantic restaurants that will guarantee to astonish – whether you're looking for the grandest locations or London's sweetest and humble hidden gems.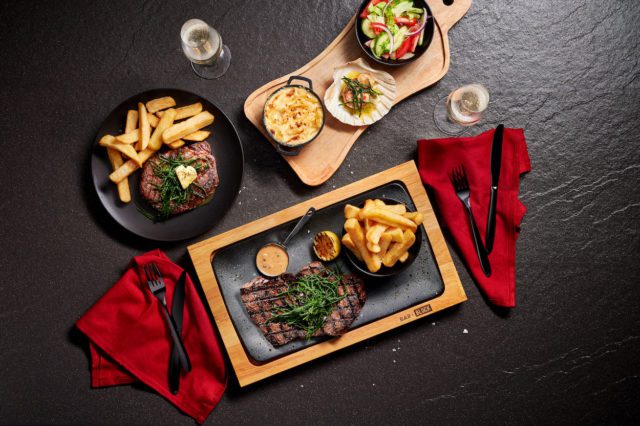 Between Tues 14-Sat 18 February, enjoy a flame-grilled feast from land and sea at Bar + Block. The steakhouse will be dishing up the finest cuts of steak with a three-course menu (£27.95pp), plus sharing plates and a limited-edition pink tipple to pair. Tuck into an array of drool-worthy dishes, including King Scallops drizzled in garlic butter, Chimichurri halloumi with mixed vegetables, and the Melt My Heart steak – a choice of fillet, sirloin, rump or ribeye steak, sourced from British and Irish Angus breeds renowned for their taste and tenderness, and topped with garlic butter. The specials include a sharing Chateaubriand with sides including a truffle mac n' cheese, or a Surf N' Turf for two with a 14oz spiral cut fillet, marinated in garlic and parsley and served alongside Canadian king scallops and jumbo tiger prawns. Pair your meal with the limited-edition Pink Gin Kiss cocktail: Pink Gin with raspberry purée and pineapple juice and dusted with a heart. New Marlborough Yard, Ufford St, SE1 8LE (and branches). www.barandblock.co.uk.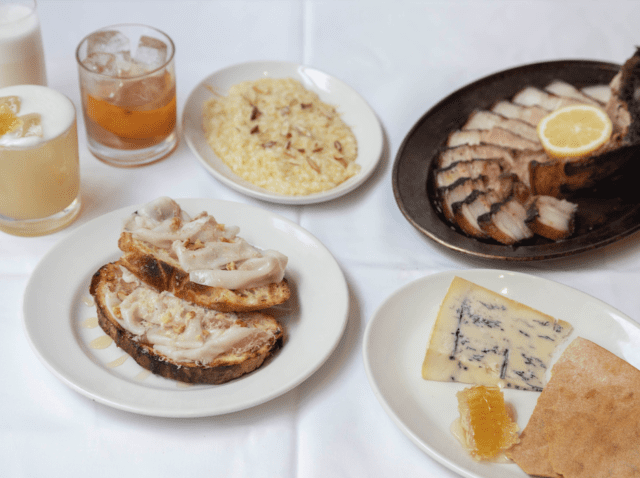 This February, bustling Soho trattoria Bocca di Lupo is creating a buzz around Saint Valentine and his (often overlooked) patronage of beekeepers. A selection of beautiful, honey-drenched dishes features on the special Feast of Beekeepers menu (available 10-14 Feb). Chef and founder Jacob Kenedy will be putting a honeyed spin on regional Italian favourites, each made with the finest produce from across Italy and the UK. A risotto, with salty Pecorino and sweet honey, can be ordered either as a
primo
or as a
secondo,
while guests can share a pork chop for two for the main event. It's marinated in rosemary and honey, which partly cures the meat and keeps it succulent when cooked. Italian cheeses, such as spicy Gorgonzola with chestnut and a dollop of honeycomb, are paired with honey too. For dessert, Sardinian pastries are stuffed with young Pecorino and lemon zest, fried until crisp and golden, and then drenched with unusual
corbezzolo
honey – a bitter honey made from the flowers of Sardinian strawberry trees. Bartenders will also shake up three special cocktails infused with the golden nectar.
12 Archer St, W1D 7BB. www.boccadilupo.com
.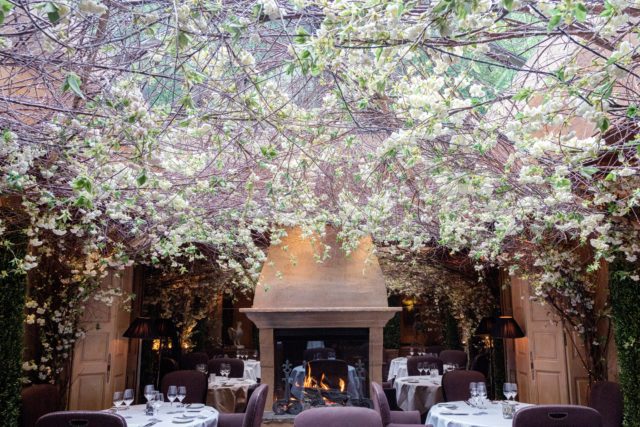 For classic French romance, elegance and award-winning cuisine, Clos Maggiore in Covent Garden offers that and more. One can't help but be charmed by its floral decor and interior, inspired by France and Tuscany's countryside. If that doesn't do the trick, then Clos Maggiore's six-course Valentine's Day tasting menu will (£160pp). Meat eaters can enjoy delicacies like venison tartare, fried oysters, a lobster and caviar broth, and the sweet finale of a Melting Heart. There's also a vegetarian tasting menu available: Cheddar and balsamic onion tartlet begins the epic journey which consists of wild mushroom and black truffle linguini, Champagne and Jerusalem artichoke risotto and the same Melting Heart dessert. Classic (£65pp) and premium (£95pp) wine pairings are also available. 33 King Street, Covent Garden, WC2E 8JD. www.closmaggiore.com.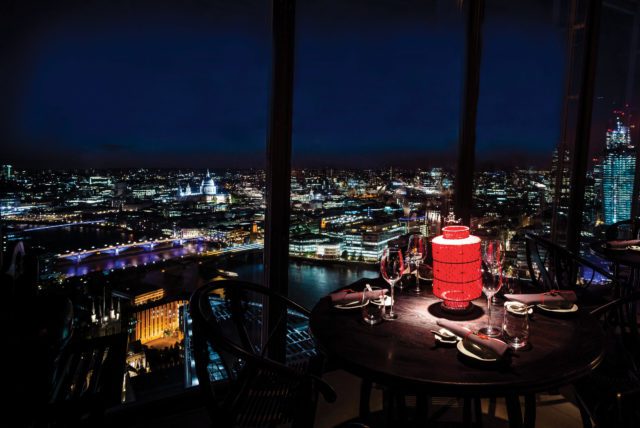 For a fiery date with equally fiery dishes, elevate to Hutong. This upscale taste of Northern Chinese cuisine floats on the 33rd floor of The Shard, offering delicacies such as crispy soft-shell crab with Sichuan dried chilli, lobster bao buns, wagyu beef millefeuille and more. But what will really set the mood is the restaurant's panoramic view of the city. Hutong is sure to set hearts and tastebuds ablaze. 31 St Thomas St, Level 33, The Shard, SE1 9RY. www.hutong.co.uk.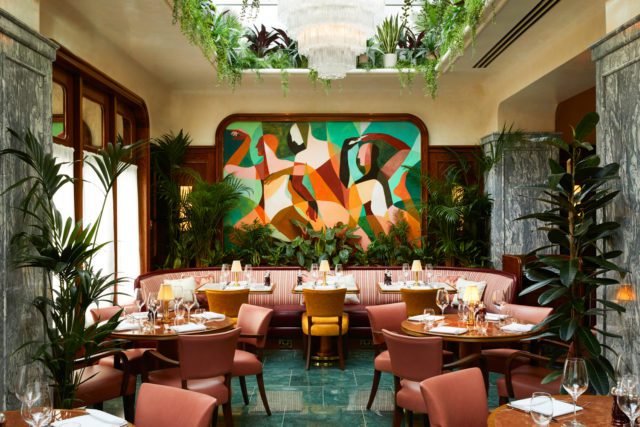 After treating your loved one to a gift in Harrods, head across the road to Cicchetti. Upon arrival, you'll notice the simply stunning decor: marble countertops and striking chandeliers make way for abstract artwork across the walls in this sleek Art Deco restaurant. Cicchetti loosely translates to small dishes – though some portions are far from 'small'. So expect a tapas-style selection of regionally inspired Italian plates made with love and designed to be shared. Try melt-in-the-mouth chargrilled avocado with a chilli vinaigrette, cones of beef ragu-filled arancini, and oozing burrata with Parma ham and black truffle. The menu features something for everyone: salads, pasta, pizza, meat, fish and vegetables. The mortadella pizza is a classic 'white' Neapolitan pizza: freshly made dough is topped with thin slices of mortadella ham, fior di latte and creamy burrata cheese and crushed pistachio for additional crunch. Tiramisu makes the perfect sweet treat. 6 Hans Road, SW3 1RX. Read our full review.
View this post on Instagram
At the 10th floor of the Montcalm Royal London House in Finsbury Park is Aviary, a London classic for brilliant cuisine and breathtaking views. Aviary elevates European cuisine using top British produce and ingredients for dishes like Gin-poached salmon, roast Norfolk bronze turkey, oysters and more. If it's still chilly out, book an igloo and feast on cheesy or chocolatey fondues while you enjoy the London skyline. Save room for the Guinness chocolate cake before taking in the London skyline in the sunset with your SO. 22-25 Finsbury Square, London EC2A 1DX
It's not every day that you can indulge in a Mediterranean feast while surrounded by magnificent artworks. Bacchanalia is the epic restaurant from Richard Caring (the man behind Annabel's and The Ivy) that opened recently in Mayfair. It's an aesthete's paradise: the interiors feature four Damien Hirst statues, 2,000-year-old Greek and Roman artworks and a floor-to-ceiling mural by Gary Myatt that takes centre stage. Acclaimed chef Athinagoras Kostakos's beautifully curated menu is inspired by seasonal Greek and Italian cuisine, such as sea bream carpaccio, the classic Venetian dish of risotto nero (made with squid ink) and a turbot that's big enough for two. Adding to the drama, many of the dishes' final flourishes are completed at your table in front of your eyes. Wine is paramount here – take your pick from more than 650 types, as well as Bacchanalia's own-label varieties. It's a memorable experience from start to finish. 1 Mount St, W1K 3NA. www.baccanalia.co.uk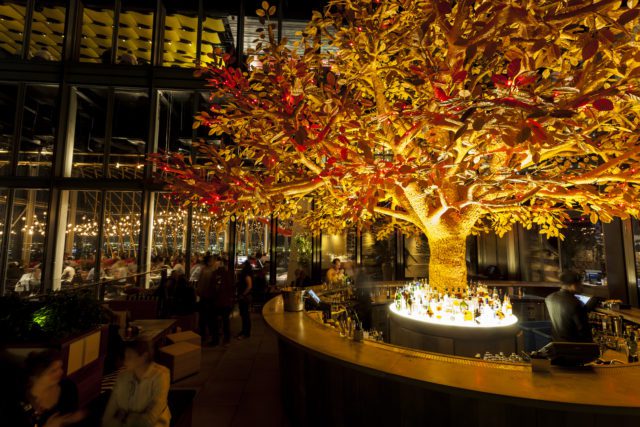 For sky-high ceilings, panoramic glass elevators and a view of London that will leave you breathless, it's the one-and-only Sushisamba atop the Heron Tower. The Peruvian-Brazilian-Japanese fusion restaurant brings fresh and innovative cuisine to the sky, offering selections like anticuchos served with Peruvian corn and Chilean sea bass miso, wagyu gyoza, traditional churrasco, countless creative sushi rolls and much more. If you're looking to go all out and impress your S.O., look no further. 110 Bishopsgate, EC2N 4AY. www.sushisamba.com.
View this post on Instagram
About Time is perhaps one of the most romantic films out there. Tim and Mary's love story begins at a restaurant with a difference: they eat in pitch darkness. Did you know it's a real restaurant, right here in London? Find true intimacy at Dans Le Noir ?. Taking the phrase 'blind date' a little too literally, this restaurant offers a one-of-a-kind, sensory experience. In the darkness (no phone allowed), your senses are heightened to a new level. Three options are on the menu: red, blue or green (meat, seafood, or vegetarian). Not only does Dans Le Noir? bring a refreshing perspective on food – and delicious food at that – it allows new levels of connections with your date, focusing on real conversation and bonding through the experience. 69-73 St John St, London EC1M 4NJ. london.danslenoir.com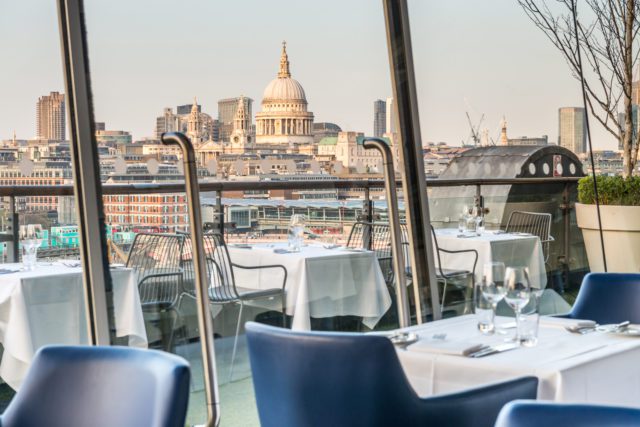 Make your way to the eighth floor of the unmistakable OXO Tower. With its alluring views of the City and beyond that are sure to have your guest swooning, a menu of modern British classics, and an intimate atmosphere, it's the ideal Valentine's Day restaurant. A special set Valentine's Day menu will be on offer at both the Restaurant (£150pp) and the Brasserie (£100pp), with live music playing throughout the evening. Tickets include half a bottle of Champagne per person, a three-course menu, side dishes and service charge. Keep an eye out for the menu reveal. Barge House St, SE1 9PH. www.oxotowerrestaurant.com.
Please like, share and comment below and see if we have anything else to inspire your next visit to London.