The Elizabeth Line is a brand-new train line coming to London's transport network this year. Find out where it will run and when it will open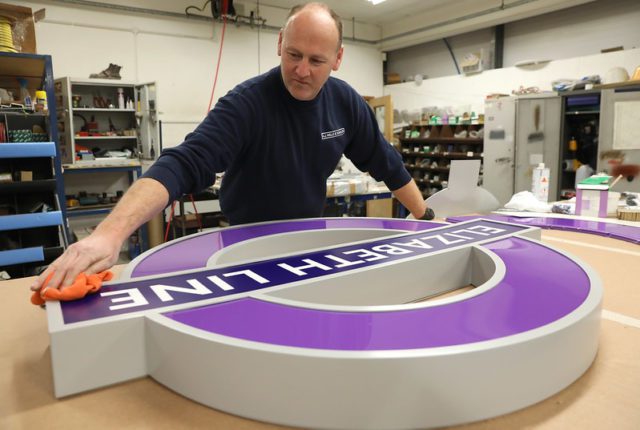 Visitors arriving at Heathrow Airport will soon have a new fast, high frequency, high capacity railway journey into London. The Elizabeth Line is a brand-new train line that will connect east with west. It will connect the outer suburbs, such as Reading, Maidenhead, Shenfield and Abbey Wood, with the heart of the City and West End, cut journey times and provide additional capacity. With spacious new stations all with step-free access, it will also be highly accessible for disabled passengers.
"The opening day is set to be a truly historic moment for the capital and the UK, and we look forward to showcasing a simply stunning addition to our network"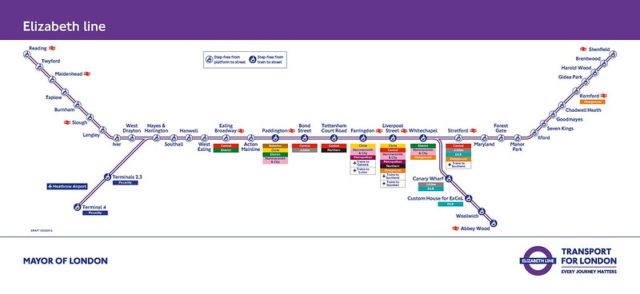 The Elizabeth line will launch in three phases, initially operating as three separate railways, with services from Reading, Heathrow and Shenfield connecting with the central tunnels from autumn this year.
Phase one (from 24 May 2022):
Services between Reading and Heathrow to Paddington and Shenfield to Liverpool Street (currently operating as TfL Rail) will be rebranded to the Elizabeth line.
The central section will open, adding nine new stations to the TfL network (Bond Street will open to Elizabeth line customers later in 2022)
Service will start with one train running every 5 minutes between Paddington and Abbey Wood from 6.30am-11pm, Mon-Sat.
Elizabeth line customers travelling between:
Shenfield and the central section: change trains at Liverpool Street – walk to/from the new Elizabeth line Liverpool Street station.
Reading or Heathrow and the central section: change trains at Paddington – walk to/from the new Paddington Elizabeth line station.
Paddington and Abbey Wood only: no changes needed.
Phase two (from autumn 2022):
The lines from Reading, Heathrow and Shenfield will connect with the central tunnels. This means customers travelling from:
Reading and Heathrow can travel east all the way to Abbey Wood without changing at Paddington.
Shenfield can travel west all the way to Paddington without changing at Liverpool Street.
Phase three (by May 2023):
It is fully connected and running as normal.
24 trains per hour will run at the busiest times between Paddington and Whitechapel.
Please like, share and comment below and see if we have anything else to inspire your next visit to London.