Hampton Court Palace is a magnificent 16th century Tudor Palace, once home to King Henry VIII, reachable from London Waterloo station within under an hour. Find out what's on and why you should visit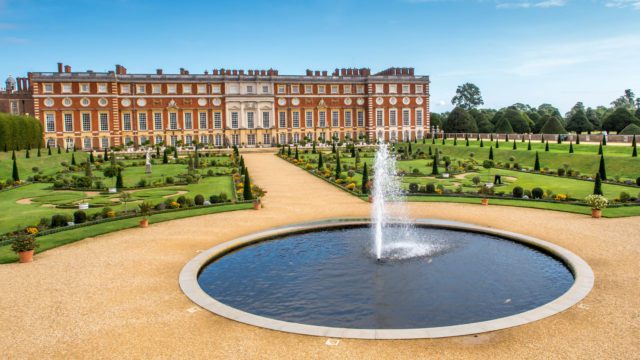 Hampton Court Palace is a stunning site that's rich with history. Follow in the footsteps of kings and queens at the Chapel Royal, where you can also find a recreation of King Henry VIII's jewel-encrusted crown. Discover masterpieces by Rembrandt, Caravaggio and more in the galleries and visit the Palace's beating heart, The Great Hall. After taking in all there is on offer inside, there are still more than 60 acres of beautiful gardens to explore.
A brief history
What is now known as Hampton Court Palace was first a medieval manor house that was never intended to be a home for a king. However, in 1515, Cardinal Thomas Wolsey began rebuilding the country house to make it a place suitable to host the King and the royal court, as well as other European monarchs. The transformation was so successful that King Henry VIII took the Palace for himself and it became a palace and leisure complex enjoyed by the King and his courtiers.
There are connections to William Shakespeare, the infamous architect Sir Christopher Wren and generations of royals including George I, Queen Victoria and the Duchess of Cambridge, Kate Middleton, too. It's one of the best historical days out in London with stories to be found in every room.
A breath of fresh air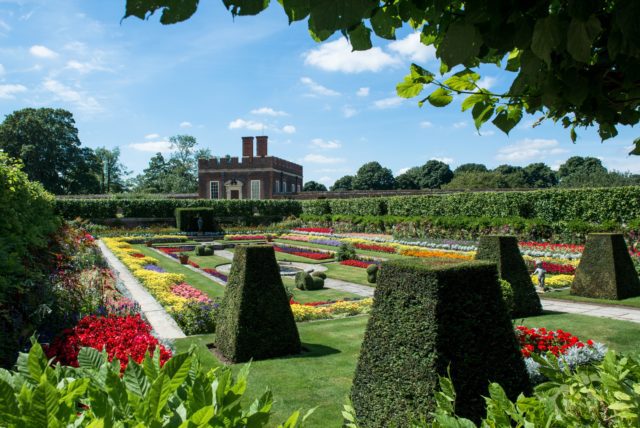 More than 60 acres of formal gardens and 750 acres of historic parkland surround the Palace. Join a one-hour walking tour on Wednesday, Friday or Sunday to learn about 500 years' worth of history, passing through the most historic gardens
Alternatively, explore on your own and wander through The Wilderness, which was once Henry VIII's orchard and Charles II's formal pleasure garden but is now a wild meadow. The Rose Garden and sunken Pond Gardens burst into vibrant colour in summer, while the famous maze – the UK's oldest surviving hedge maze – comes to life with the sound of puzzled visitors weaving their way through the labyrinth.
Another twisting and turning delight is The Great Vine. It was planted in 1768 and now measures over 4 meters around the base, making it the world's largest vine. The black dessert grapes are harvested at the end of summer and sold in the palace shop from late August. Elsewhere, find flowers, towers, walkways and even a steam-breathing dragon at the Magic Garden and children's play area.
Finally, accessible from outside the palace and gardens is Home Park. Proudly designated a Site of Special Scientific Interest, its 750 acres of ancient parkland support a remarkable assortment of endangered invertebrates as well as a deer herd.
What's on this summer
The East Gardens will play host to the Artisan Festival (13-15 May). Shop for exquisite hand-crafted gifts from independent makers, including homewares, fashion, beauty products and more. Sample some of the tastiest food and drink from street food vendors and pop-up bars, too, while enjoying live music from the bandstand.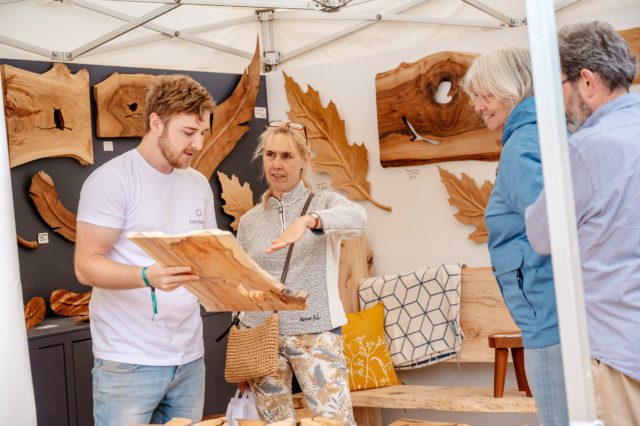 Of course, the Palace will celebrate Her Majesty The Queen's Platinum Jubilee. The Platinum Jubilee Blooms (Jun-Sep) will fill the gardens with colour and patterns. Planted, grown and maintained by Historic Royal Palaces' garden teams, the flower display encourages new wildlife to visit the gardens, thanks to the specially designed seed mix.
During the bank holiday weekend, there will be a Jubilee Joust (1-5 Jun) in the palace gardens. Watch as the country's best knights in shining armour compete for the coveted Jubilee Cup. At the Chapel Royal, the Choir will perform well-loved pieces of music from Her Majesty's coronation in 1953, in Vivat! (3 Jun). Finish this joyous evening with an exclusive champagne reception on the Fountain Court lawn.
Changing pace, the Hampton Court Palace Festival (9-25 Jun) returns with open-air concerts taking place in the spectacular courtyard. This year's performers include Elbow, Jack Savoretti, The Human League and Kacey Musgraves. More open-air entertainment bursts on to the stage as the original West End Queens of SIX arrive. SIX Live (19 & 20 Jun) will see the global musical phenomenon staged outside for the first time. Join more than 3000 people for this epic evening of pop-tastic performance.
Finally, RHS Hampton Court Palace Garden Festival (4-9 Jul) will bring top-notch shopping, live music and talks and demonstrations. Dive into a world of colourful garden inspiration, fabulous floristry and unique plant shopping from the UK's finest growers.
Please like, share and comment below and see if we have anything else to inspire your next visit to London.