Behind the busy high streets and towering mansions of west London are quaint mews rich with history. Here are 10 of the most magical mews to visit
London's mews are quaint little cornerstones of England's past. What were once the homes of coachmen and servants of wealthy residents during the Georgian and Victorian ages, are now cosy rows of houses that are sought after by even the most famous celebrities including Adele and Sir Michael Caine. Whether it is the charming gardens, colours or cobblestone paths, exploring mews in London is a lovely way to wander off the beaten path for small glimpses into England's history.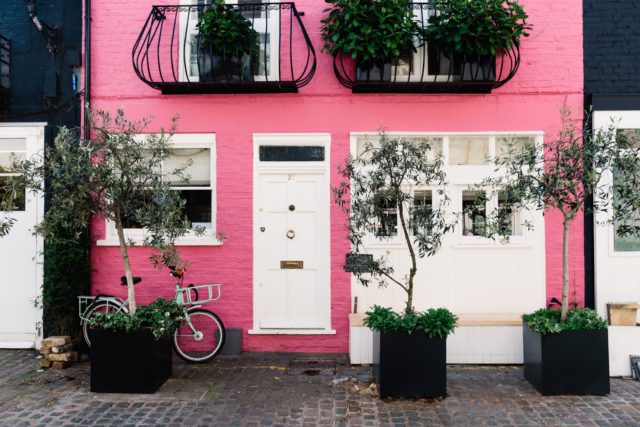 This little pink house is an Instagram favourite in St Luke's Mews © JJFarq/Shutterstock
Notoriously famous thanks to the 2003 Christmas rom-com film Love Actually, St. Luke's Mews in Notting Hill has an array of stunning facades and bold colours, including the beloved pink house where Kiera Knightly lived in the film. It's a historical row that sustained some damage during World War II, but was thankfully reconstructed into the delightful location it is today. Spend a full day in this iconic neighbourhood as St. Luke's is also within walking distance of Portobello Road Market (best on Saturdays, 9am-7pm) and Holland Park which is a beautiful green haven that, if you're heading south, leads to The Design Museum. Love Actually isn't the only rom-com filmed in this neighbourhood – the famous blue door from Notting Hill can be seen on Hayden's Place, just a short five-minute walk from St Luke's Mews. Notting Hill, W11 1DF
View this post on Instagram
Kensington offers dozens of mews to explore, including Cresswell Place Mews. This picturesque street was once the home of the famous novelist Agatha Christie. Adorned with a blue plaque – there are more than 900 across London – you'll soon see why she was inspired to base one of her novels, Murder in the Mews, on this 19th-century property. These mews are in a conservation area called The Boltons. Kensington, SW10 9RD
"The development of the area around South Kensington and Earl's Court was influenced by the Great Exhibition of 1851 in Hyde Park and by the arrival of the railways during the 1860s. The old image of cheap bedsits and hotels has now been replaced by smart, classy conversions. Doriane Lorian who presents the When in France programme on BBC1 and Radio4 lives in Cresswell Place and Agatha Christie once lived in the mews as well."
– Extract from The Evening Standard, 27 June 1990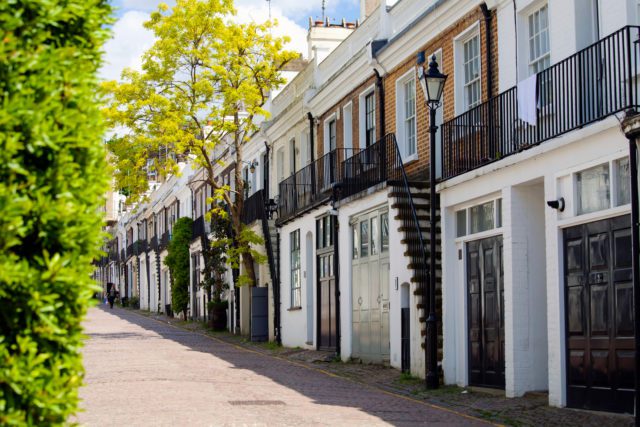 Holland Park Mews © Shutterstock
Holland Park has some of the most sought-after properties in London, including Holland Park Mews. It's known as one of the best-preserved rows in the city, with original iron staircases, fully-functioning water pumps and its welcoming arch in the west entrance that dates back to 1862. Holland Park Mews has become insanely popular on Instagram feeds and was once home to the late English actor, Sir Ian Holm. After exploring, wander south through Holland Park and pay a visit to The Design Museum, which is free to enter. Kensington, W11 3SU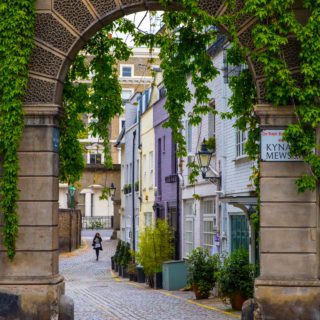 Kynance Mews © Shutterstock
Kynance Mews was originally known as Cornwall Mews to provide stables for the properties in Cornwall Gardens, but its name changed in 1924 and is now yet another row of beauty in West London. It doesn't matter what time of year you visit. Kynance is the mews mecca of florals and foliage, with wisteria trailing off the properties in the spring, and a myriad of warm colours welcoming you in for autumn. Christ Church Kensington is also within walking distance and has a dazzling lavender garden. Kensington, SW7 4QR
While you're in Kensington, stop by Queens Gate Mews and wander through the previous neighbourhood of Madonna and Guy Ritchie. This mews is a famous filming location that can be spotted in the films The Bank Job and Daniel Craig's Layer Cake.
It's close to Kensington Gardens and Hyde Park, and was home to the beloved comedic actor of the 1950s-60s, Terry Thomas. If you're feeling thirsty on your mews exploration, stop at The Queen's Arms, a traditional British pub that's conveniently located on the corner. Kensington, SW7 5QN
This cobbled through-road between Cranley Gardens and Old Brompton Road can be found in the Royal Borough of Kensington and Chelsea. There are 52 residential properties that were originally used as stable house accommodations for the main houses on Cranley Gardens and Roland Gardens. It's said that Adele once lived here – who can blame her when the view is so lovely with the pastel colours and street decor? Chelsea, SW7 3BY 
Sandwiched between Earl's Court Road and Templeton Place, Spear Mews is a short row of 17 properties filled with flowers hanging from window sills and lush plants along the cobblestone. Its location is extremely convenient and within walking distance of the nearby Earl's Court Tube station, along with dozens of shops, restaurants and cafes nearby. Earl's Court, SW5 9NA
Kill two mews with one (cobble) stone by trekking down to Reece and Kendrick Mews in South Kensington. Each one mews has its own ambience, with Reece offering a more traditional set-up and Kendrick with its more modern and colourful facades. The two meet together at a bright blue mural of a skiing landscape off of Kendrick Place. South Kensington, SW7 3HE
Another grand row of mews is Stanhope Mews South, filled with terraces, balconies and lush greenery. The row lies within the Queen's Gate Conservation Area and is perfect for a day of exploring as it's right by the Natural History, Science and V&A Museums. Kensington, SW7 4TF
Head to Bathurst Mews in Bayswater for a bit more English history. Just north of Hyde Park, Bathurst is home to the last two horseriding schools with fully functioning stables in Central London. The row has been standing since the 1830s and was used to house motorcars during WWII. Bathurst even survived the Blitzkrieg in 1940 after a bomb fell nearby in Westbourne Terrace. Bayswater, W2 2SB
Please like, share and comment below and see if we have anything else to inspire your next visit to London.