Check out the best immersive experiences in London. Escape Martians in London, stop a nuclear missile or join an ABBA party on a Greek island. You don't want to miss any of these
Mamma Mia! The Party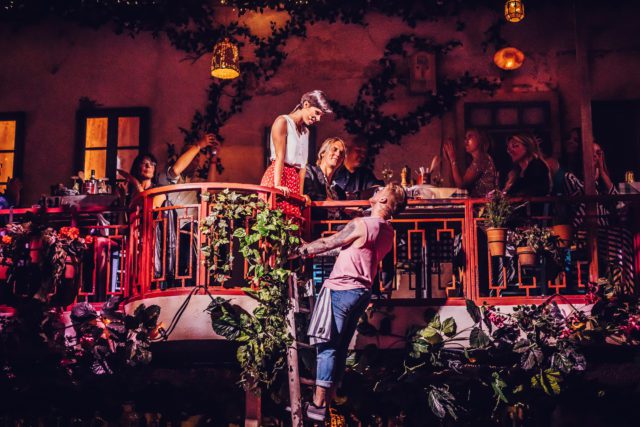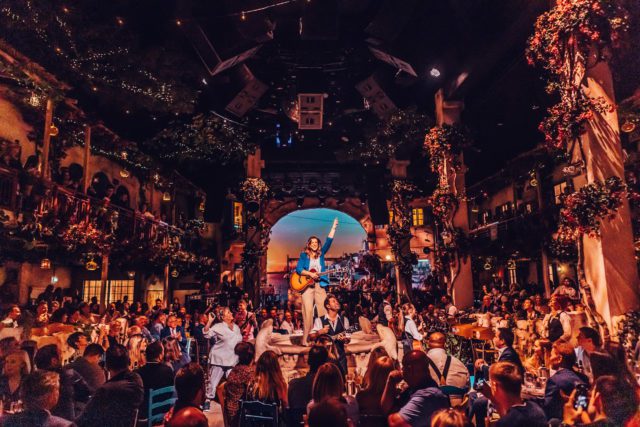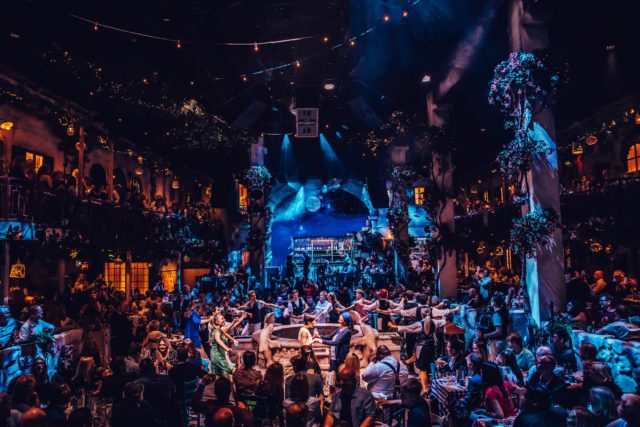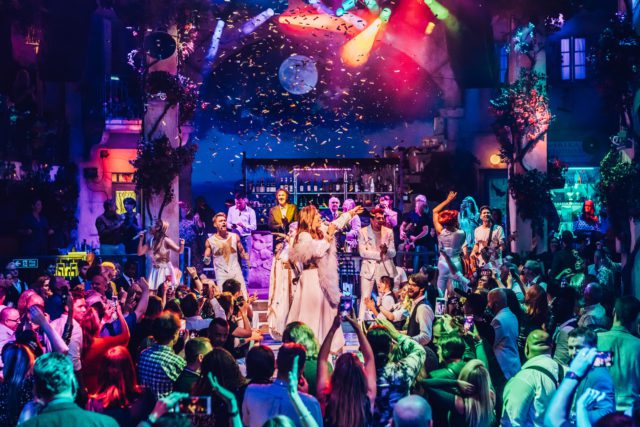 A flagstone floor, fairy lights and blue and white chequered tablecloths set the scene at Mamma Mia! The Party, which takes place in Nikos' Taverna on Skopelos island inside The O2. It's based on the 2008 film and its ABBA soundtrack. TV comedian Sandi Toksvig adapted the story, which is brought to life by roaming actors. Sit down and enjoy a delicious meal of Greek mezze, olive and feta salad, lamb souvlaki (kebabs) and portokalopita, an orange cake served with Greek yoghurt. Then dance the night away at the disco finale. Find out more here.
The Perfect Crime
In 1990, two masterpieces were stolen and have remained missing ever since. Working in teams, you must defy motion sensors and climb through air vents to retrieve the most valuable stolen paintings in the world. Will you hand them to the FBI to claim the reward? Or will you chance the Black Market? The Perfect Crime is an action-packed experience that mixes immersive theatre and escape games. Assemble your team to pull off the theft of the century. Find out more here.
Bond for a day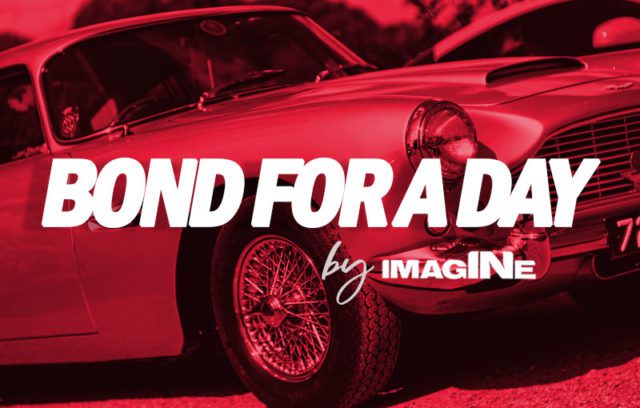 Go behind the scenes of the world's most famous film franchise and take the lead! Every James Bond fan's dreams come true with this fantastic experience, including a splash of original Floris and his preferred tipple at one of Ian Fleming's favourite London hotel bars. You'll pick up some useful counter-surveillance tips and learn the real stories behind the world of 007. It wouldn't be a day in the life of Bond without a visit to 'Q' – prepare for some target practice using a variety of weapons. During this exhilarating day, an expert will guide you through the murky world of spies, sabotage and assassination! The event runs every Friday and Saturday at 10am, lasting 5 hours. Find out more here.
The Crystal Maze LIVE Experience The Crystal Maze Live Experience is based on the British game show of the same name that was a hit in the 90s. Like the series, the experience has Medieval, Aztec, Industrial and Futuristic zones. Even if you've not seen the TV show, you will still enjoy playing physical and mental challenges against the clock, such as cracking a safe using A-level maths. Work quickly or risk getting locked in. Find out more here.
Faulty Towers: The Dining Experience (from 21 Jan)
If you'd like to experience old-school British culture, or you're a Brit who enjoys reminiscing, take part in this interactive dining experience inspired by the '70s TV farce Fawlty Towers. Taking place at The President Hotel from 21 Jan, it is actually set in a fictional hotel on the south coast. Diners meet the hotel's rude owner and a hapless Spanish waiter while mingling with other bewildered guests over a three-course dinner at this mostly improvised show. Find out more here.
Monopoly Lifesized
A new, exciting way to play the planet's favourite board game has arrived! Jump around a giant board and build the property empire of your dreams, completing challenges along the way. Monopoly Lifesized can best be described as a cross between escape rooms, board games and team tasks – in other words, heaps of fun for you and your family, friends! Find out more here.
Money Heist: The Experience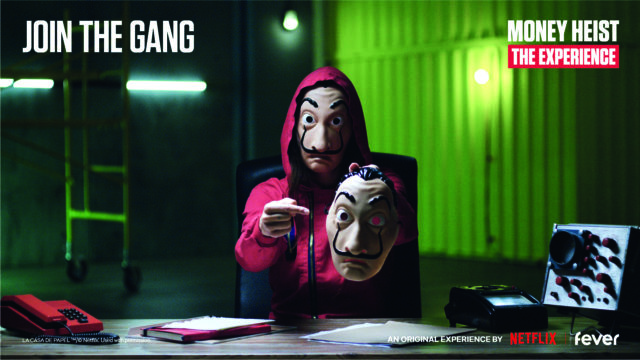 Gunfights, ambushes and special effects will get your adrenaline pumping at this immersive experience, that is inspired by the eponymous Netflix show about eight thieves taking hostages inside the Royal Mint of Spain. Money Heist: The Experience in South Kensington is set in a former Christie's auction house and it begins with an auction. Treasures lie in the vaults and you must don a red jumpsuit like the rest of your gang and complete physical and mental challenges to steal them. Find out more here.
Shrek's Adventure! London
This one-of-a-kind event, created by Merlin Entertainments in collaboration with DreamWorks Animation, brings Shrek and his friends to life. The fantasy tour blends ten laugh-out-loud live shows and legendary Shrek sets with compelling storytelling, an incredible 4D experience, dramatic special effects, and stunning DreamWorks animation. Allow about 1 hour 15 mins to enjoy the experience. It's not only for kids either – we guarantee that the adults will love it too. Find out more here.
Doctor Who: Time Fracture
A ground-breaking immersive theatrical adventure plunges you into the incredible universe of Doctor Who. Smoke machines, an illuminated tunnel and a wall of flickering TV screens set the scene for Doctor Who: Time Fracture, a theatrical experience with a bar near Claridge's in Mayfair. If you're not already a fan of the BBC's sci-fi series, some of the references may go over your head, but that won't stop you from finding the thrills in the experience as you confront monsters and aliens to save the planet on a journey through time and space. Find out more here.
The Great Gatsby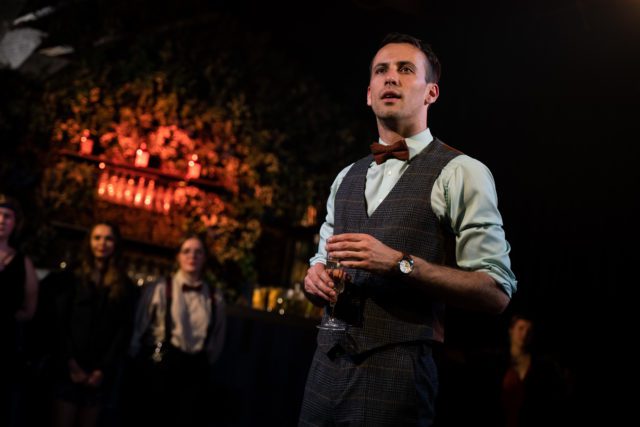 Forget 2021 and celebrate the Roaring Twenties at this event in Mayfair, which is inspired by the novel of the same name by F. Scott Fitzgerald. Created by Olivier Award-winning producers, you'll find yourself invited to a legendary party thrown by the millionaire Jay Gatsby. So don flapper dresses and string pearls, bow ties and braces; sip Champagne then foxtrot the night away to a jazz band. Find out more here.
The Murdér Express (to 27 Feb)
It's 1937 during the Great Depression, and the Von Valentine family's Jewel of the Empire – the world's largest cut diamond – is on display aboard The Murdér Express. The train is travelling from London to the family estate in the southern French town of Murdér… It's not long before the diamond is missing, bodies are beginning to pile up and the clock is ticking to catch a killer and recover the Jewel of the Empire. Hop aboard at Pedley Street Station near Brick Lane and dine on a three-course meal while you're whisked away to France. You'll meet some interesting characters, but remember, all is not as it seems and everybody is a suspect – even you. Find out more here.
The War of the Worlds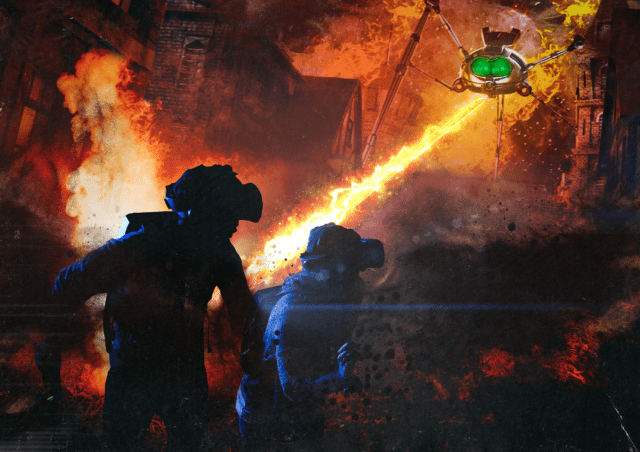 The stench of sulphur and pyrotechnics will jolt you into another world, which is inspired by H. G. Wells' eponymous novel and the 1978 album, Jeff Wayne's Musical Version of The War of The Worlds. Virtual reality headsets, holograms and projections take you back to 1898, when a Martian invasion leads to the evacuation of London. Hide from the aliens, climb through tunnels and whizz down a slide in your attempt to escape. Will you succeed? Find out more here.
Sherlock: The Official Live Game
Enter into the world of Sherlock with immersive sets and environments from the show, as you work together as a team to solve mysteries and puzzles before time runs out. Play the detective in this brand-new Sherlock case featuring original content from the show's stars, including Benedict Cumberbatch, Andrew Scott, Martin Freeman, and more. The experience offers several types of activities such as Escape Room, Outdoor Game, Poisoned Chalice Cocktail Experience, Boozy Afternoon Tea and more. The ticket price starts from £15. For more information, visit the website. Find out more here. 
Fox in the Box London
View this post on Instagram
Choose from four themed escape rooms: Prison Break, Bunker, Zodiac Killer and a Virtual Room. Feeling adventurous? Whether you're going head-to-head to escape prison or working your way through the bunker to stop nuclear missiles, the experience will get your brain working. You'll need to use teamwork and creative thinking to solve logical problems and overcome challenges. Find out more here.
Please like, share and comment below and see if we have anything else to inspire your next visit to London.