Check out the best immersive experiences in London. Escape Martians in London, stop a nuclear missile or join an ABBA party on a Greek island. You don't want to miss any of these
The Crystal Maze LIVE Experience The Crystal Maze Live Experience is based on the British game show of the same name that was a hit in the 90s. Like the series, the experience has Medieval, Aztec, Industrial and Futuristic zones. Even if you've not seen the TV show, you will still enjoy playing physical and mental challenges against the clock, such as cracking a safe using A-level maths. Work quickly or risk getting locked in. Find out more here.
Dalí Cybernetics: The Immersive Experience (from 23 Dec)
Discover the surrealist artist's mind and work from a completely new perspective. Art and technology combine to create an utterly brilliant immersive art experience. Cutting edge 360° projection mapping, interactive installations, holograms and artificial intelligence all showcase the Catalan artist's most compelling works. We recommend 60-90 minutes for your visit. Find out more here.
Dopamine Land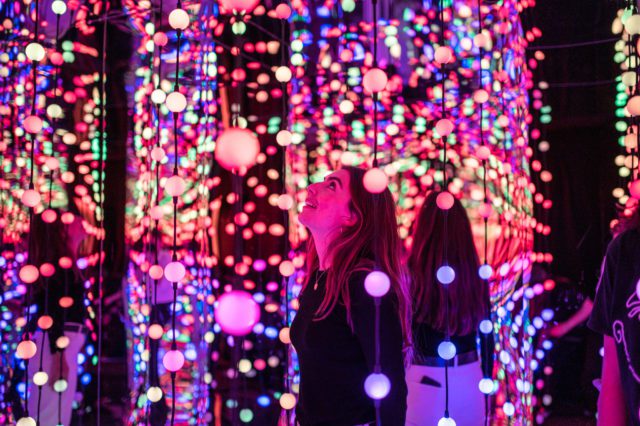 Step into another world and boost your happiness hormone, dopamine. Media, technology and playtime are combined in a series of rooms that trigger a gentle release of dopamine in your brain. In one room, you'll find a boundless world of lights, reflections, colours and joy. In another, the ground is your enemy: the mirrored maze room features interactive squares that you must step on to find your way out. Next, take a break and relax in a digital forest that powerfully imitates the natural world. Then it's time for the fun of the fair in the Popcorn Room before you enter a colourful cushioned space and prepare for combat as you settle old scores in a friendly pillow fight. Find out more here.
Faulty Towers: The Dining Experience
If you'd like to experience old-school British culture, or you're a Brit who enjoys reminiscing, take part in this interactive dining experience inspired by the '70s TV farce Fawlty Towers. Taking place at The President Hotel from 21 Jan, it is actually set in a fictional hotel on the south coast. Diners meet the hotel's rude owner and a hapless Spanish waiter while mingling with other bewildered guests over a three-course dinner at this mostly improvised show. Find out more here.
Frameless
Frameless is a brand-new culturally rich, multi-dimensional art experience. Housed in an incredible 30,000-square-foot venue and located just a few steps from Marble Arch and Oxford Street, it is the largest of its kind in the UK. At all angles – in front, behind, above and below you – art seeps into every inch of space. Set across four distinctive galleries, you'll experience a different type of immersive technology in each one. Step into Salvador Dalí's The Persistence of Memory, Van Gogh's Starry Night over the Rhône and Monet's The Waterlily Pond: Green Harmony, among many others. Whether you're a keen artist or simply looking for an exciting experience in the capital, make sure you don't miss this record-breaking exhibition. Find out more here.
The Great Gatsby (to 7 Jan)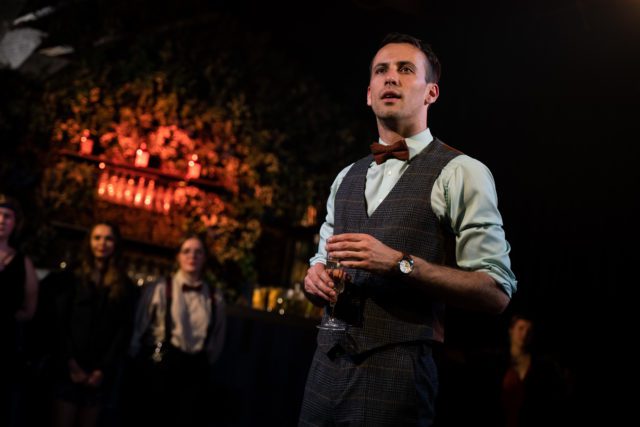 Forget 2021 and celebrate the Roaring Twenties at this event in Mayfair, which is inspired by the novel of the same name by F. Scott Fitzgerald. Created by Olivier Award-winning producers, you'll find yourself invited to a legendary party thrown by the millionaire Jay Gatsby. So don flapper dresses and string pearls, bow ties and braces; sip Champagne then foxtrot the night away to a jazz band. Closes 7 January 2023. Find out more here.
The Gunpowder Plot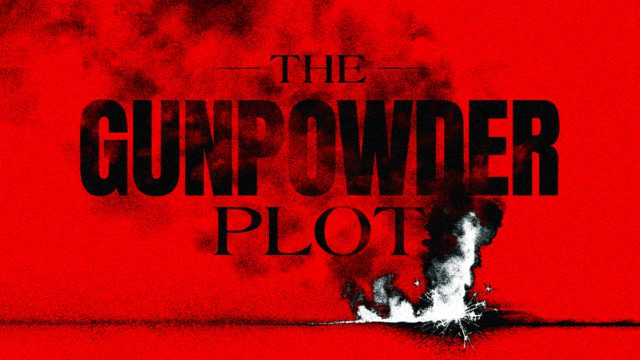 You're in 1605 and going undercover to unmask the mysterious. figures behind history's most infamous plot. This atmospheric immersive experience takes place in a purpose-designed theatre space in the Tower of London's Tower Vaults. Find out more here.
Jeff Wayne's The War of the Worlds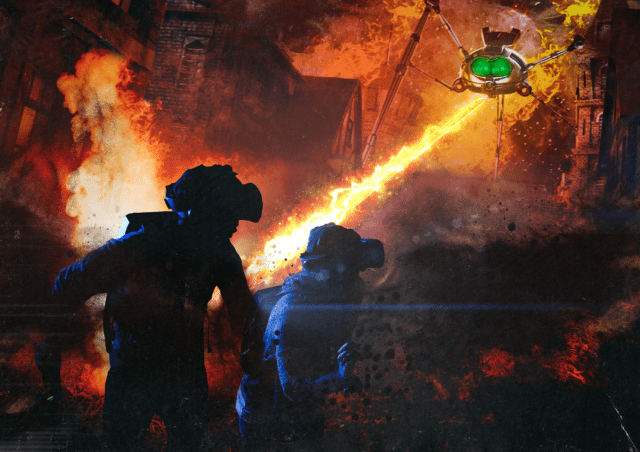 The stench of sulphur and pyrotechnics will jolt you into another world, which is inspired by H. G. Wells' eponymous novel and the 1978 album, Jeff Wayne's Musical Version of The War of The Worlds. Virtual reality headsets, holograms and projections take you back to 1898, when a Martian invasion leads to the evacuation of London. Hide from the aliens, climb through tunnels and whizz down a slide in your attempt to escape. Will you succeed? Find out more here.
Jurassic World: The Exhibition (to 15 Jan)
Board the ferry to Isla Nublar and walk through the massive Jurassic World gates. Walk under a majestic brachiosaurus, come face-to-face with ferocious raptors and get a rare up-close look at the most vicious dinosaur of them all, the tyrannosaurus rex. Must close 15 January 2023. Find out more here.
Mamma Mia! The Party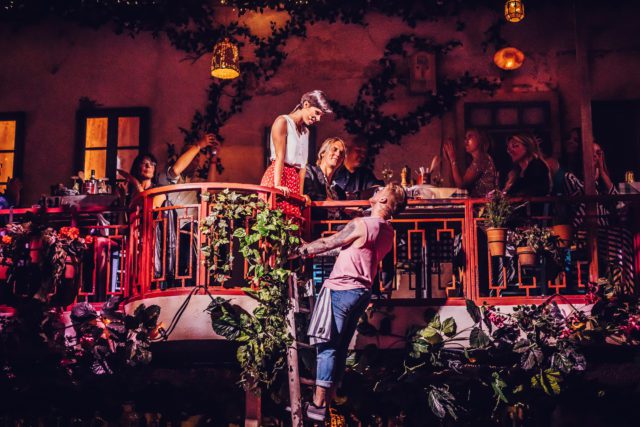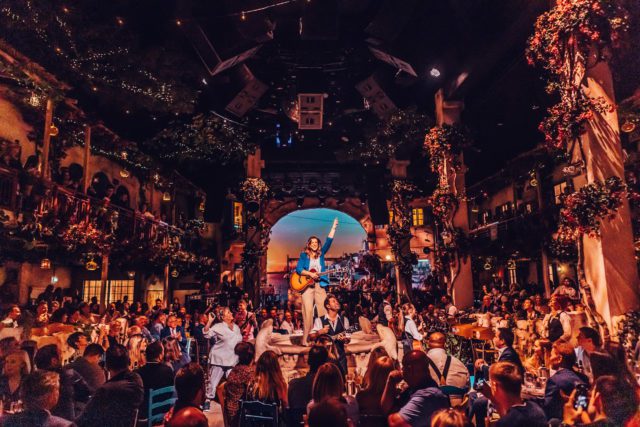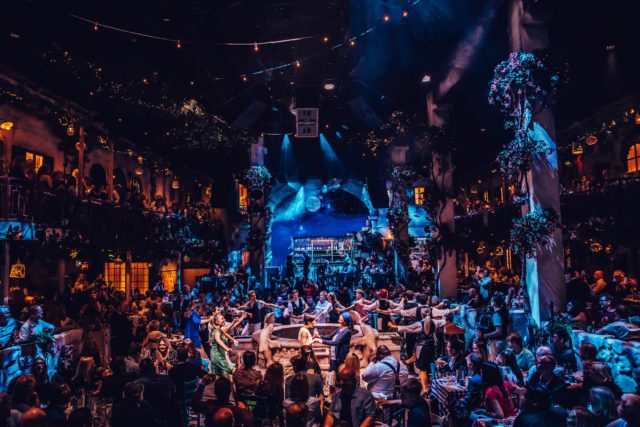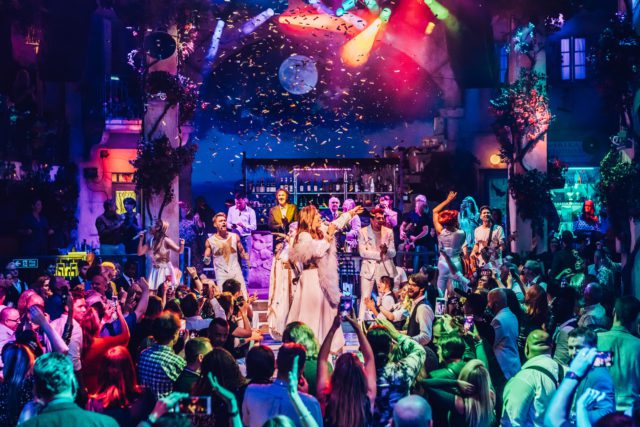 A flagstone floor, fairy lights and blue and white chequered tablecloths set the scene at Mamma Mia! The Party, which takes place in Nikos' Taverna on Skopelos island inside The O2. It's based on the 2008 film and its ABBA soundtrack. TV comedian Sandi Toksvig adapted the story, which is brought to life by roaming actors. Sit down and enjoy a delicious meal of Greek mezze, olive and feta salad, lamb souvlaki (kebabs) and portokalopita, an orange cake served with Greek yoghurt. Then dance the night away at the disco finale. Find out more here.
Monopoly Lifesized
A new, exciting way to play the planet's favourite board game has arrived! Jump around a giant board and build the property empire of your dreams, completing challenges along the way. Monopoly Lifesized can best be described as a cross between escape rooms, board games and team tasks – in other words, heaps of fun for you and your family, friends! Find out more here.
The Murdér Express Part Deux: The Jewel of the Empire
It's 1937 during the Great Depression, and the Von Valentine family's Jewel of the Empire – the world's largest cut diamond – is on display aboard The Murdér Express. The train is travelling from London to the family estate in the southern French town of Murdér… It's not long before the diamond is missing, bodies are beginning to pile up and the clock is ticking to catch a killer and recover the Jewel of the Empire. Hop aboard at Pedley Street Station near Brick Lane and dine on a three-course meal while you're whisked away to France. You'll meet some interesting characters, but remember, all is not as it seems and everybody is a suspect – even you. Find out more here.
Peaky Blinders: The Rise
You are invited to the Shelby family meeting in the heart of Camden Town. Help them launch their ambitious campaign to take over London. Find out even more here.
Sherlock: The Official Live Game
Enter into the world of Sherlock with immersive sets and environments from the show, as you work together as a team to solve mysteries and puzzles before time runs out. Play the detective in this brand-new Sherlock case featuring original content from the show's stars, including Benedict Cumberbatch, Andrew Scott, Martin Freeman, and more. The experience offers several types of activities such as Escape Room, Outdoor Game, Poisoned Chalice Cocktail Experience, Boozy Afternoon Tea and more. The ticket price starts from £15. For more information, visit the website. Find out more here.
Shrek's Adventure! London
This one-of-a-kind event, created by Merlin Entertainments in collaboration with DreamWorks Animation, brings Shrek and his friends to life. The fantasy tour blends ten laugh-out-loud live shows and legendary Shrek sets with compelling storytelling, an incredible 4D experience, dramatic special effects, and stunning DreamWorks animation. Allow about 1 hour 15 mins to enjoy the experience. It's not only for kids either – we guarantee that the adults will love it too. Find out more here.
Stranger Things: The Experience (to 8 Jan)
Your chance has arrived. Be the hero in an interactive experience where you will unlock your powers to save Hawkins. Join Eleven, Dustin, Mike, Lucas, Max and Will for a very special episode starring you. Venture inside Hawkins Lab for a 45-minute immersive experience featuring a brand-new Stranger Things storyline. Afterwards, explore an 80s-themed Mix-Tape medley with food and drinks, special merchandise, photo ops and much more. Find out more here.
Tomb Raider: The Live Experience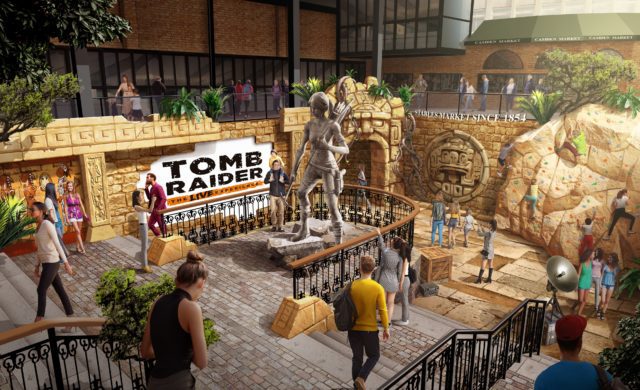 Work through real-life puzzles, collect relics, brave the zipline, climb through the jungle and outsmart the enemies in this multi-sensory experience based on the film franchise starring Angelina Jolie. Find out more here.
Please like, share and comment below and see if we have anything else to inspire your next visit to London.