London's parks and green spaces are the perfect places to enjoy some tranquillity. From a deer herds in the Royal Parks to more than 1200 lavender plants in full bloom at Ham House, make the most of the warmer temperatures.
Greenwich Park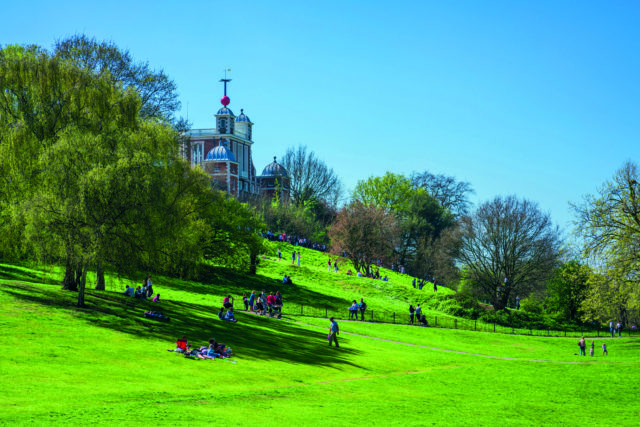 The oldest enclosed Royal Park is Greenwich Park, which dates back to 1427. It's at the heart of the Greenwich Maritime World Heritage Site and overlooks the River Thames. Within its grounds, you'll find 17th-century landscapes, stunning gardens, the Royal Observatory and the picturesque and recently refurbished 20th-century Pavilion Café, with its cute dove-cote on the roof. At the Observatory at the top of the hill, stand on the Prime Meridian, the reference point for Greenwich Mean Time (GMT). Explore the wildlife and plants in the Flower, Herb and Rose Gardens, and refuel at the Pavilion Café.
Richmond Park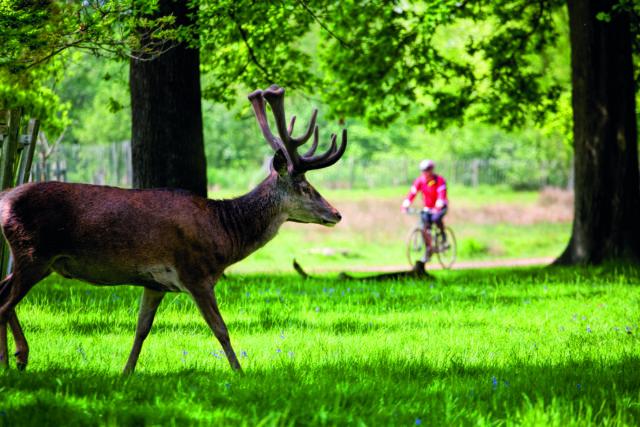 From the oldest to the largest; Richmond Park covers a vast 2,500 acres and has protected status as an important habitat for wildlife including bats and bees. While away a few hours wandering the grasslands, woodlands, ponds and streams – the Isabella Plantation's azaleas are at their most beautiful in early May. You'll also stumble across the population of approximately 630 red and fallow deer, which roam freely – May until July is deer birthing season, so try not to approach them as they are very protective of their young. A few miles away you'll find Bushy Park, the second largest of the Royal Parks, which lies just north of Hampton Court Palace. The park is famed for its mix of waterways, gardens and roaming herds of deer.
Ham House and Gardens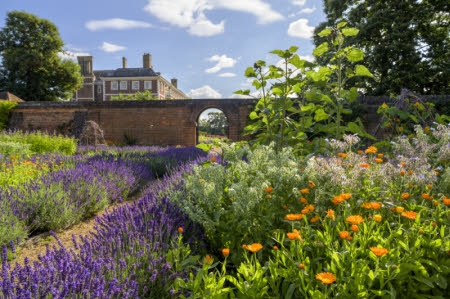 Wander through the Cherry Garden at Ham House during summer and you'll come across a sea of purple lavender, with 1200 plants carefully tended by the garden staff and volunteer team to ensure they come back in full force each year. The kitchen garden also comes into its own at this time of year, with vegetables such as broad beans, carrots, beetroot and spinach keeping the garden true to its 17th-century origins. The produce is used in the Orangery Café, sold in veg bags or donated to the Richmond Food Bank. Garden open 10am-5pm each day, entry fees apply to non-members
Regent's Park
Last but by no means least, Regent's Park lies to the north of central London and combines large open spaces with tree-lined pathways, formal gardens and four children's playgrounds. It's a wonderful place to spend a day with friends and family. In Queen Mary's Rose Garden, you can admire more than 12,000 roses with 85 varieties on show, or head to the boating lake to hire a rowing boat and join the ducks. There is also an open-air theatre (p. XX) and ZSL London Zoo– the world's oldest scientific zoo (p. 24). If it's skyline views you're after, take a stroll up Primrose Hill and watch the sunset from one of the city's most glorious vantage points.
Morden Hall Park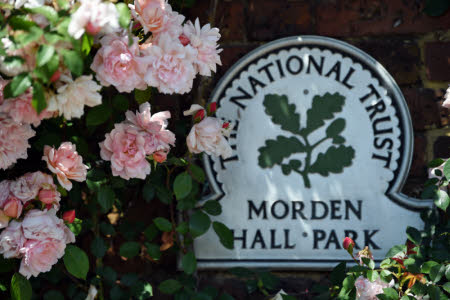 This summer marks 101 years of the Rose Garden at Morden Hall Park, planted in 1921 by Gilliat Edward Hatfeild, the last private owner of the estate. Spot 40 different varieties of rose in the garden, with soft pastel pink, yellow and white blossom to spot between May and late summer. Each has its own unique name, with varieties including Rosa Macmillan Nurse and Rosa The Fairy. Elsewhere in the park, stroll along shady woodland paths dotted with foxgloves and honesty and picnic among wildflowers on the banks of the River Wandle.
Hyde Park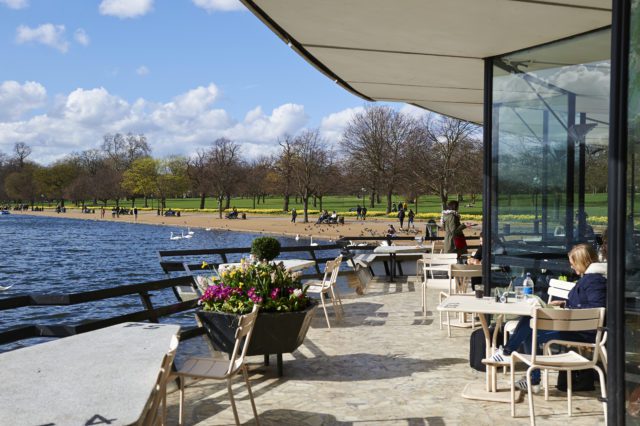 In central London, you're spoilt for choice with more Royal Parks waiting to be explored. Hyde Park has plenty of peaceful places in which to relax, but it also hosts world-class events and concerts. Those seeking activities can turn their hand to tennis, horse riding, jogging and cycling in the open air, or even brave an open-water swim in the Serpentine lake – if you dare face the cold! Elsewhere, the Diana, Princess of Wales Memorial Fountain is a serene space for reflection, while the playground along South Carriage Drive is perfect for little ones to blow off some steam.
Osterley Park and House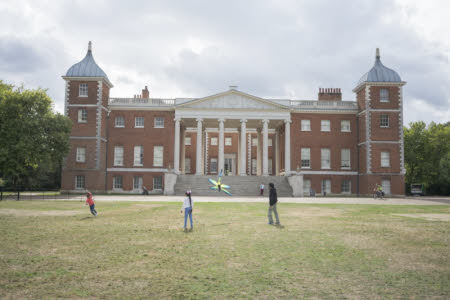 The Ornamental Vegetable Garden at Osterley Park and House reaches its peak during late summer after a year of careful care by the garden and volunteer team. It's made up of four beds, one which is dedicated to traditional planting, one which is made up as a pumpkin patch and the last two of which are for a creative mix of brassicas, dahlias, antirrhinums, zinnias and amaranths, interspersed with vibrant kale. There's a late summer perennial border against the western wall too featuring salvias, penstemons, croscosmia, gladiolus and kniphofias creating a colourful riot of colour. And don't forget to stop by the original Robert Adams summer house full of lemon trees and highly scented shrubs. Wander through Mrs Child's Flower Garden made up of a series of flowerbeds radiating out from the Garden House – it's a real summer highlight. Garden open 10-5pm each day, free entry for members, charges apply for non-members. Parkland free to enter for all, open 9am-5pm each day.
Kensington Gardens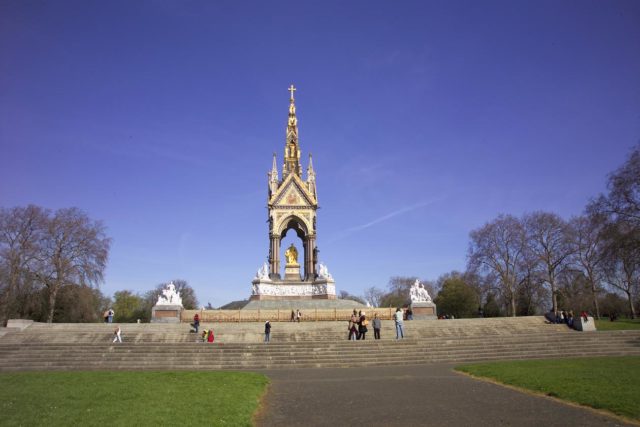 Just next to Hyde Park, on the other side of the Serpentine lake, lies Kensington Gardens. The ornate Albert Memorial sits proudly at the southern edge, overlooking the Royal Albert Hall. To the west of the Long Water, look out for the statue of Peter Pan – the character's creator and local resident JM Barrie was inspired by the Gardens and commissioned the statue, which has stood here since 1912.
Fenton House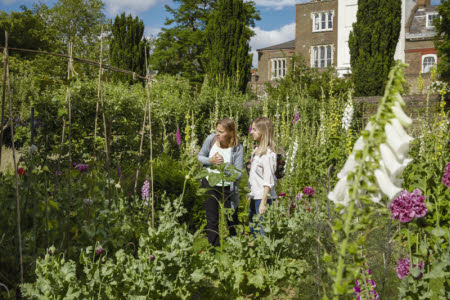 Fenton House was built in 1686 and is filled with world-class decorative and fine art collections. The gardens include an orchard, kitchen garden, rose garden and formal terraces and lawns. Surround yourself with the heavenly scent and colour of roses in full bloom in the sunken Rose Garden this summer. Make yourself comfortable in a secluded spot and watch the bees at work in absolute peace. See glorious white wisteria blossom dripping overwrought ironwork in May and June. And then from June and early July the wildflower meadow will be a haze of white flowers with nodding cow parsley under the apple trees in the orchard. And the north terrace provides a sunny spot for exotic banana canna, figs, artichokes and echiums. All visits to the house must be pre-booked via the Fenton House website, open 11am-4pm Fridays, Sundays and Bank Holiday Mondays. Entry to the garden is available 'on the door'.
Rainham Hall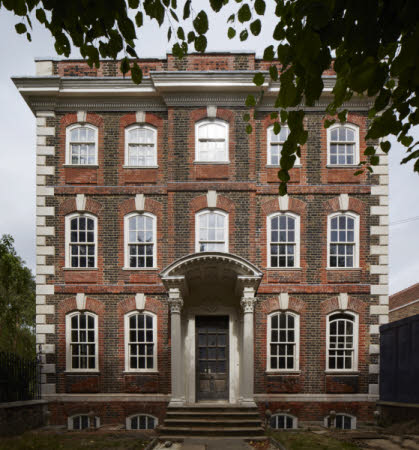 Drop by this free Community Garden during summer and treat yourself to a peaceful walk along meandering borders, filled with colourful mixed perennials including alliums, vinca and euphorbia. The herb garden spiral will be flourishing, and the kitchen garden will be coming to life, filled with tomatoes, peas, globe artichoke, kale, chard, salad, carrots, beetroot and potatoes. Garden free to enter, open Tuesday-Saturday 11am-4pm, check the website for house opening times and to pre-book your visit.
The Green Park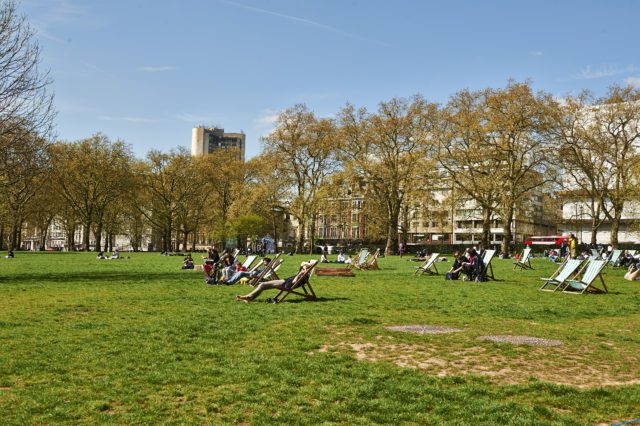 The Green Park is an unusual park because it contains no buildings, playgrounds, lakes or ponds. However, it is a peaceful triangle of mature trees and grasslands just a stone's throw away from the Palace and Mayfair on the northern side. Legend has it, King Charles II's wife demanded all the flowers be removed after she caught him picking some for another woman ­– there are still no formal flowerbeds to this day! Green Park, the smallest of the Royal Parks at only 40 acres,
St James's Park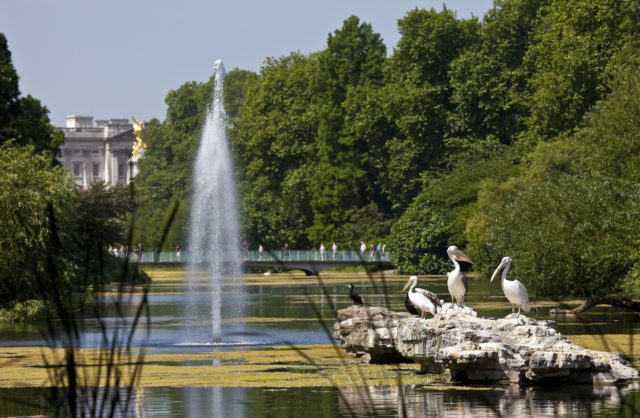 Towards the east and surrounding Buckingham Palace is St James's Park, which also includes The Mall and Horse Guards Parade.  St James's Park also offers some unusual finds thanks to King Charles II. In 1664, the Russian ambassador sent the king a gift: pelicans. See their beloved descendants – Isla, Tiffany, Gargi, Sun, Moon and Star – in their temporary enclosure on Duck Island.
Please like, share and comment below and see if we have anything else to inspire your next visit to London.