London's best riverside drinking and dining spots, covered. What could be better than having a refreshing drink and bite to eat, riverside? Soak up the sun's rays with the calming presence of water beside you.
Gunpowder, Tower Bridge
View this post on Instagram
It may seem an unlikely contender, but the Tower Bridge branch of this celebrated Indian restaurant is in prime riverside position. Set over two floors, Gunpowder Tower Bridge has much more space than its Spitalfields original, and the menu of traditional and innovative dishes will leave you wanting more.
The Cheese Barge, Paddington
View this post on Instagram
For a restaurant that's literally on the water, head to The Cheese Barge. Moored on The Regent's Canal in Paddington, this 96ft double-decker vessel offers a seasonal cheese-focused menu. Fancy something lighter? Visit between 3-5.30pm for cheeseboards, sandwiches and snacks. Nab a table by the window to look out on the canal, or if the weather is nice, head to the roof terrace.
The Summerhouse, Little Venice
View this post on Instagram
Originally a pop-up, this canal-side haven of tranquillity was so popular that the owners (who also own the nearby The Waterway) made it permanent. The Summerhouse offers a refined menu of fresh fish and shellfish including crispy calamari, seared scallops and catch of the day. It's also open for brunch.
The Lighterman, King's Cross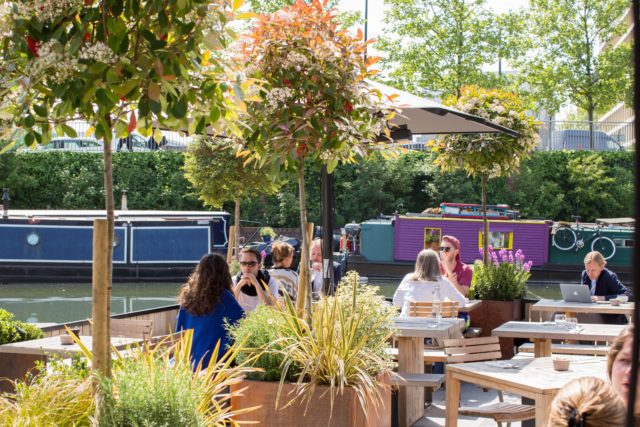 Another canal-side gem is The Lighterman in King's Cross. This pub-restaurant-bar has a wraparound terrace ideal for catching some rays and people-watching onto Granary Square below. Choose from a selection of all-day modern European dishes, snacks and drinks as you gaze out onto the water.
Crate, Hackney
View this post on Instagram
As with most places in Hackney, Crate Brewery is effortlessly cool and unstuffy. It's a casual hangout on the banks of the River Lea, offering remarkably good pizzas, unusual cocktails and of course, craft beers. Trendster-spotting is optional.
Sam's Riverside, Hammersmith
View this post on Instagram
Feast on a modern British menu of the best seasonal produce from around the UK at Sam's Riverside. Located near Hammersmith Bridge, this stylish brasserie, flooded with light, has lovely views out onto the Thames. Don't miss Oyster Happy Hour, available in the bar from 5pm to 6.30pm, Monday to Friday.
The Crabtree, Fulham
View this post on Instagram
With elevated pub grub, comedy nights, beer-tasting events and a considerable beer garden on the banks of the River Thames, it's no wonder The Crabtree is a Fulham institution.
The Gun, Docklands
View this post on Instagram
The Gun is widely known as one of London's best riverside pubs. The Grade II listed building is beautiful in itself, but if you want to witness some truly striking views of the Thames with the O2 Arena in your midst, head to the riverside terrace. Choose from a range of great quality beers, wines and cocktails as well as pub grub classics.
Please like, share and comment below and see if we have anything else to inspire your next visit to London