Celebrating 10 years of Art Fund's annual prize, the shortlist for the Museum of the Year 2023 award has been announced. Don't miss a visit to these institutions
Each year, Art Fund shortlists five outstanding museums for Museum of the Year. Art Fund has championed museums, galleries and heritage sites across the UK for 120 years and launched the annual award in 2013.
Those that make it onto the shortlist 'demonstrate transformational impact, redeveloping their offers with diverse and inspiring stories at their heart and responding to vital issues of today'.
The winning museum will be announced at a ceremony at The British Museum in London on 12 July and will receive £120,000 – an increase for 2023 and beyond to mark 120 years of Art Fund supporting museums. £15,000 will be given to each of the four other finalists, bringing the total prize money to £180,000. Without further ado, let's check out this year's shortlist…
Once the home of Frederic Leighton, the most eminent British artist of the late 19th century, Leighton House can be found in Holland Park. It reopened last year following a momentous three-year renovation project that consisted of recovery and restoration of existing areas, before new spaces were added, including a beautiful spiral staircase emblazoned with a floor-to-ceiling mural. The Arab Hall is an unsuspecting gem inside this patchwork building. Find out more here.
As well as Leighton's extensive collection of artwork and antiquities, the museum also hosts a year-round programme of exhibitions and events. Until 27 August, visitors can see Evelyn De Morgan: The Gold Drawings, an exploration of De Morgan's unique practice of making gold drawings. This exhibition is the first since 1889 to display a group of these beautiful artworks made in brilliant gold pigment on dark grey woven paper. She invented crayons and paints that she then used to create her drawings, which remain luminous today.
There is also a display of works by Shahrzad Ghaffari, the creator of the museum's staircase mural. Shahrzad Ghaffari: Journey to Oneness (to 1 Oct) comprises a curated selection of rarely seen works from the last fifteen years of her career. In the historic Drawing Room, Nour Hage: Kheit خيط (to16 July), presents an exhibition of three artworks created in response to the tiles in the Arab Hall and staircase hall, and event series in collaboration with The Arab British Centre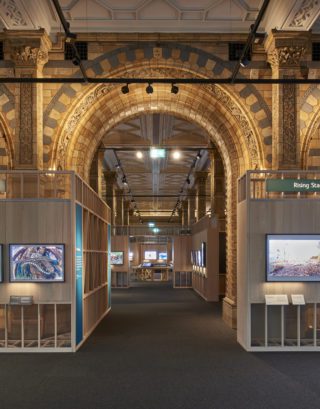 WPY58 Gallery space © Trustees of the Natural History Museum London
This one needs hardly any introduction. Every year, it is one of London's most popular free museums. Home to astounding collections that range from dinosaur fossils to a blue whale skeleton that hangs above your head, it's a fantastic place to visit for all ages. Find out more here.
Open until 2 July, the annual Wildlife Photographer of the Year exhibition displays nature as you've never seen it before. Professional and amateur photographers alike enter the competition with their images of the 'precious beauty of our planet'. See stunning photographs of the natural world alongside videos, quotes and insights from museum scientists.
At Titanosaur: Life as the Biggest Dinosaur, step into the world of the colossal Patagotitan mayorum, one of the largest known creatures to have ever walked our planet. Visit by 7 January 2024 to see it.
The Burrell Collection (Glasgow)
Sir William Burrell was born and raised in Glasgow and earned a fortune in the family business as a shipping merchant. This enabled his to pursue his life's work: collecting art and antiques. He became one of the largest donors of artworks to the 1901 Glasgow International Exhibition – which lives on at the Kelvingrove Art Gallery and Museum – and was knighted in 1927 for services to art.
Burrell believed in free education for all and wanted people to be able to access his collection. In 1944, he and his wife Constance gifted the collection to the City of Glasgow.
A staggering 9,000 objects make up The Burrell Collection, with highlights including medieval treasures, more than 200 tapestries, paintings by Manet, Cezanne and Degas, and one of the UK's most significant holdings of Chinese art. Burrell specifically requested the collection be housed where people could appreciate the art in a countryside setting; Pollok Country Park is that location. Its purpose-built home is surrounded by magnificent parkland.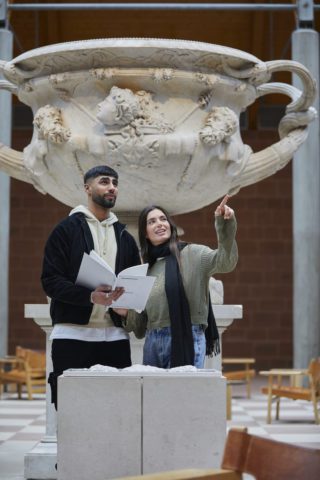 The Burrell Collection is an Art Fun Museum of the Year 2023 finalist © Janie Airey Art Fund 202
Almost 2.5 million people have visited Belfast's Metropolitan Arts Centre (The MAC) since it opened in 2012. It quickly became a firm favourite thanks to the wide range of visual art exhibitions, theatre and dance performances, family workshops and other goings-on that it offers. Find the award-winning venue in Belfast's Cathedral Quarter.
Current exhibitions include At The Table (to 2 Jul; free, £5 donation suggested), a socially and politically influenced display developed from the MACtivate programme; Louise Wallace: Midnight Feast (to 13 Aug; free, £5 donation suggested), which presents a selection of the artist's bold, bright abstract artworks; and Sharon Kelly: Red-to-Red (to 13 Aug; free, booking advised), which presents the culmination of Kelly's ACNI Fellowship at the British School at Rome.
Other highlights this summer include High Points Youth Ballet Spring Gala (4 Jun, 6pm, £10-£15; suitable for ages 4+) which will see Northern Ireland's youth ballet company present selections from two of the classical ballet repertoire's most revered jewels: Paquita and The Sleeping Beauty. At the end of August, Belfast School of Performing Arts will perform Les Misérables (24-25 Aug, 7.30pm; 26 Aug 2pm & 7.30pm; £15-£19.50). They are one of the first Youth Companies to be granted the rights to the musical phenomenon that has been seen by more than 65 million people worldwide.
Scapa Flow Museum (Orkney)
Orkney is an archipelago that can be found off the northeastern coast of Scotland, with rich Viking history and large seal colonies. On Hoy, the second largest of the islands, is Scapa Flow Museum. Here, you can discover Orkney's military involvement in the First and Second World Wars through its major collection of wartime artefacts – many of which are of national and international importance.
The museum is a short walk from the Lyness ferry terminal. You can follow the self-guided trail around wartime remains in Lyness before exploring the museum's extensive exhibition collection, special interactive exhibits and cafe.
It reopened in 2022 following a major £4.4 million redevelopment, funded by the National Lottery Heritage Fund, Orkney Islands Council, Historic Environment Scotland, Highlands and Islands Enterprise, Museums Galleries Scotland, LEADER and NatureScot.
Please like, share and comment below and see if we have anything else to inspire your next visit to London