Amongst the many vegan restaurants in London, there's mallow, a fully plant-based restaurant in Borough, and now Canary Wharf too. We went along to try the weekend brunch menu and this is what we found…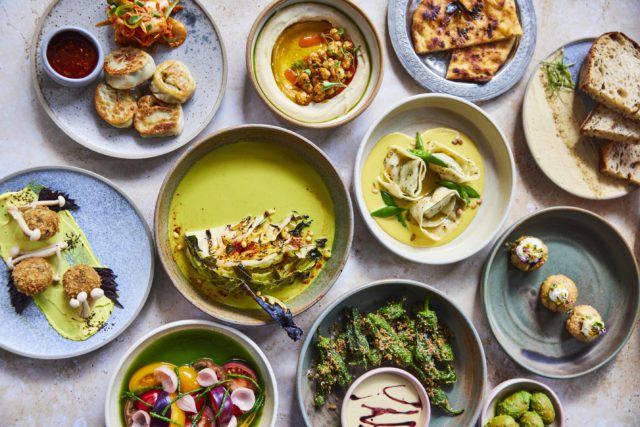 All dishes at mallow are 100% plant-based, creating minimal waste with ingredients sourced locally and from small businesses. Image courtesy of BellCo
The Borough Market mallow restaurant was the first fully plant-based restaurant to open there in its more-than-265-year history, and has developed a cult following ever since – and now there is a new outpost in Canary Wharf.
Canary Wharf quayside is a historically important area, having been the primary port where fruit and vegetables would arrive from the Canary Islands in the 1800s. Celebrating this heritage, it delivers a modern and fresh menu with dishes inspired by flavours and cultures from across the globe. Hero dishes include small plates such as pea and mint tortellini with lemon zest, and spinach dahi puri served with lime coconut sambol and blackcurrant tamarind chutney. These are followed by mains including a whipped feta garden plate with cacao quinoa soil, kalamata crackers and olive caviar.
Light and airy or serene and seductive?
Amongst the towering skyscrapers and grey tones of Canary Wharf docklands, the flower beds and illustrated exterior of mallow make a soft but stop-in-your-tracks sort of impact. And that continues inside too. Upon entering, the team welcome you by the gold-toned bar before taking you to your seat. Downstairs, it's a light and airy space with turquoise suede seating, shelves adorned with mix-match pots and plants, and a beautiful ceiling mural in equally earthy khaki, ochre, rose and blue tones. Even the lampshades feel nature-made, like beehives hanging in clumps.
Upstairs feels more romantic, perfect for date night or a late-night dinner with friends. It's darker, pink-toned and cosy. There are rose-coloured circular booths, arched mirrors and plenty of foliage – and those beehive lampshades again too, continuing the botanical feel. Not a fan of booth seating? There are tables too which offer peeks across the surrounding dockland water. Either way, whatever setting you opt for, it's simply a backdrop in which to enjoy the delicious menu.
We visited on a Saturday to sample the weekend brunch menu which is available Saturday and Sunday from noon until 6pm. To begin, we shared some small plates: shiitake miso croquettes, which were crunchy on the outside and gorgeously creamy on the inside and served with a light yuzu mayonnaise; salty padron peppers served with whipped tahini topped with sour cherry molasses; and fried pumpkin blossoms, similar to courgette flowers, which were paired perfectly with mango pepper sauce and coconut.
For our main courses, we were on a distinctly sweet mission. The black forest chocolate pancakes and the creme brûlée brioche French toast caught our eyes immediately and certainly didn't disappoint when they came sailing out of the kitchen. Chocoholics will love the pancakes: a tower of rich gooey goodness topped with crunchy hazelnuts, sour cherry sauce and vanilla cream. The French toast, meanwhile, consists of two crispy-on-the-outside, soft-in-the-middle slices drizzled with raspberry compote and complemented by that fantastic vanilla cream. Go easy on your starters, if you have them, as these main dishes are big!
No brunch would be complete without a refreshing drink and mallow delivers on this front too. Coffee is creamy and chocolatey and served with oat or almond milk alternatives. The cocktails range from fruity to refreshing and are all works of art. There is a sweet and savoury twist on a margarita with raspberry and basil, and the apple elderflower martini is the perfect refreshing summer cocktail.
From start to finish, our experience was faultless: the setting, our server and, of course, the food. I've often flirted with the idea of switching to a vegan diet, but have never quite got there. But mallow opens up a whole new world of plant-based eating – I often had to remind myself that everything was vegan. I think even the strongest of sceptics would struggle to dislike the dishes, which are packed with flavour, perfectly balanced with textures and presented beautifully on the plate.
Canary Wharf: 12 Park Drive, E14 9ZW | T: 020-8050 8704 | Nearest station: Canary Wharf | Opening times: Mon-Fri 8am-11pm; Sat 9am-11pm; Sun 9am-10pm
Borough Market: 1 Cathedral Street, SE1 9DE | T: 020-7846 8785 | Nearest station: London Bridge | Opening times: Mon-Sat 9am-1pm; Sun 9am-10pm
Please like, share and comment below and see if we have anything else to inspire your next visit to London.