A new Italian restaurant, Tavolino, has opened overlooking the River Thames, Tower Bridge and HMS Belfast
The name may translate as small table, but this new two-storey Italian restaurant boasts a large outdoor terrace with 70 seats.
The ambiance
Inside, large windows make the most of the view. By day, palm plants soak up the natural light. At night, it's lit with candles and low hanging lamps.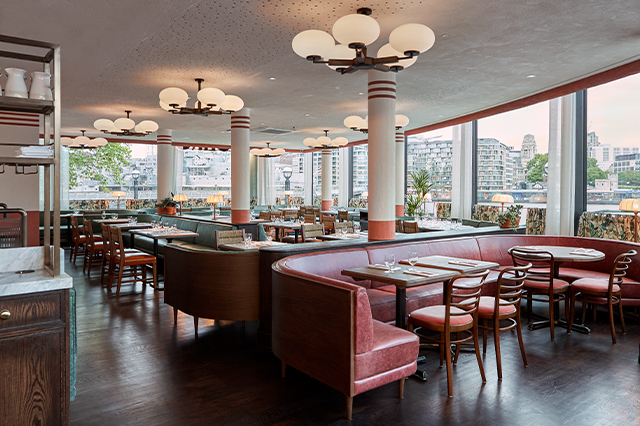 The drinks
As you might expect, Bar Aperitivo serves Italian wine and cocktails such as Limoncello with mint. Alternatively, you could opt for a Garden Bellini made with Prosecco, strawberry and rhubarb.
Teetotal? Then opt for a freshly squeeze apple or watermelon juice.
The cuisine
The restaurant values providence. Therefore, much of the produce is sourced from Italy, such as ice cream made with Sicilian pistachios and burrata from Puglia, which is served with fresh figs and drizzled in thick fig syrup.
The head chef Louis Korovilas previously worked at the Michelin-starred restaurant Locanda Locatelli in Marylebone and Bancone in Covent Garden.
While at the latter, Korovilas created his signature dish: handkerchief pasta sheets with walnut butter and Burford Brown yolk dish.
Savoury dishes
As well as Korovilas' pasta sheets, you can order other fresh pasta dishes. Opt for the classic cacio e pepe, or order the bucatini in tomato sauce with Sicilian red prawns.
Alternatively, you could choose a Romagna-style pizza or a heavier dish such as ribeye steak or chicken breast served with Parma ham potatoes and avocado crème fraîche.
Sweets
Save space for one of pastry chef Taylor Sessegnon-Shakespeare's Italian desserts. Try a classic such as tiramisu, sorbet or a tart Amalfi lemon meringue. The blow-torched meringue is almost a liquid, and is the perfect combination of sweet and smoky.
Alternatively, order a polenta skillet cake with cherries and caramelised white chocolate ice cream. It's designed for sharing, so it's the perfect choice for a date.