It is believed that William Shakespeare died on his birthday, 23 April. Whether you're a fan of his plays or just want to discover what life might have been like in 16th-century England, Shakespearean attractions in London and in his hometown of Stratford-upon-Avon are well worth a visit.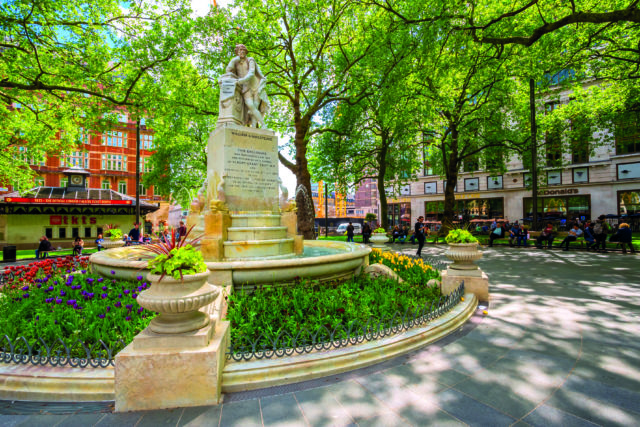 A

ll the world's a stage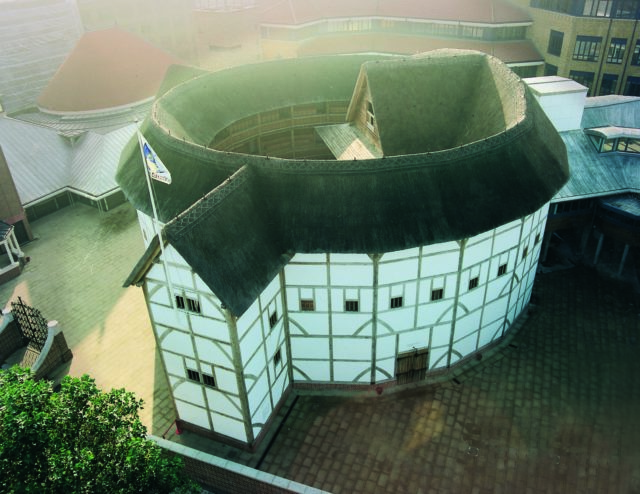 If you want to experience the atmosphere of Elizabethan London, there is no better place than at Shakespeare's Globe. It's a faithful replica of the original Globe Theatre, built by Shakespeare and his playing company, The Lord Chamberlain's Men, before it was destroyed in a fire in 1613 during a performance of Henry VIII.
Pioneering director Sam Wanamaker's recreation stands proudly on Bankside, only a few hundred metres from the original site. With its timber-framed construction and an open-air standing area called The Yard, it's easy to imagine yourself back in Shakespeare's era. Like the original, it is open-air, and those craving the genuine Elizabethan experience can buy standing tickets to any of the productions. 
This spring, be transported to the ostentatious court of Elsinore where Hamlet discovers 'something is rotten in the state of Denmark' (until 9 April). Also at the Globe, catch a performance of both The Merchant of Venice (until 9 April) and Shakespeare's battle of the sexes Much Ado about Nothing (from 22 April). 
Elsewhere, Game of Thrones star Kit Harrington stars as Shakespeare's warring monarch Henry V in a new production at the Donmar Warehouse (until 9 April). And for children don't miss The National Theatre's child-friendly adaptation of Hamlet (from 4 April). 
Housed at the old Blackfriars monastery site, Blackfriars Playhouse was the most important Jacobean London theatre and, from 1609, the only indoor theatre of the Shakespeare Company or 'King's Men'. They used it during the winter when it was too cold to perform outdoors at the Globe. Following the English Revolution, the theatre was closed, and despite the King's Men's pleas, it was torn down in 1655. But you can see where it once stood on Playhouse Yard, a quiet backstreet leading to a churchyard and a maze of alleys.
My words fly up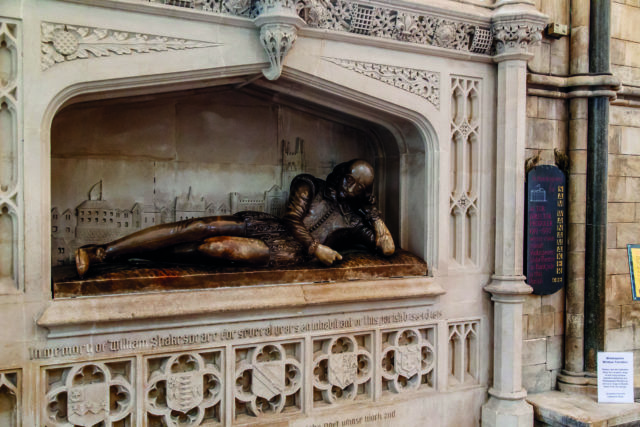 A stone's throw from the Globe is Southwark Cathedral which, in Shakespeare's time, would have been the Bard's church. His brother Edmund was buried here in 1607, and inside stands a monument to Shakespeare created in 1912. It is worth visiting before lunch as it lies in the heart of Borough Market.
Directly across the river and in the shadow of 30 St Mary Axe, known as the Gherkin, stands St Helen's Bishopsgate. For some time, this was Shakespeare's parish church and it's assumed that he worshipped here. Now stroll east towards St Paul's Cathedral. Pamphlets of Shakespeare's plays were sold here, and he would probably have enjoyed browsing the area for poetry books.
'Til death do us part
Keep your eyes open for the Shakespeare memorial in Westminster Abbey. While Shakespeare's actual grave is in Stratford,
you'll find a special memorial statue in the famous Poets' Corner, together with other memorials for a number of famous writers. Elsewhere admire the statue of William Shakespeare that has formed the centrepiece of Leicester Square Gardens since 1874.
Beyond the capital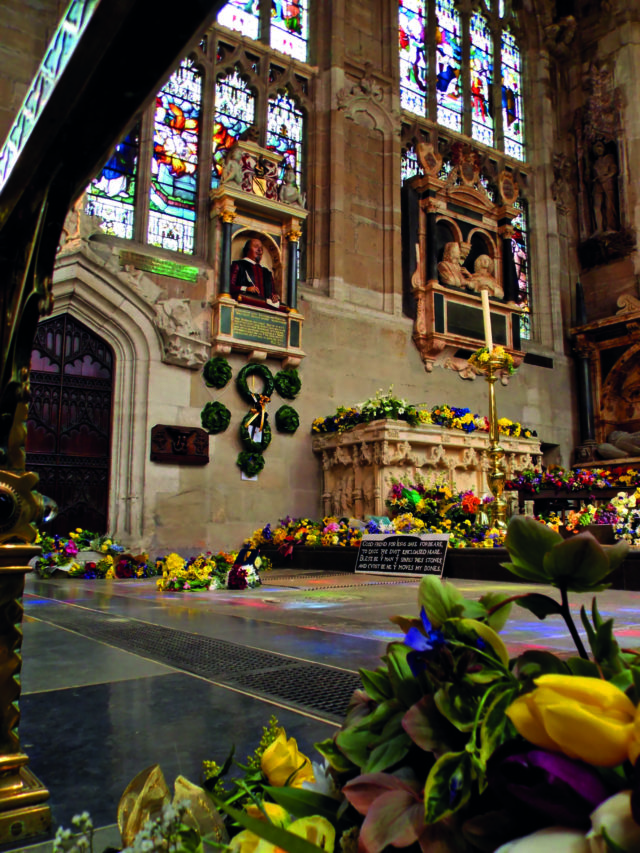 To get a true understanding of the world's most famous playwright, a trip to his home town of Stratford-upon-Avon is a must. Begin your visit at Shakespeare's Birthplace. A half-timbered, Tudor-style cottage, it is furnished as it would have been in Shakespeare's time and transports visitors into the atmosphere of 16th-century England's past. 
You'll also find a collection of other Tudor cottages in and around Stratford that belonged to his friends and relatives. Anne Hathaway, Shakespeare's wife, lived in an idyllic cottage just a short walk away from central Stratford, and this is where Shakespeare would have come to see her while they were courting.
Discover the school where Shakespeare was inspired to become the world's greatest playwright: Shakespeare's Schoolroom & Guildhall. Explore the room where the Bard sat in the 1570s, where he wrote his first works and actors performed his plays.
Shakespeare is buried in the Holy Trinity Church, the same church where he was baptised in 1564. His final resting place is famous for its inscription, believed to have been penned by the Bard himself, which lays a curse on anyone who moves Shakespeare's bones. 
Of course, the best way to experience the world of Shakespeare is through watching a play. At the Royal Shakespeare Theatre you can catch Much Ado About Nothing (until 12 Mar), Henry VI: Rebellion (from 1 Apr) and Wars of the Roses (from 11 Apr; www.rsc.org.uk).