Waste not, want not is the concept behind Toad on the Road, a temporary outdoor terrace on Southampton Street
The chef and restaurateur Adam Handling – an alumni of TV's MasterChef: The Professionals – has opened the 36-seat terrace.
The terrace is on the street outside Eve Bar and Handling's flagship restaurant, Frog by Adam Handling.
Its zero-waste menu serves dishes made with waste ingredients from the restaurant's tasting menu.
The terrace plans to open until the end of September, although this depends on how long the street is allowed to be pedestrianised for.
The floral design company McQueens has decorated the terrace with a floral installation.
There are plenty of parasols, too, in case of rain.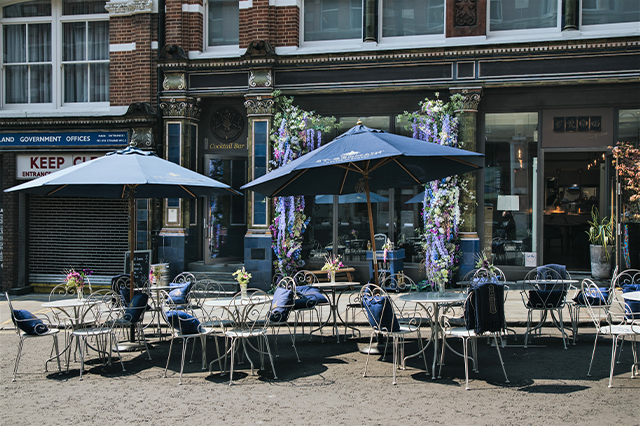 Sample dishes
The terrace menu features lobster rolls made with offcuts from the restaurant's lobster Wagyu dish, and Nanny Sophie's fried chicken using thighs which are not needed for the restaurant's chicken main course.
You can also order fish finger sandwiches made from turbot trim.
For dessert, order pomme souffles served with caviar, or cool off with an ice cream sandwich made with ingredients such as meadowsweet, which is foraged from around Hackney.
The drinks
Eve Bar's new cocktail menu – which also makes use of waste produce – is available on the terrace, too.
How does a coffee negroni sound? It's made with coffee grounds left over from the restaurant's Nespresso coffee pods, which are then seeped in gin.
In addition to Eve Bar's menu, Toad on the Road will also serve frozen negronis, elderflower daiquiris and espresso Martinis (27-31 Aug). 
Eat Out to Help Out
You still have time to take advantage of the government's Eat Out to Help Out scheme.
This means you can dine out from Monday to Wednesday until 31 August and enjoy 50 per cent off food orders, up to £10 per person.