With the coronation just weeks away, now is an ideal time to visit the Royal Mews to see the historic horses and carriages that will be in the world's spotlight in May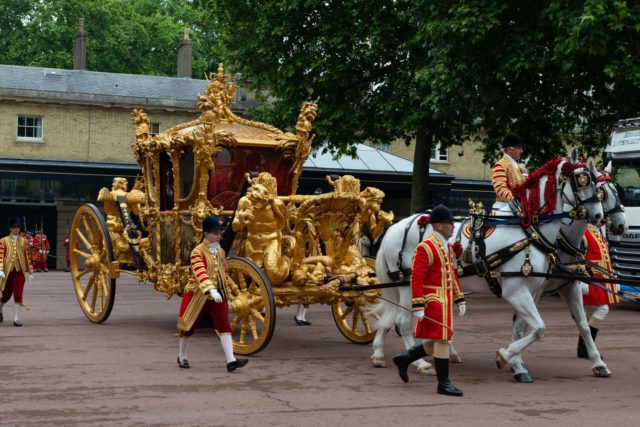 You'll hear the unmistakable sounds of horses' hooves clip-clopping down The Mall this spring as The Royal Mews at Buckingham Palace gets preparations underway for the coronation of King Charles in May. This living piece of royal history, built in 1825, is responsible for all the royals' road travel arrangements, from carriages to cars. It has recently reopened to the public for spring (Thu-Mon), so you can look around these magnificent working stables and admire the steady and reliable horses: white Windsor Greys, which transport the royals around in style, and the brown Cleveland Bays, used to pick up high commissioners and ambassadors.
What to expect
Inside the Mews, there's a replica Semi-State Landau, a grand royal carriage that was very popular with Queen Victoria for ceremonial occasions. You can climb up and sit inside it, so take a selfie of yourself practising a regal wave. You can also see the spectacular Gold State Coach, used at the late Queen Elizabeth II's coronation in 1953 and again at her Platinum Jubilee pageant last year when a hologram was used to depict the young sovereign on her historic procession more than 70 years ago. Pride of place at every coronation since 1821, this four-tonne gilded carriage has an opulent interior lined and upholstered with satin and velvet (though apparently a hot water bottle was laid on its seat to keep Queen Elizabeth warm on the chilly coronation day). The exterior is equally exquisite with painted panels of Roman gods and goddesses, three gilded cherubs on the roof representing England, Scotland and Ireland, and huge Tritons towering above the wheels. You'll be stunned to see how huge the carriage is up close – no wonder it needs eight horses to pull it.
Small is beautiful here, too, and little ones will particularly love the miniature carriages, which were built to be pulled by ponies, dogs, sheep and even goats. You can see the cute donkey-drawn barouche, which was given as a Christmas present to Queen Victoria's children in 1846. The scaled-down carriage proved to be a firm favourite with the young royals – Victoria and Albert had 10 children alone – and was clambered all over by the royal family's youngsters for at least three generations. It's been depicted in old photographs at Windsor Castle and Osborne House on the Isle of Wight, but you can now see the dinky carriage in the Mews. Petrolheads, meanwhile, will drool over a rather more sophisticated vehicle, the 1977 custom-made Rolls-Royce Phantom VI, which drove Kate Middleton and her proud father Michael to Westminster Abbey on her wedding day to Prince William. More recently it was used by Charles when he arrived at Buckingham Palace for the first time as our new King. A moment that will be immortalised in history books.
Guided tours
For an insider's take on the Royal Mews, join a 45-minute guided tour where a warden will bring its history to life, regaling you with behind-the-scenes tales of royal and state occasions. Children won't get bored here either, as young equestrians can practice tacking up a wooden pony in the State Stables and dress up as a footman in specially created livery. Look out for a free family multimedia tour guided by 'two horses and a corgi', which is full of fun facts and videos and aimed at kids aged between seven and 11 years old (Sat-Sun; 11.30am & 1.30pm).
For under-fives, the Little Trekkers activity trail will keep infants occupied exploring the Mews. There are regular arts and craft activities too at Hooves and Horses workshops in the Livery Room (usually every month; 11am-3pm). Finally, the Mews' Easter Trail (8-10 Apr) includes free coronation-inspired arts and crafts and a lot of chocolate, we're sure.  Do check the website in advance though for any one-off closures, as the Mews is a working royal stables and will be busy putting everything in place for Charles and Camilla's big day.
Essential information
Address: The Royal Mews, Buckingham Palace, SW1W 1QH
Nearest station: London Victoria
Opening times: 10am-5pm, last admission 4pm (to 30 October 2023). The Royal Mews is closed on Tuesdays and Wednesdays. Please check online for planned closures.
Find out more at www.rct.uk
Please like, share and comment below and see if we have anything else to inspire your next visit to London.