What's on at The Natural History Museum? Here are the temporary exhibitions.
If you just came to this London institution to see the awe-inspiring permanent displays of our natural world it could easily take you a day. From volcanoes to dinosaurs and mammals to the earliest Neanderthal remains, there's a world of wonder under one roof.
Dippy Returns (to 2 Jan 2023)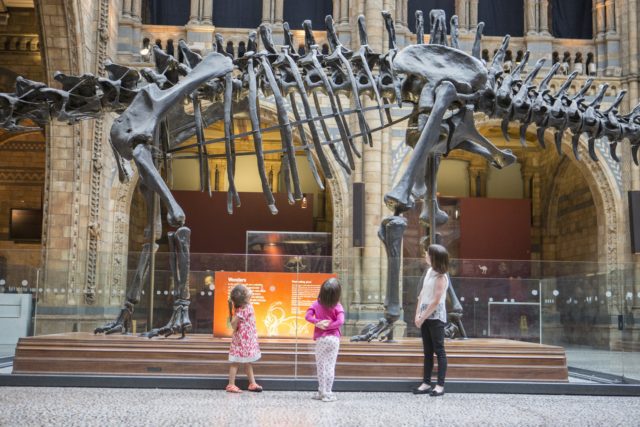 'Dippy' was gifted to the museum in 1905 and was the first diplodocus to go on display anywhere in the world. He left the museum in 2017 to go on a tour of the UK. Throughout his time away, Dippy witnessed the changing state of the natural world and the beauty of various landscapes. Experience Dippy's 'memories' of the trip with this free exhibition.
Wildlife Photographer of the Year (to 2 Jul 2023)
This annual competition features the work of professional and amateur photographers who have captured the 'precious beauty of our planet'. Its focus has shifted over the years to convey the message that our planet is under threat. See stunning photographs of the natural world alongside videos, quotes and insights from Museum scientists.
Titanosaur: Life as the Biggest Dinosaur (from 31 Mar 2023)
This interactive exhibition is yet to come, but it's definitely one to have on your radar. The Patagotitan mayorum is the largest known creature to have ever graced our planet. And it's on display for the first time ever in Europe. Walk beneath the dinosaur and touch a cast of its skull as you learn about the life of this prehistoric, monumental creature. Intended for ages five and above, this is a great one for all the family.
Essential Information
Address: Cromwell Road, SW7 5BD.
T: 020-7942 5000.
Nearest station: South Kensington
For more information, please visit www.nhm.ac.uk
Please like, share and comment below and see if we have anything else to inspire your next visit to London.