David Hockney: Bigger & Closer (Not Smaller & Further Away) is an epic digital showcase of the artist's work over 60 years. Hockney's lust for life and creating is inspiring and infectious – see for yourself at the new immersive space, Lightroom, in King's Cross.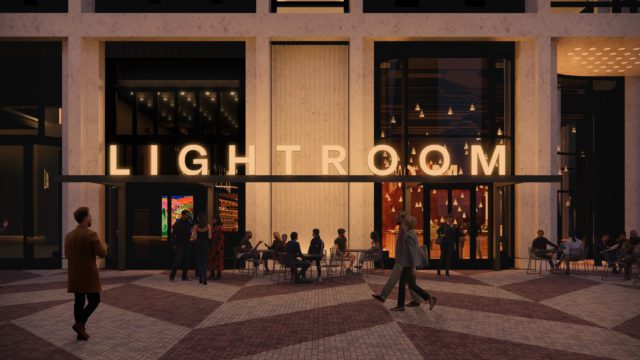 David Hockney: Bigger & Closer, Not Smaller & Further Away (to 4 June) graces the vast four-story walls of brand-new digital exhibition space, Lightroom, in Kings Cross. This beautifully designed venue by the team behind the acclaimed Bridge Theatre presents artist-led shows in all their simulated glory ­– via large-scale, ultra-high-definition projections. Lightroom also features a sleek all-day café and bar by renowned restaurant group, St. John, and a shop.
Hockney: Versatile and Inquisitive
David Hockney; the renowned English artist who became known during the '60s Pop Art movement, is a painter, draftsman, print designer, stage designer and photographer. His life-long experimentation with different media makes him the ideal candidate for the latest digital trend.
It's an epic and mesmerising show, bursting with life, vibrancy and colour. Hockney's enthusiasm for what we can see around us is infectious.
Joyful Creations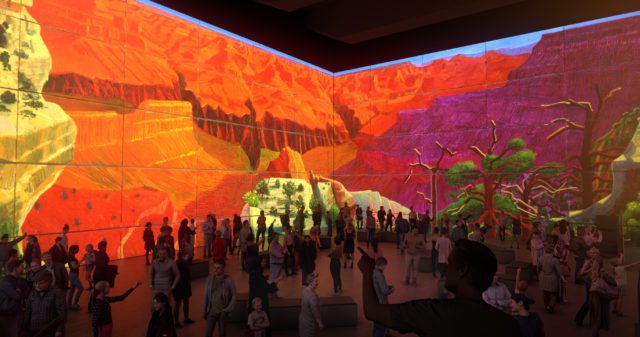 Split into six themed chapters, the walls are flooded by his artworks, accompanied by an especially composed score by Nico Muhly that is uplifting and even moving at times, and a commentary by Hockney himself. 'Colour is a joyful thing and I want my art to be joyful', he says.
And it is. From driving through the landscape of California to epic sketches of the Grand Canyon, and those swimming pool paintings of L.A, the audience is taken on a tour of the artist's experimentations with different media over 60 years. We are immersed in the strokes of his iPad drawings, see unique perspectives through photography, and witness Yorkshire throughout the seasons.
The world is very, very beautiful if you look at it', he says, 'but most people don't look very much. They scan the ground in front of them so they can walk, they don't really look at things incredibly well, with an intensity. I do.
Please like, share and comment below and see if we have anything else to inspire your next visit to London.